A unique prospect
The last time European Oil and Gas featured Norshore (August 2011), the young Norwegian company – founded 2007 – was in the process of building its flagship vessel Norshore Atlantic.
Utilising Marin Teknikk's MT 6022-XL 'riserless drilling vessel' design, the ship was being constructed by Batamec in Indonesia. At the time of writing, nearly 18 months later, Norshore Atlantic's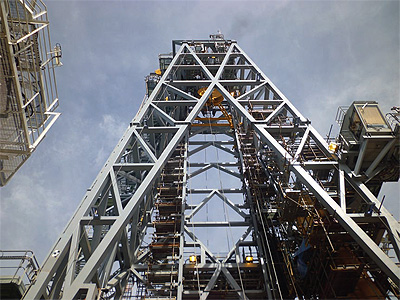 delivery is imminent and set to enter a contract with an oil major.
President and CEO Petter Tomren elaborates on Norshore Atlantic's special design: "The vessel is built according to Norwegian regulations, is equipped with DP3, and has been DNV classed. It can, for all practical purposes, operate worldwide. That is in fact the intention of the client, which has signed an agreement with us to use it in many different locations across the globe. The concept of the vessel is developed from the drilling side of the industry, meaning it has most of the equipment and capabilities of a drilling rig, yet has similarities to a well intervention ship. The big difference, especially compared to a deepwater drilling rig, is that the investment is less than 50 per cent, which again means that the design is very competitive, both for top hole drilling and well intervention operations."
With delivery imminent, Norshore Atlantic has already been chartered by a client on a three-year contract for global operations. Its unique design has two major selling points that drew the oil major in. The first is its excellent drilling capabilities; despite being a relatively low-cost vessel, it is able to carry out top hole drilling without complication and therefore saves the client a great deal of money compared to using a rig. The second selling point is its DP3 capability. This automated positioning system eliminates the need and cost of anchor handlers whilst providing Norshore Atlantic with greater usage flexibility.
"The MT 6022-XL design is unique in that the drilling facility is much closer to a drilling rig, but in addition it can also do light and heavy well intervention operations," explains Petter. "Similar to a drilling rig, the Norshore Atlantic has, for example, big mud pumps and a large derrick with high lifting capacity – but it lacks the blowout preventor (BOP) system. We also have the latest technology available in the drilling equipment market, with a package from leading producer National Oilwell Varco. Advanced emissions reduction devices also been installed to make the vessel as environmentally friendly as possible."
Given the commitment of Norshore to finishing its vessel, it is no surprise that business for the company during the last 18 months has been relatively quiet. Much of it's focus has been on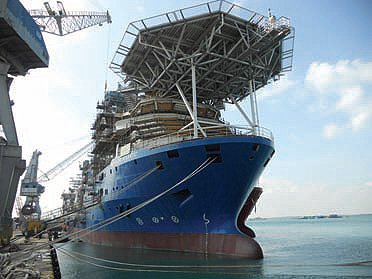 ensuring that Norshore Atlantic has all the correct class approvals to operate in its intended locations and that, once delivered, it gains a lucrative and secure charter. With its three-year contract to begin in mid 2013, this has been adeptly achieved. Not only does the oil major ensure that Norshore Atlantic receives good standards of work but it also provides the owner with a high quality client to start its client portfolio.
The last 18 months have also proved highly successful for the company's staff roster. Despite the difficulty of many companies to employ highly skilled personnel, Norshore has been able to fill all key positions with qualified people both onshore and offshore. This will be very important for providing the vessel and company with a good starting position.
Once Norshore Atlantic is delivered, Norshore will be responsible for its operation and crewing. This will form the basis of work for the company over the coming months. However, it is also looking at the longer-term future and what prospects are available. "Out target has been and still is to have five vessels," Petter states. "The next step is to kick off the new-building programme, and we are currently in negotiation with shipyards. We hope that will begin within the first quarter of 2013. Beyond that we are also aiming at listing the company later this year or early 2014, most likely on the Oslo Stock Exchange."
Petter concludes with his outlook for the future of Norshore: "Our ambition is to have five vessels, become a reputable contractor and to increase shareholder value. The main issue for us now is that we must prove to our first client that our concept works; by doing so we believe we will gain a lot of attention from the marketplace. That will affect the shareholder value and make it easier to continue growing the business. Finance lately has not been easy and banks have been reluctant to provide funding, especially for a new company like us, but we have been able to work on that. We have a lot of share capital now – about $140 million – so we are in a very good position for the future."
Norshore
Services: Drilling contractor