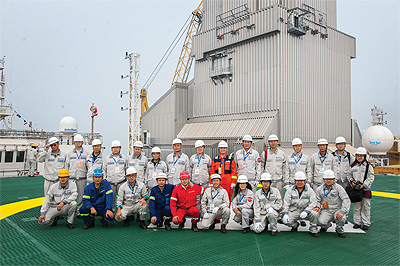 A combined effort
While parts of the rig business are on the defensive, North Sea Rigs (NSR) is making a bold move. The company's first rig, North Dragon, will have its naming ceremony in November, at the same time as rig number two, Beacon Atlantic, achieves the milestone of deck and hull mating. A third rig, Beacon Pacific, is under construction, while the company, which has Chinese CIMC Capital as its largest shareholder, is working hard with the planning for the next set of three rigs.
The offshore industry still offers great challenges, in spite of the market situation as it is today. North Sea Rigs believes that 500 new wells will be required in relation to petroleum reserves already in place. Roughly the same number of wells are required in order to increase the potential in fields that may be still be developed. Last, but not least, there is a big requirement for new wells connected to enhanced utilisation of already existing fields.
To NSR, as well as other rig companies, the challenges are the same: An efficient and safe operation adapted to a correct cost level. In this perspective the new rigs arrive just in time, since an optimised design and modern equipment make operations both more efficient and more cost effective.
Important partnership
The new rigs are being built at CIMC Yantai Raffles Offshore shipyard in Yantai, China, where the first rig, North Dragon, is being named on Thursday 26 November 2015.
With many years of industrial experience,
Managing Director Stephen Adshead of North Sea Rigs knows perfectly well what to look for in order to ensure a successful rig project. One of the keys to success is a strong team of partners on the industrial and technological side. This, North Sea Rigs has been able to obtain for this project, where Kongsberg has the responsibility for all equipment related to dynamic positioning, while Siemens is supplier of the electric systems onboard. Engines, thrusters, etc. are supplied by Rolls-Royce, while National Oilwell Varco handles the rig's drilling package. These companies also possess extensive experience from working with the Chinese yard, CIMC Raffles. Chairman of the Board of North Sea Rigs, Heidi Baugstø, emphasises the co-operation between the various partners as a vital element for a successful project.
Reduced costs
The three rigs are based on the lessons learned over many years and the experience and knowhow gained through this process and represent improvement both as concerns the hull, motion characteristics, and other factors of significance to enhance the operation and up-time of the rigs. Even though it is difficult to name exact figures, North Sea Rigs believes that by adopting modern rigs like these, cost may be cut substantially within certain key areas.
The management of North Sea Rigs naturally focuses on the demanding times faced by the oil and gas industry, but strongly believes that new, up-to-date and effective rigs are required in order to strengthen the
economy and make offshore projects more viable, both on the Norwegian shelf and elsewhere.
It's a fact that there is a large number of old rigs in operation in the Norwegian offshore sector and in other sectors as well. If the sector is to succeed in extending the lifetime of fields, it must become more adept with respect to both efficiency and costs. North Sea Rigs' management firmly believes that their rigs meet both these requirements.
Long-term perspective
Thanks to an active marketing effort, both in Norway and internationally, North Sea Rigs' management, in spite of the current market situation, takes a positive view when it comes to securing contracts for the new rigs. Besides, Stephen Adshead and Heidi Baugstø underline the long-term perspective of North Sea Rigs' Chinese owners.
In times like these, the ability and will to take a long-term view is particularly important. It goes without saying that having owners who are in a position to do that, is decisive, the two managers state, especially when times are tough. CIMC Group, the largest shareholder of North Sea Rigs, operates activities within a large number of different industries, of which offshore is one. The group has over 60,000 employees located around the world, and is also the largest owner of the shipyard building the rigs.
CIMC Raffles is one of the biggest offshore yards in China, and has since 2001 delivered a range of ships and offshore installations to customers and projects worldwide. The yard specialises in semi submersible rigs, jack up-rigs and special vessels for offshore operations. The yard amongst others delivered the COSL rigs operating on the Norwegian shelf, before building the new rigs for North Sea Rigs.
The rigs
North Dragon, Beacon Atlantic and Beacon Pacific all have a design (GM4-D) which builds on CIMC Raffles' previous construction projects with rigs adapted to drilling and well operations in a harsh environment. The concept has also adopted the best elements of the new rigs projects such as Statoil's CAT D.
The new rigs are winterised and designed for operation at up to 1200m water depths, and can drill to depths of 8000 m. The rigs are built in accordance with NORSOK and NPD standards and meet the strictest environmental and zero emission requirements. This means they are ready to start operations on the Norwegian Continental shelf (NCS) as well as other petroleum provinces around the world.
Construction work for North Dragon, the first, was initiated by steel cutting in June 2013. The project has been carried out in line with plans and schedules, and the rig underwent a successful sea trial early October this year.
At the same time as North Dragon is being named, the mating of the deck and hull of the second rig, Beacon Atlantic, will be acknowledged. Steel cutting for rig number three, Beacon Pacific, was carried out in June 2015. According to plan the rig will be ready for delivery end 2017.
North Sea Rigs
Services: Builds offshore drilling rigs in China on behalf of owners