Built on quality
When a company working in the oil and gas sector needs to charter a vessel, and has very specific requirements, it has a choice of suppliers. But does it go to a standard ship management company with a wide range of generic vessels, or does it look for something more specialist? In this latter area falls North Sea Shipping, which having built its reputation over more than three decades in the ship management industry, successfully managing construction, ROV/survey, seismic, cable, IRM, and ocean going fishing vessels in demanding marine operations, over the last few years has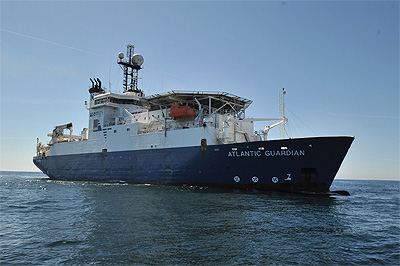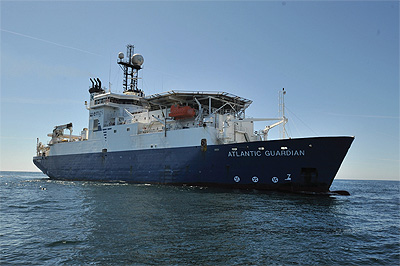 focused its attention on quality and efficiency, and creating a small fleet of outstanding ships.
Today the company's fleet comprises just three vessels, each of which offers its own very specialist facilities. The North Sea Atlantic is an advanced DP3 subsea construction vessel equipped with a 550 Te crane and a 2000 Te under-deck carousel for product storage. She can accommodate an Openable Vertical Lay System for pipelay of flexibles and umbilicals. The vessel's design specification meets the highest requirements for subsea work and although she will work predominantly in the North Sea, she is also suitable for deepwater operations worldwide.
The North Sea Atlantic provides a stable working platform for the most demanding offshore projects: her unrivalled lifting capacity and large deck space, combined with state-of-the-art navigation equipment, provides the versatility required for the modern subsea market. A multi-purpose construction vessel, The North Sea Atlantic is a cost-efficient solution for a broad range of offshore activities, including pipe laying, subsea construction and surveying.
Advanced vessels
Atlantic Guardian is a specialised vessel for cable laying, sea bed mapping, ROV survey and so forth. The ship is designed and equipped for worldwide operations and she is fitted out with a diesel electric machinery system for drive of two main azimuth thrusters aft, one retractable Azimuth forward and two tunnel thrusters forward. She also features a Class II DP system and the most modern equipment for communication, vessel positioning and underwater position references. She has accommodation for 45 people with 29 single and eight double cabins with sanitary facilities, conference room and office facilities.
This brings us to North Sea Giant – among the largest and most advanced subsea construction vessels ever built, this vessel offers clients a new level of advanced marine operation. Considering her size, the ship has unrivalled redundancy. North Sea Giant is an efficient multi-purpose vessel with supreme deck and crane capacity, alongside a unique power system. Her propellers and thrusters are tailor-made for delivering a wide variety of demanding marine operations in deep and ultradeep waters.
One of North Sea Giant's landmark features is her outstanding DP capability and crane capacity. The vessel is equipped with two active heave compensated knuckle boom offshore cranes from Macgregor. The midship crane has a capacity for 400 tons with 3000 metres of single line wire. Her aft crane has a capacity of 50 tons with 2000 metres of single line wire.
Increased efficiency
As Sveinung Økland, Operation Manager at North Sea Shipping began by explaining, the company was keen to continue to make its fleet of vessels more attractive both to the market, and the environment, and as a result, changes have been made aboard its seismic vessel Atlantic Guardian and construction vessel North Sea Giant. "We had a very successful rebuild of Atlantic Guardian, where we managed to reduce the fuel consumption by 30 per cent, thanks to the installation of frequency converters and a retractable Azimuth forward in 2014. This rebuild has made the vessel more efficient and has saved our client a lot of money due to lower fuel consumption, less emissions to the environment and reducing mobilisation time from 18 hours on average to six hours thanks to less bunkering operations."
Setting new standards
North Sea Shipping was also keen to explore options to make its North Sea Giant subsea construction vessel more competitive and also greener. In August 2017, Wärtsilä agreed to retrofit the world's first energy storage solution on board the advanced DP3 vessel, which reduces the vessel's energy consumption, operating costs and exhaust emissions. In addition to the hybrid/battery solution, the agreement signed in August 2017 includes transformers, filters, switchboard, shore connection equipment, upgrades of existing components and commissioning. Installation was undertaken in the first quarter of 2018.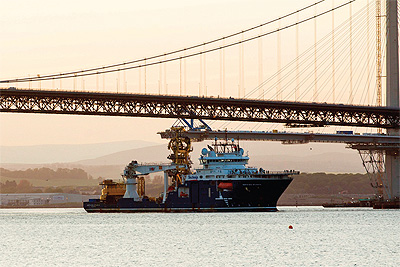 Typically, DP vessels use two or more engines simultaneously to secure backup power – Sveinung noted that this new setup will give North Sea Shipping the opportunity to undertake DP3 operations with only one engine running and still have intact or actually even better redundancy than before. "This project was a highlight of 2018, as we believe it will set a new standard for the operation of DP3 vessels in the future," he said. Such has been the success of this project that North Sea Shipping is looking to replicate its achievements with its other vessels. "Plus, if there will be any new builds in the future we will for sure install batteries," Sveinung added.
Given the amount of care and investment that North Sea Shipping devotes to its vessels, it is no surprise to learn that they are all in high demand with clients, and at the moment are all long-term chartered to blue chip companies TechnipFMC and EMGS. "North Sea Giant is operating in the North Sea, Atlantic Guardian is in South America outside Suriname and North Sea Atlantic is in Australia," confirmed Sveinung, before noting some of the outstanding projects in which they have been involved: North Sea Giant did the installation of the Åsgard subsea compression system, as well as a BOP change out, which is the first time this has been done by a construction vessel. North Sea Atlantic worked on BP Quad west of Shetland 2015, and the Wheatstone and Greater Enfield Projects in Australia.
North Sea Shipping has managed very well in the four years since it was last featured in EOG, despite a downturn in the market. "All our vessels have been on long-term charters to solid clients over this period. It has been a busy time for our entire fleet with a lot of exciting project all around the world," said Sveinung. "Going forward, our focus will be to keep our vessels busy and operate our fleet as efficiently as possible, while maintaining the same excellent services that we always deliver. This is really the same strategy we always have – build success stone-by-stone and make sure we uphold our extremely high standards. We are also in a good position to expand if a good business case arises."
North Sea Shipping has always been an innovative company that strives to find better and more efficient solutions to operate its vessels. With plans for retrofits on the rest of its fleet already on the agenda, 2019 looks set to repeat and even surpass the heights of success which it has already achieved.
North Sea Shipping
Services: Owns, operates and provides expert management services for advanced offshore vessels