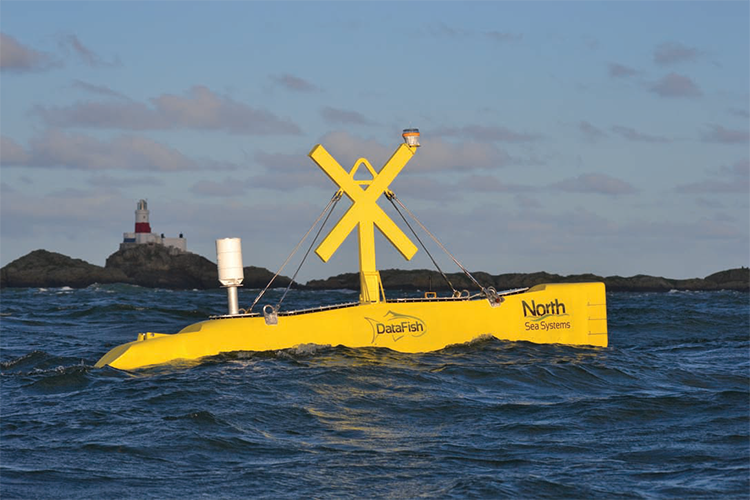 Go fish
Founded in 2012 with the vision of providing premium quality survey systems for highly kinetic subsea environments, North Sea Systems is the only company in this sector that is dedicated to the development and operation of systems for high flow offshore environments.
"We provide bespoke survey equipment for offshore environments," confirms Ben Baker, project manager and CableFish operator at North Sea Systems. "As an R&D business at heart, we are able to discuss any technical problems a client may have and work to find a solution for them. This sometimes may involve utilising products already available in the market place, or perhaps in developing a new solution, such as our innovative products CableFish and DataFish. With a pedigree in tidal marine renewables, we are able to offer turnkey solutions to all industries, not only with products, but also with services thanks to our in-house engineering team."
With the capability to offer a complete solution for met-ocean survey, the company provides high quality support to the burgeoning tidal, wave and wind industries, as Ben notes: "At present North Sea Systems has focused efforts on the tidal marine renewables industry. We have worked for various developers and are currently looking to secure a contract with the largest tidal energy project globally. North Sea Systems is also looking to enter other industries, such as offshore wind and the oil and gas sector."
Aware that there are unique challenges when operating and collecting data in some of the harshest environments, North Sea Systems has developed two patented systems to meet the needs of this demanding market, as Ben discusses: "We have two productscurrently; DataFish is a met ocean survey buoy, which has the ability to mount a variety ofinstrumentation on the water surface, on the seabed, and throughout the water column. All data is transmitted from the buoy in real-time. DataFish can provide environmental data for real-time operations and can survey a location prior to an operation; it can also monitor environmental restrictions."
Highly suitable for unforgiving marine environments, DataFish is capable of undertaking long duration, multi-application surveys and is the only system able to provide real-time data from tidal energy sites. A key benefit of DataFish is its customisable platform; by using mountings on the anchor and mooring,the system can collect a range of metaocean data thanks to instrumentation that can be positioned at any depth. Instruments include ADCP, which measures flow profiles, heave sensor to provide wave heights, GPS, hydrophone for measuring
acoustics and PAM and cameras. DataFish can also be configured for acoustic monitoring, which enables developers to assess the acoustic output of vessel noise, mammal presence and marine turbines. Not only does DataFish provide groundbreaking advantages to customers, it is also designed to overcome issues such as lost equipment, poor quality data and failed deployments in extreme environments.
Ben continues: "Our second product is CableFish, a subsea camera system that monitors the touchdown point of a sub marine cable during its installation. CableFish houses cameras, lights, altimeter, and a USBL to provide the client with a detailed understanding of their cable route. It is controlled by a single operator, and its data can be incorporated into the navigation suite already being used onboard the vessel."
As a low cost, low risk solution for monitoring submarine cable installation, CableFish is designed to operate in up to six knots of tidal flow, conditions that were previously viewed as notoriously challenging for cable installation. However, by using instruments mounted on a cable mounted carriage, as well as a fibre optic umbilical, CableFish can provide live information from both video and GPS co-ordinates of the cable touch down point. Moreover, the highly adaptable system can operate from most cable installation vessels and is easily modified to accommodate a broad range of sensors. Capable of reaching 50 metre water depths and adaptable to customer demands, CableFish eliminates the need for an expensive post-lay ROV survey. The system's onboard instrumentation includes three cameras, two of which face forward, while one faces aft, two dimmable lights, a motion sensor and altimeter and USBL beacon that provides accurate subsea positioning.
The first stage of CableFish's test programme was completed in August 2014, with favourable results that prove the system will be a benchmark in submarine cable installation for high flow environments, as Ben highlights: "The CableFish development was funded by The Carbon Trust Marine Renewables Commercialisation Fund programme. The final stage of the project was to prove the system could operate in a tidal location, so CableFish was tested at EMEC's tidal test facility in Scotland. The system was deployed throughout a tidal cycle, and was able to monitor the touchdown point continually. Cable lay scenarios were represented, and CableFish did not impede the speed of cable lay. North Sea Systems were very pleased with the performance of CableFish and that the objectives of the testing were met."
Following extensive testing of CableFish and a number of successful DataFish deployments, North Sea Systems is keen to increase awareness of its innovative products, as Ben concludes: "Having spent time developing the survey systems, North Sea Systems will now focus on commercialisation of the products and prove their worth to various industries. Following this North Sea Systems will continue to develop current products; and also look to meet client needs by creating new technologies."
North Sea Systems
Services: Premier supplier of bespoke survey systems