Operational excellence
Founded on the principles of a family business when the Klepsvik and Okland families joined forces in 1984, Austevoll headquartered North Sea Shipping (NSS) has maintained its values and strengthened its services over the last 30 years to provide advanced offshore vessels and superior management services to the oil and gas industry.
As a highly experienced organisation, the company has developed a reputation for delivering competence, adaptability, consistency, loyalty and openness between employees and customers; skills that have resulted in excellent safety records, reliable operations and long-term clients.
Discussing the history of the quality conscious firm, operations manager of NSS, Sveinung Okland begins: "North Sea Shipping has extensive experience in advanced offshore vessels and it all started with the ROV/survey vessel North Sea Surveyor, which we procured in 1985; this was one of the first ROV/survey vessels in the market and was on contract with Stolt Comex. The company expanded with North Sea Commander in 1987, a vessel that was one of the first to be fitted with a diesel electric machinery system and DP2, before taking on a new North Sea Surveyor in 1991. After these developments we progressed to the IMR class and were involved in a joint venture with Stolt Comex for the Seaway Kingfisher in 1997, this was the first purpose built IMR vessel to have a heave compensated tower."
Following a number of other vessel acquisitions throughout the 1990s and early2000s, NSS was involved in the building phase and management of the North Ocean series that was built in Vigo for Ocean Team. "We have been involved in eight of the newbuilds," confirms Sveinung. "In 2011 we took delivery of North Sea Giant, which was followed by North Sea Atlantic in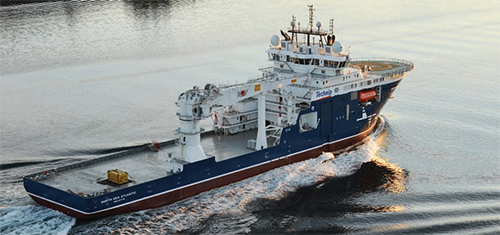 2014. Today we have three vessels under our ownership that we operate; throughout our history our fleet has been between two and five in size, but the size and complexity of vessels over recent years has increased rapidly. However, we are proud to have always been at the forefront of innovative thinking and we live to develop through thisapproach to business. The vessels we own are high-end, with the latest technology and equipment, which is thanks to our commitment to pushing boundaries and develop new products that thus delivers a more efficient and safer operation."
Since NSS was previously featured in European Oil and Gas Magazine in August 2014, the company has taken delivery of North Sea Atlantic, which has gone straight into a seven year, long-term charter with Technip UK. Designed to deliver pipelay, subsea construction and survey projects, the 141 x 27 metre multipurpose construction vessel provides a stable operational platform for the most challenging and demanding of offshore projects. Boasting an unrivalled lifting capacity, thanks to her 550 Te active heave compensated boom box crane, the North Sea Atlantic is also able to work to water depths of up to 3000. Furthermore, a whipline capacity of 40 Te at all radii combined with long reach enables the crane to perform critical tasks in the pipelay sector. The vessel is specially designed to operate under extreme weather conditions, the Ice-Class North Sea Atlantic can reach a maximum speed of 15 knots at six metre draft and boasts high manoeuvrability thanks to its diesel electric propulsion plant and two azimuth propellers, with an output of 4.5 megawatts each. Speaking to European Oil and Gas Magazine in August 2014, Sveinung noted: "The vessel is very high tech standard where all solutions are of the newest and best technology that is on the market today."
Although the market is challenging for many organisations as oil firms look to save costs against falling oil prices, Sveinung believes NSS is in a coveted position as all three of its vessels are in long-term contracts: "Our main client in offshore is currently Technip, while in the seismic segment it is ElectroMagnetic GeoServices (EMGS). North Sea Giant is currently on charter with Technip until 2018 and is a very advanced DP3 vessel with excellent DP capabilities, crane capabilities and very good stability. She has been working on the Statoil Asgard subsea gas compression project since last year and will continue to do so into the future. She has been rebuilt to fit a Special Handling Tower system to install the modules for this project and she will be able to work in sea states up to 4.5 metre hs. This project is a very high focus project for Statoil and is very important to us as a business. Meanwhile, Atlantic Guardian is on contract with EMGS until 2017 and is involved in a special seismic known as Electronic Magnetic; EMGS works globally, so our vessel operates worldwide, but for the moment she is in operation in the Barents Sea."
Despite being in a comfortable position, NSS is keen to continue its ongoing tradition for innovation to ensure it can turn any issues in the market into opportunities. One way it will remain competitive is through investment of its fleet, with the Atlantic Guardian upgraded with enhanced fuel efficiency and station keeping abilities in the final quarter of 2014. By maintaining its core values, NSS is certain to deliver innovative and unrivalled services long into the future.
North Sea Shipping
Services: Vessel owner and operator