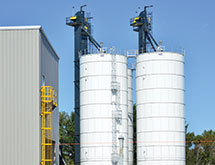 Northern Frac Proppants II LLC
Northern Frac Proppants II LLC has completed a state-of-the-art frac sand production plant on Canadian National Railway's Wisconsin rail network. The new facility will expand its market and provide efficient access to the Bakken, Marcellus and Canadian oil and gas shale plays.
President and CEO Jeff Alston founded the Alma Center, Wis.-based company in 2013 as an industrial minerals producer providing hydraulic fracturing proppants to the North American oil and gas industry.
Northern Frac Proppants offers several shipping origination points, including access to the Union Pacific, Canadian Pacific and Canadian National rail lines. The company also has the capability to arrange shipping to markets in the southern United States by the Mississippi River barge.
Northern Frac Proppants' multiple transloading relationships in shale plays throughout the United States allows its customers to optimize their delivery costs for product from the mine to the well head.
Alston also owns Amite City, La.-based Alston Equipment, a leading supplier of professional services and equipment to the frac sand, plastics, food, chemical, petrochemical, pulp and paper, engineered wood, aggregate, cement and minerals industry. Alston founded the company in 1985.
While running Alston Equipment, "I had developed true partnerships with Market and Johnson based in Eau Claire, Wis., who did all the construction along with ENDECO Engineers, and we finally said, 'Let's do it for ourselves,'" Alston remembers. "Each of these individuals has become an integral part in Northern Frac Proppants as we built this first plant in Alma Center and as we continue with our expansion plans."
Northern Frac Proppants prides itself on providing customers with reliable, quality service. The company uses state-of-the-art systems to ensure the exacting standards of its oil and gas industry clients are met. It mines only the highest-quality northern white silica sand reserves, which exceed the American Petroleum Institute specifications for hydraulic fracturing sand.
The company employs state-of-the-art processing facilities and is at the forefront of emerging technologies to ensure it remains a quality and low-cost leader in the North American proppant market.
Alma Center
Sitting on 1,800 acres in Wisconsin's Jackson County, Northern Frac Proppants began operations at its sand processing plant and dry process facility in September. The Alma Center facility is located on Canadian National's rehabilitated Whitehall Subdivision and has the capability of producing one million tons of high-grade sands annually.
"We are excited to work with CN on expanding our frac sand markets," Alston says. "CN's network is a plus, giving us efficient access to the Bakken, Marcellus and Canadian oil and gas shale plays."
Northern Frac Proppants recognizes the importance of rail access as opposed to over-the-road trucking because of the cost-savings. "Our business model is to have everything located at the site on one continuous piece of property so there is no trucking," Alston notes.
Trucking wet or raw sand is expensive and 10 to 30 miles is the average distance companies are willing to travel. Alston says he has trucked wet sand as far as 61 miles away for customers, but it was not a sustainable form of transportation because of the high cost.
"The new facility at Alma Center – which contains all activity to one site to eliminate over-the-road trucking of wet or finished sand – will be able to accommodate both manifest and unit train service options," Alston adds. "I'm also pleased to say that the new plant will create 50 local jobs."
Hiring Local
Northern Frac Proppants hires residents of the local community to run its Alma Center facility. The company is dedicated to cross-training every employee involved in the daily operations to ensure everyone can handle every aspect of the process and manufacturing.
"We were lucky enough that all of the key employees we have hired – from operators to managers – have all been involved in the frac sand industry in some fashion," Alston explains. "We have also been able to hire key employees from our competitors because we offer higher wages and an overall better benefits package."
The company's managers each have at least 25 years of experience, on average, have core competencies in mining, processing, logistics and material science that enable it to produce and cost-effectively deliver products to customers across the country. For example, COO Dan Koxlien is a Wisconsin native with 23 years of experience and was a senior project manager for Market and Johnson before moving to Northern Frac Proppants, as well as Plant Manager Luke Hayden. Maintenance Director Dean Sonsalla, also a Wisconsin native, came from a major competitor, as well.
Northern Frac Proppants also hired Logistics Director Sierra Overlien from a major frac sand competitor. Overlien works closely with Oleum Frac Supply, a Narberth, Pa.-based supply chain management company that specializes in the procurement and distribution of products used in the oil and gas industry, to move sand to Northern Frac Proppants' preferred customers.
"Our senior management knows all the Alma Center community leaders," Alston notes. "Dan Koxlien works with the local school system and the others serve on different community committees. We keep the lines of communication open and all these people are native friends that grew up together. It really is a true community operation."
Community Involvement
Because Northern Frac Proppants' processing facility is located adjacent to a town with a population of 524, it is imperative that the company supports the local businesses and agencies since they are also its employees, friends and family, Alston notes. "Northern Frac Proppants continues to work very closely with the Alma Center School District," he adds. "We work with the district superintendent to help identify projects that need attention, but may lack resources to get off the ground."
The company has teamed up with the Future Business Leaders of America Program, helped the aquatics program reach its goals and is working with the Alma Center School District's yearbook program to help offset expenses and provide awareness of the oil and gas industry. Northern Frac Proppants is involved in the local Rotary Club, as well as the local chamber of commerce, and the company developed an important partnership with the local volunteer fire department and first responders in Alma Center.
"During commissioning of our new plant, we teamed up with the local fire department to help leak test our new 2,000-ton silos," Alston says. "It was a win-win for both NFP and the fire department in that we were able to water test our silos while they provided training to other rural fire fighters that recently merged with them from other departments."
The local volunteer fire department helps Northern Frac Proppants by spraying down the paved roads throughout the facility to prevent a dusty situation. The company supports the department by providing resources such as turnout gear and radios.
"Since we have the tallest structure in the area, our facility has unique needs when it comes to emergency response groups and we try to have a proactive approach to all potential needs since safety is our No. 1 priority," Alston explains. "All safety lunches and after-hours activities are held locally and if the meetings are held on our grounds, the food is catered in from local restaurants."
Honest Operation
Northern Frac Proppants has opened its doors to potential customers and always has an open-door policy for local residents who drive up to the plant gate and have a question or want to look around the operation.
"When you try and permit these plants, you get involved with the politics and we try and stress to the communities that we have an open-door policy," Alston emphasizes. "We want to be completely transparent so you can select the best partner for your community."
Alston says the truth of the matter is that "if deposits are there and the rail is there, someone is going to build that mine and it is the community's obligation to choose the best possible partner for it. We are trying to permit another mine on the Union Pacific line, so myself and a representative from UP sat on the porch with a couple and visited for an hour, took them to the Alma Center mine and they said they didn't realize it was so quiet and clean."
Northern Frac Proppants is finalizing its permit to expand the Jackson 1 operation to the Union Pacific line in early 2015. "We have started engineering with ENDECO Engineers on a plant expansion to increase production," Alston says. "With this expansion, if those details get finalized, we will go from being capable of producing one million tons per year to 1.6 million tons per year."