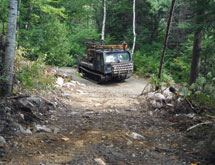 Most people's experience with graphite that they know of is at the end of a pencil or a golf club, fishing rod or tennis racket, but it actually makes such everyday technology as cell phones, laptops, cordless power tools, hybrid automobiles and steel manufacturing possible.
"When we give a presentation to whomever – an analyst or broker or investment fund – we have to do a whole Graphite 101," Northern Graphite Corp. President Don Baxter remarks. "A lot of people are not as familiar as they would be with copper or nickel. Our presentation is quite educational. There's 10 times more graphite in a lithium ion battery than lithium. The supply-critical material to make a lithium ion battery is not lithium – it is graphite."
Presently, nearly 80 percent of the world's supply of graphite is from China. "The fact that China controls 80 percent of the world's graphite market is a cause of worry for the battery industry and industry as a whole," Baxter maintains. "We're in pretty good shape because the quality coming out of China is not what it once was. We are seeing it is more difficult to get the larger graphite flake out of China. The Chinese would much rather export value-added products. That puts us in a pretty strong position."
The large-flake graphite is used in sophisticated electronic products as a heat sink, or an automotive gasket, for nozzles and bricks in steel production and in lithium ion batteries. "Manufacturers are concerned about the security of their supply of feedstock to their materials," Baxter asserts. "They've been stung with rare earth minerals being limited in supply or cut off, and China is doing the same with graphite.
"The Chinese are discouraging export of raw materials, and graphite is no different," Baxter continues. "They've imposed a value-added tax, an export tax to graphite and they require a license to export graphite, which is based on the size of the company. They look to consolidate the industry by limiting the size of the company. They want to take a lot of small mom-and-pop shops and consolidate them into larger, more labor and environmentally friendly, professional mining companies."
Getting Flakey
Northern's principal asset is the Bissett Creek graphite project, a large-flake, high-purity, scalable deposit located 100 kilometers east of North Bay, Ontario, and 15 kilometers from the Trans-Canada highway. Baxter estimates it is a two-and-a-half-hour drive from Ottawa. "It's fairly centrally located for a mining project," he declares.
The prices for graphite are quoted in large, medium and fine flake sizes.
"Each of the categories has a grade factor, so large-flake graphite with a plus 80 mesh material size flake also has a range of 94 percent carbon up to 97 percent carbon," Baxter explains. "The same size flake with greater carbon has greater value."
Graphite mining differs from other mining significantly. "Grade is not the same indicator as for base or precious metals," Baxter emphasizes.
"The difference with the graphite sector is you need to look at the big picture to evaluate it properly," Baxter continues. "The physical characteristics of the flake in the rock are more important than grade. One can have a high-grade deposit, but if the flake is small, it won't necessarily produce a salable product. Metallurgy is key in developing a graphite project. Can you take it out of the rock without breaking it, produce large flakes with high carbon content and put it in the bag at the end of the process?"
Northern Graphite maintains it can. "With Bissett Creek, we're the only ones so far that have done the full suite of metallurgical testing, culminating in a pilot plant," Baxter maintains.
The company says it can produce large-flake graphite with 95-plus percent carbon that will receive premium pricing. It also emphasizes that Bissett Creek is not an exploration concept but rather an advanced-stage, predevelopment project. This is due to its exploration in the 1980s.
On the Shelf
"There was a bit of a graphite exploration boom in the mid- to late 1980s, and at the Bissett Creek deposit, the majority of the diamond drilling was done in the late 1980s," Baxter relates. "A full proven and probable reserve and feasibility study was done in about 1989 or 1990. Then it was basically put on the shelf, because soon after that, the Chinese started dumping graphite into the market. Prices started to depress, and it was never put into production. But it was pretty much ready to go, and then it changed hands a few times."
The deposit came to the attention of a company called Industrial Minerals, which asked Gregory Bowes – now Northern Graphite's CEO – to examine the property. Baxter says Industrial Minerals was "a bit of a corporate and financial mess" with the managers and shareholders fighting. But Bowes saw potential, renamed the company Northern Graphite and took it public on April 20, 2011. Its former shareholders are no longer part of the company.
"We did an IPO at 50 cents a share," Baxter points out. "Even with current market conditions, we are doing better than most." The company anticipates starting construction on road access, infrastructure and the mill process building in late fall. "It's looking like in the fourth quarter of 2013 we should be at or near production," he predicts. "That's fairly near-term from a mining standpoint."
Mining Its Resources
The Bissett Creek graphite deposit will be an open pit mine with a processing plant built to Northern Graphite's specifications by a general contractor. The 2,500-tonne-per-day flotation processing plant will be based on 92 percent availability. Northern Graphite will have a natural gas pipeline built from the main Trans-Canada line that is approximately 15 kilometers away to fuel five 1-megawatt electrical generators and other infrastructure. To lower energy costs, waste heat from the generators will dry the graphite concentrate. Being close to the natural gas pipeline is key to being able to maintain low-cost production in the mill.
The graphite coming from China typically is sold through brokers. "In our case, we will be able to sell directly to the end-user and cut out the middleman," Baxter notes. "We're looking to make the entire margin ourselves from operating the mine and not give it away."
Unlike companies mining several precious metals, Northern Graphite is a single-asset company. "With graphite, if the price is not there, the margins are not there," Baxter says. "We have very good margins, but we have to be very careful."
Synthetic graphite is a competitor in lithium ion batteries, but in larger batteries, natural graphite is less expensive, Baxter maintains. The company also has developed a proprietary process to purify spherical graphite without the use of hydrofluoric acid, which has negative environmental consequences.
With projections that the world's annual 400,000-tonne usage of graphite will increase just for batteries by 1.7 million tonnes annually by 2020, Baxter is bullish on graphite.
"We have an 81-million-tonne resource at this point, which would translate into 90 years of mining at current production rates," he estimates. "The deposit is scalable. If demand for graphite increases beyond 2015, it's easy for us to double, triple or quadruple our production down the road." EMI