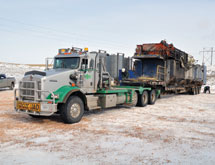 Northern Oilfield Services
Located in Plentywood, Mont., Northern Oilfield Services has seen massive growth in the last three years alongside the growth of the oil and gas industry in its backyard. Purchased by owner Bart Horner in May 2009, it has gone from eight employees to 40 in the last three years because of its commitment to teamwork and hard work.
"We work hard to make sure we can get our people and equipment when and where they are needed," Horner says.
One-Stop Shop
For all of its services other than trucking and transportation, Northern Oilfield Services works on projects in a roughly 75-mile radius around Plentywood. The largest piece of its business is its roustabout services, which account for approximately 50 percent of the company's revenue.
In its roustabout service offerings, the company builds, repairs, modifies and maintains oil production equipment, sites, wells and pipelines. Its roustabout crews service all of the Williston Basin area of the Bakken play with a line of well site construction services, gooseneck trailers and custom fabrication equipment for installation or repair of equipment and machinery.
The capabilities of Northern Oilfield Services' roustabout crews include permanent and temporary fencing, production tank placement and set up, tank battery installation and environmental barrier excavation. The roustabout crews also provide flowline and battery line installation and service, ground leveling and ground repair, well site clean up, firetube installation and exchange, and treater installation maintenance and repair. Additionally, the crews can handle shelter construction and insulation, mowing, snow removal and vegetation suppression.
The next largest slice of the Northern Oilfield Services pie is heavy haul transportation and hotshot trucking, which is about 25 percent of the business. The company's equipment includes winch trucks with full-width tail rolls and 53-foot to 70-foot tail roll drop deck trailers, and semi-trucks with beavertail equipment trailers and flat deck trailers.
"Our trucking service goes all over the Bakken, and we do some hotshot work in Utah, Colorado and Wyoming," Horner says. "We've been buying new equipment, running late-model trucks and ensuring that older equipment is well-maintained and ready to go, improving the quality of our equipment for reliability purposes."
The remainder of the company's business is based in lease operating and consulting. Throughout each aspect of its operations, Northern Oilfield Services tries to stay a step ahead by having equipment available when it is needed and striving to know its clients' drilling plans and projections.
Keeping up with Demand
That can be a challenge, however, when the market is moving as fast as it is in the Bakken. Three years ago, Northern Oilfield Services was virtually the only company in the area to offer the variety of services that makes it a one-stop shop. As the Bakken market grows, so does the competition.
The increase in competition has exacerbated workforce issues in the area. Plentywood is a town of about 1,800 people with a low unemployment rate. Highly experienced people are in demand by companies around the region, and employers are always looking for more people to meet demand.
This has created an environment where there is a shortage of housing for workers, and inexperienced people need to be quickly trained.
"One of the things that draws employees to us is our reputation, as most of our candidates come by word of mouth, although we do some advertising," Horner says. "We offer hands-on training for our employees and put new hires on with experienced crews so they get up to speed pretty quick."
As it serves more than 70 different companies annually – including four of the largest companies in the Bakken – Northern Oilfield Services has successfully demonstrated that it is capable of handling almost any project. The company is aware of trends in the industry, and it is prepared to make adjustments depending on macro issues such as the price of oil and the debate over fracing, or if clients start to scrutinize expenditures and back off of drilling programs.
Uncertainty aside, Northern Oilfield Services is confident the Bakken oil play will stay strong for many years to come. The company is currently building a new shop on 30 acres to the south of Plentywood, and it is considering the possibility of constructing some nearby housing for employees. Horner believes the company will see 30 to 40 percent growth each year for at least the next two years, and the company is keeping an eye out for other opportunities to arise.
"We are watching the direction of the market here in Montana, as North Dakota is saturated with companies that do what we do," Horner says. "We have a fair amount of respect for other service companies. We don't really look to infringe on someone else's market when we are as busy as we are here, but we will go into areas if our customers ask us to. Overall, we are looking for expansion opportunities to the west as the Bakken play moves that way." EMI