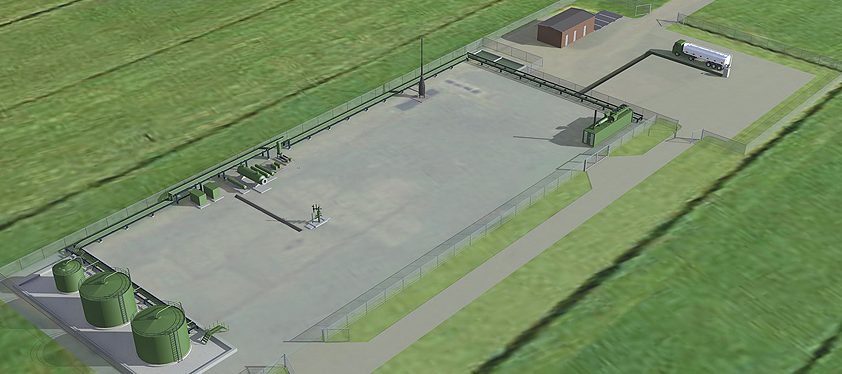 Field of dreams
Focusing on the EU, London based Northern Petroleum specialises in exploration and production of oil and gas.
The company was founded in 1995, with the aim of completing projects in Russia. This approach was abandoned by 1999 due to untenable fiscal and political conditions in the region. The focus of the business shifted to gaining licences in the more stable countries of Ireland, the UK, Italy, Spain and The Netherlands. The change of direction has proved to be a success, and the organisation is presently one of the leading lights in both the Dutch and Italian sectors.
It is probably true to say that these regions are not thought of as that significant to those who are not wholly familiar with the oil and gas industry. But, as Graham Heard, exploration and technical director, explains it is a perception that as well as being incorrect, has actually aided the expansion of the company: "What we always try to do is be smart about recognising where future opportunities may lie. We don't necessarily look at just the conventional areas, which is what a lot of companies will do.
"For us, it is all about finding areas where we believe there is real potential, which for one reason or another, are undervalued by others." And, as he continues, that philosophy has led to real
progress on the European mainland. "We've managed to expand in the Netherlands, and today we are the number two company, in terms of onshore reserves. Meanwhile, in Italy we presently have more exploration acreage than anybody else. We've achieved significant growth in the last five or six years and now have 76 million barrels of 2P reserves because we've concentrated our efforts in areas where we've had little competition. We've not really had to compete against our peer group or larger companies in the industry – that's been a real advantage," Graham states.
Amongst its Dutch assets is the large gas field, Waalwijk, which has significant future gas storage potential, the rights to which it recently sold for a consideration of up to £10 million, having purchased the field interest for half a million euros. Furthermore, the company boasts a diverse portfolio of six fields for development, two being primarily oil fields with gas caps, with the remaining four all gas fields. While the timeframe of the projects has been lengthy, Graham is confident that they will soon start to bear fruit: "The six fields are now in their final stages of planning approval, and we are in the process of ordering items for development. The expectation is that production will climb to 6000 barrels oil equivalent per day from those fields over the next five years. We'll be looking to put the resulting revenue stream back into the development and expansion of our operations in the Netherlands and Italy."
Northern Petroleum's Italian portfolio certainly makes for impressive reading. It operates numerous oil and gas licences in some of the country's most resource rich areas, such as the Po Valley and offshore Sicily. In addition, the company was recently granted its fifth licence in the southern Adriatic Sea. According to estimates, six prospects in the licensed areas could contain anything between 2.3 and six billion barrels of oil and gas. Speaking after the award of the latest licence, Derek Musgrove, managing director, said: "This project is a real achievement. I know that our team will develop these opportunities with enthusiasm as it is seldom that one comes across and successfully licences such potential."
They are sentiments that are firmly echoed by Graham: "The next potential leap in size will be drilling wells in Italy, which with the prospects in the Southern Adriatic, should mean some decent success. To illustrate, we've recently had some reserve reports carried out for two of the fields there, which are known as Rovesti and Giove. The third party engineers who carried out the work have informed us that the two sites have reserves of approximately 53 million barrels in total, so it is clearly a very exciting opportunity for us. We have some fantastic exploration prospects identified, and we will be looking for partners to develop them and join us in drilling wells."
Its work closer to home, in the UK, is also predicted to provide steady cash flow through 2008, providing a welcome income until the further production sites in the Netherlands provide a real jump in revenue in 2009. Once those operations are fully functional, Northern Petroleum may well decide to increase its global footprint still further, as Graham explains: "I think it is quite possible that we will consider other regions if the opportunity presents itself," he states. "To date, we've concentrated on the EU because of the fiscal and political stability, but we do recognise that can be offered elsewhere. It is likely we will expand our horizons next year, and the initial focus will be the EU. Outside of that, anywhere else will be opportunity driven, which means we would need to see a chance to use our skill set, and run a project as an operator. We'd only consider it if we thought we could make a real difference."
Evidence would suggest that Northern Petroleum could do that in abundance. Its beginnings were challenging to say the least, but its problems in a politically problematic Russian marketplace have been replaced with significant success in undervalued EU territories. It would also be fair to say, given the projected resources at its licensed Dutch and Italian sites – both offshore and on – that there is far more to come.
Northern Petroleum
Services Oil and gas exploration and development