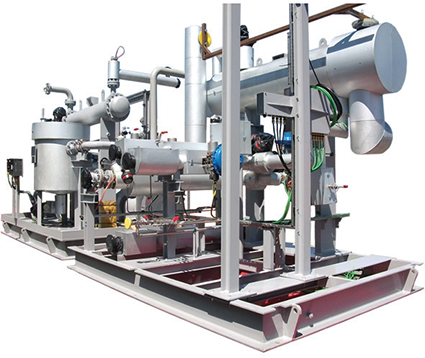 A rich heritage
Taking its name from its founder and inventor, Mr Northey, who created the 'Hook & Claw' dry vacuum pump and compressor in the 1930s, Northey Technologies Ltd (NTL) boasts a rich heritage in the design and manufacture of gas compressors and vacuums for a range of industries.
With the original applications first being utilised for superchargers in cars and vacuum pumps for railway braking systems, there are three descendents of Mr Northey's legacy – Northey Boyce, Northey Rotary Compressors and Northey Technologies Ltd. Northey Rotary Compressors Ltd was created in 1946 and the company has continued to evolve, develop and improve its portfolio of premier compressors and vacuum pumps that offer distinct benefits in the reduced need for lubrication, low contamination risk and reduced running costs.
Since the 1960's Northey has branched out into a variety of industries having gained involvement in the chemical and petro-chemical processing markets, as well as anaerobic digestion treatment for the water industry. Today, the company is a major player in this last field and produces a number of machines for gas mixing and boosting of methane gases produced during the digestion process, before converting this waste product into heat, power and generation onsite. The organisation has also penetrated the nuclear industry where its solutions can be used for the enrichment of uranium, the oil and gas industry for gas and flare recovery systems as well as boosters for sealed gas recovery units.
Based in Dorset in the UK, over 80 per cent of NTL's business is currently in the export market with installations being delivered to companies such as NAM, the joint venture between Royal Dutch Shell and ExxonMobil, in Europe, as well as further afield to entities in Asia and Australia. Its unique selling point for international leaders is its facility for delivering not only highly efficient vacuum pumps and compressors, but also complete package systems developed to meet client's exact requirements.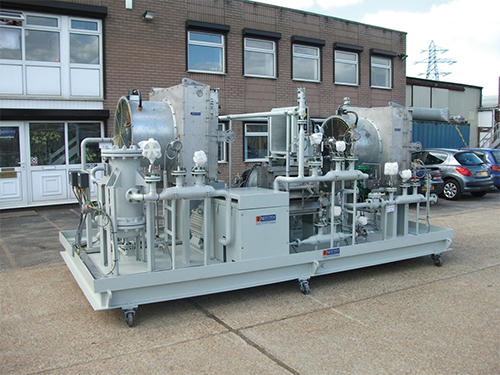 "We are a one-stop shop solution for customers in the gas handling arena and are a recognised specialist in gas installations," Bernard Whicher, managing director of NTL explains. "We offer a complete solution to any requirement and will outsource if necessary to ensure we have all of the crucial equipment. We can provide 'plug and play' with turnkey systems and are also able to offer additional support in the form of our superior after sales and services teams. Over the past few years our proficiency in providing service and maintenance contracts has become increasingly important to our customer base."
Indeed, the development of long-term relationships with major clients is of the utmost importance for the company and its association with NAM is a great accolade, while it can also boast that nearly every installation in the Singapore water treatment sector utilises Northey equipment. Within the home market of the UK, the organisation has entered into numerous framework agreements with companies such as South West Water, Thames Water, Wessex Water and Yorkshire Water. Most recently, however, the company has been employed in the Manchester region for the delivery of energy from waste solutions across two key sites. The systems installed are being used to process and separate refuse and vegetable matter to be digested and converted into electricity. Within the petrochemical field Northey has also recently completed a contract on the Schoonebeek Oilfield Redevelopment (SRT project) that has been reopened due to the high price of oil and modern processing developments. The company's bespoke Vent Gas Recovery System (VGRS) is being used to recover wet gasses and dry them so that they can be used for CHP on the site.
Involvement in such prestigious projects over the past few years has led to a substantial increase in demand for Northey's tailor-made solutions and service facilities. To keep up with the requirements of its expanding customer base the company has recently relocated to new premises that have doubled its capacity for production. Larger pieces of equipment can now be designed and manufactured on site, while more suitable and better appointed office facilities have resulted in greater efficiencies.
While many markets have suffered from economic deficiencies in the past two years, any downturn for Northey has been compensated by increased activity in the oil and gas arena spurred by the high price of oil. The move towards greener energy has also highlighted the advances of the company's equipment, while the water industry is starting to reinvest now that it has entered into AMP 5 (Asset Management Programme).
Bernard outlines Northeys' ambition for the coming years: "We see massive opportunities in the export market and are already expecting increased business in Australia, as well as further projects for the nuclear industry in China. I believe we will become a major player in the energy from waste field, particularly with regards to technology, while also providing market leading VGRS' to the environmental protection industry. The future is bright and there is even the potential to increase our influence within the food and packaging industries – the possibilities are endless."
Northey Technologies Ltd
Products: Gas compressors and vacuum pumps