Clean, green and lean
With over 25 years of experience as a successful power producer, Northland Power develops, builds, owns and operates sustainable power generation projects within Canada as well as internationally. The business was established as Canada's first independent power producer in 1987 and has since achieved a remarkable growth trajectory. Northland Power has been publicly traded since 1997 and today operates more than 20 facilities in Canada and Europe that produce electricity from cleanburning natural gas and renewable resources such as wind, solar and biomass.
Since its inception Northland Power has grown into a market-leader in sustainable power generation, under the stewardship of its senior leadership and management team, which embodies over 200 years of combined experience within the energy industry.
Operationally, Northland Power has remained lean despite revenues of approximately $760 million, with its core team of 115 staff based at its Toronto headquarters and a further 190 operations personnel across its facilities working to ensure the company's vision of sustainable development. Today Northland Power owns or retains a net economic interest in 1,313 MW of operational generating capacity with a further 972 MW (682 MW net to Northland) of generating capacity presently under construction.
Historically, Northland Power has produced the majority of its energy through the efficient combustion of natural gas. Today the bulk of the energy generated by the company is produced by the combustion of national gas in gas turbine plants, including district generation plants, cogeneration and cogeneration with biomass. As the company has continued to grow and expand its global presence it has diversified to increase its capacity in renewable technologies including solar and wind, both onshore and offshore. Presently Northland Power is heavily involved in the development of the Gemini and Nordsee One offshore wind farms, both located in the North Sea.
Located some 85 km off the coast of Groningen, Netherlands in a location that features highly favourable seabed conditions as well as a strong reliable wind resource, once operational the Gemini project will represent the largest offshore wind farm in the North Sea as well as one of the largest in the world. "We are the majority owner of Gemini, as we own 60 per cent of the project. Gemini is a 600mW project with a capital cost of €2.8 billion and our partners include Siemens at 20 per cent, and Van Oord at ten per cent. Van Oord also happens to be the contractor that is building the project and Siemens is supplying the turbines for it. Finally the Dutch utility company, HVC owns the remaining ten per cent," explains Northland Power CEO, John Brace. "The project is well advanced now. We are currently building the connection to the grid on land, which means that we have to build two 100km long export cables. These are largely manufactured and installation is under way. We also have to build two offshore high-voltage platforms to collect the energy from the wind farm and manufacturing of those is well underway and they are due to sail out for installation in August 2015. The in-field cables and transition pieces are under construction and the monopiles are almost all fabricated. The turbine production has just started and the first blade came of out of its mould during May 2015."
With work progressing well on the Gemini offshore wind farm, installation of the monopiles is due to commence during July 2015. Gemini is expected to open in 2017 and will generate 600MW of power, meeting the needs of 1.5 million people and reducing the annual CO2 emissions of the Netherlands by 1.25 million tons. The project also supports the Netherlands EU mandate for the provision of 20 per cent renewable energy by 2020, as such a 15-year power purchase agreement is currently in place with the Netherlands government.
In addition to the impressive scope and scale of the Gemini project, Northland Power is proud of its groundbreaking precedent in financing within the offshore sector, as John elaborates: "On the financing side, the original financing package had 22 separate entities involved in it. These included commercial banks, external credit agencies, a multi-lateral bank and there was some subordinated dept, which Northland was also part of. There were also the four equity sponsors, of which we were the largest. It was put together quickly and well and the financial close of this was 14th May 2014. I think we set a new bar for what is achievable in offshore financing. One of the key features in that was the contract structure for the execution; we have only two contacts with Siemens to supply, install and commission the turbines and with Van Oord to procure, supply and install everything else."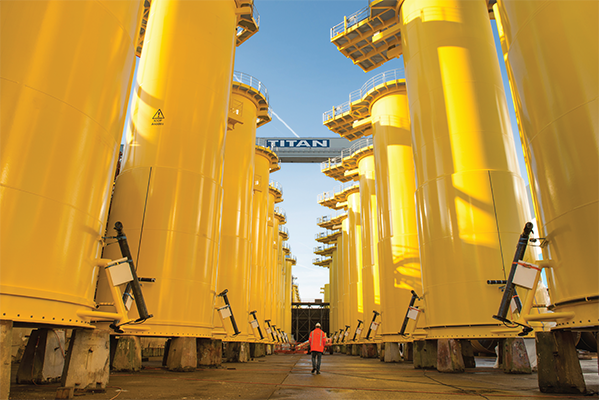 Also in construction is the Nordsee One offshore wind farm, located in the North Sea 40km off the coast of Germany. Once completed near the end of 2017, Nordsee One will encompass 54 turbines and a total capacity of 332MW. Northland Power owns 85 per cent of the €1.2 billion project and will again play an active role throughout construction and operations. In addition to Nordsee One, Nordsee Two and Nordsee Three are in the early stages of development, with a projected future combined capacity of 670MW and will be completed over the coming decade as offshore wind tariffs are extended and additional grid infrastructure becomes available. "We own 85 per cent of Nordsee One and the German utility RWE owns the remaining 15 per cent. The project received financial close on 19th March 2015," John says. "It is early days for the project, which has a five-contract structure; all of these have now been set. Work is underway and the actual in-water construction activities will commence next year after many most of the components have been manufactured."
Within its native Canada, Northland Power manages the operation of several facilities, including six natural gas facilities in Ontario and Saskatchewan, several solar farms located across Ontario; the McLean's Mountain wind farm in Ontario as well as two wind farms in Quebec. It also has projects under development in Canada, including the Marmora Pumped Hydro Storage project located in Marmora, Ontario. As such, Northland Power remains at the forefront of sustainable power production through the application of advanced technologies that encourage the proliferation of renewable power sources. As the company continues into the second half of 2015 and beyond it will seek to increase its presence globally as well as technologically and Gemini and Nordsee will represent a cornerstone of the company's future strategy. "By 2018 we expect that just from Gemini and Nordsee One, over one-half of the company's total adjusted earnings before interest, taxes, depreciation and amortization (Adjusted EBITDA) will come from Europe. We do currently have two onshore small wind farms in Germany, but these are very small so we are basically going from almost nothing to more that half of our Adjusted EBITDA coming from the European market," John concludes. "Over all we spread our focus across all of the sectors in which we operate. We like to describe ourselves as clean and green – clean, with the efficient and intelligent use of natural gas and green in wind, solar and hydro technologies. We continue to pursue projects in our home base of Canada and for expansion of our European off-shore footprint. In addition, we are now pursuing projects in Mexico and Chile and Columbia. It is early days for those projects, but they will be a continuation of wind, solar and thermal projects."
Northland Power
Services: Sustainable power generation
Issue 122 July 2015