Norwegian Electric Systems
Electrical excellence
An innovative, high-tech electrical company with a focus on diesel electric and hybrid electric systems for the global marine market, Norwegian Electric Systems (NES) may be a young business, but its in-house experience and knowledge of the electric marine market totals more than 35 years including the development of 4000 different small and large electric systems.
With its vision to be the global front runner in its fields of expertise, NES sets out to achieve this by exceeding every single one of its customers expectations in regards to performance and delivering innovative and reliable products, systems and service. In its short existence NES has defined itself through a set of core values that govern each aspect of the way it operates and conducts business. Applied internally and externally to its suppliers and customers alike these values include having great flexibility, reliability, a friendly approach, delivering innovation and development through what it calls 'brain power' and maintaining a committed approach to teamwork.
Offering both low and medium voltage solutions, ranging from one to 40,000kW, the company's solutions cover a wide commercial excellencemarket spectrum. In addition to the traditional market for solutions up to 5000kW, typically an offshore supply vessel, the comprehensive diversity of its products and systems opens up the market for drill ships, semi-subsmersibles, conventional rigs, platforms, large tankers and cruise vessels.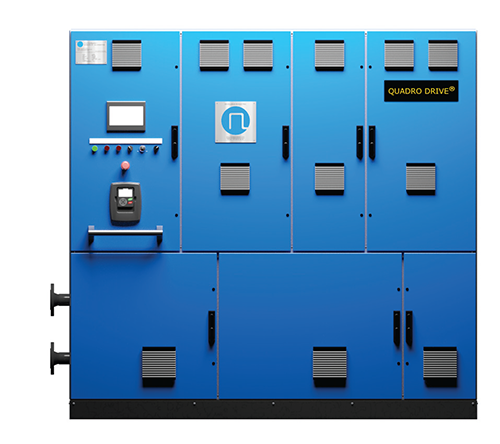 From its main office in Bergen, Norway, the company's R&D department spent the vast majority of 2009 and 2010 working flat out to develop the new Quadro Drive, a product that was successfully tested in May 2010, the performance of which has been nothing short of outstanding. The order intake for the Quadro Drive over the past 12 months has reached in excess of 46 million euros, meaning the supplied quantity of Quadro Drive will surpass 100,000kW of propulsion power. In addition to this solution, the company's Black Out Safety System (B.O.S.S.) and its Remote Assistance System (R.A.S.) have also proved to be very successful.
"These tailor made, integrated diesel electric systems, together with expert engineering, project management, system calculations and commissioning, forms what has come to be recognised as a cutting edge technology," explained Jan Berg, president and chief executive officer of NES in a recent press release. "The company's people have truly done an outstanding job. Their brainpower has been nothing short of invaluable to NES and has allowed the company to confidently reach a point where it can say that it helps make great vessels even greater."
In June 2011, NES made the exciting move into what are now its new offices and factory building. With 9400 square metres of space, the factory building houses a warehouse that can comfortably accommodate the necessary equipment stocked for current projects as well as spare parts, including motors and generators. The testing area housing the Quadro Drive can manage more than 50 diesel electric systems in a single year, while the R&D area is now equipped with a complete DE system for prototype testing of all the company's new developments. Meanwhile, the office area boasts 3400 square metres of floor space allowing NES to cope easily with its expanding number of employees.
Though based in Norway, NES does indeed possess a global presence. Currently, it has offices and small production facilities in Rio de Janeiro, Brazil, as well as agents representing the company in Spain, India, Singapore, China and the Middle East. The company's domestic market remains hugely important, while its success to date abroad continues to encourage it to develop its global footprint and standing. This approach can be seen to be paying off when looking at some of the more recent orders NES has received, including two vessels for Esvagt, Denmark, to be built in Singapore, two of the Skipsteknisk Design ST 216 Arctic for Gulf Offshore and two vessels of the new Havyard Design for Garware in India.
For NES, current market conditions are very favourable, providing it with the hope that over the next three years it will be able to achieve an annual turnover of nearly 65 million euros. Well aware of the need to be not only cost effective, but also flexible and dynamic, the challenge now for NES is to grow internally. With vacancies in all its major departments the company is actively seeking out those looking for a challenge, who take pride in the work they do and who want to join a company that has already surprised many within the industry by succeeding and thriving in what remains an uncertain market environment.
Norwegian Electric Systems (NES)
Products: Marine electrical systems