Norwegian Electric Systems (NES)
A quest for the perfect system
Founded in 2009, innovative, high-tech electrical firm Norwegian Electric Systems AS (NES) may be young, but its 35 years of in-house expertise in the electric marine market has resulted in a strong order backlog of 400 million NOK as of December 2014 for delivery in 2015 and 2016.
Operating a provider of both low and medium voltage solutions across markets such as offshore, merchant marine, fishing, cruise, ferries and exploration, the company has further honed its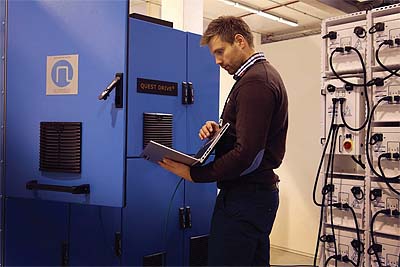 knowledge and a reputation for excellence.
Focused on becoming the global leader in the electric marine market since its inception, NES has consistently exceeded the expectations of each customer, both in regards to performance and the delivery of cuttingedge, reliable products, systems and service. Having been involved in the development of over 4000 different electric systems, the company has used long-term knowledge to create innovative solutions such as the Quadro Drive frequency converter, a highly successful product that launched in 2010. Boasting superior performance, the Quadro Drive puts the customers' vessel at the forefront when it comes to dynamics and flexibility.
The liquid-cooled four-quadrant Quadro Drive has a power rating up to 5000kW, making it suitable for the many industry wide applications. The active rectifier in the system creates the possibility of regenerating the energy from the propeller and shaft back to the grid, whilst the power factor is always in unity and equal to one, so the grid's capability is fully utilised. The result is a flexible and dynamic propulsion system, focusing on a high performance energy chain from the diesel motor to the propeller's thrust. On top of this, the Quadro Drive has a THD (total harmonic distortion) as low as 1.5 per cent.
Other parts of the NES total electric propulsion system are the groundbreaking Quadro Drive is BOSS (Black Out Safety System), which prevents a single electrical fault from causing a ship to lose its propulsion power, and RAS (Remote Assistance System), a product that reduces vessel downtime through online support that not only makes fault finding easier, but also more accurate. The unique product gives NES access to the vessel wherever it is in the world, which ensures optimum support.
Not a company to rest on its laurels, NES has recently presented its two new QUEST (Quadro Energy Storage Technology) systems to the market. With a philosophy of always preparing its diesel electric and hybrid electric systems with a modular 'add on' capability, NES can deliver Quest without the need for any adaption, thus making the new system a highly flexible and cost effective option. With Quest one or two installed, customers can save up to 40 per cent more fuel and will benefit from significant NOx and CO2 reductions.
The strengths of the innovative firm have resulted in a number of notable contracts, such as the recent signing of orders worth 95 million NOK for the Estonian Port Authority. Although the majority of work undertaken by NES is in the offshore support vessel and jack-up vessel markets, the reduction of oil prices led the firm to diversify its customer base and expand into less vulnerable markets. Having sold solutions to military naval vessels, the company has progressed into delivery of electrical propulsion to ultra modern car ferries.
Designed by Naval Architects and the engineers of LMG Marin, the ferries are to be owned and operated by the Port of Tallin; a total of four have been ordered, two of which will be built by Remontowa, while the other two will be constructed by Sefine. Although competition from Germany and the USA was fierce, NES won the contracts through its ability to offer the optimum
technical solution as well as competitive commercial terms. The scope of supply for these projects includes equipment such as Norwegianelectric generators, Norwegian electric main switchboards, project management, the company's innovative Black Out Safety System (BOSS) and system integration.
Additionally, NES signed a 35 million NOK contract for the supply of complete electric systems for two new ice breakers, type HD843 ICE, in December 2014. The scope of supply includes two Norwegian electric shaft generators, two Norwegian AUX generators, four Norwegian electric side thrust motors, four electric main switchboard, de-icing switchboard and emergency switchboard, all electrical calculations, engineering and commissioning and a sea trial.
Meanwhile, in January 2015 it was announced that Fafnir Offshore won the annual OSJ Environmental Award for its battery powered PSV, a Hayvard 833 WE ICE design that NES supplies. The vessel is the first to be installed with NES's Quest two System; benefits of using it include a five to 20 per cent fuel reduction during steaming, a 25 to 30 per cent fuel reduction during standby and harbour and DP2 mode of up to 35 per cent fuel reduction.
This trend for growth looks set to continue for the innovative firm, as Hayvard Group ASA recently took the helm as NES' majority shareholder following the purchase of shares from firms belonging to Jan Berg and Frithjof Hustig. With 50.5 per cent ownership, the group aims to develop and deliver cutting edge ship technology to its customers through synergies, particularly between Hayvard Power & Systems and NES, as the subsidiary has the potential to provide valuable input to NES' further product development.
Norwegian Electric Systems (NES)
Products: Marine electrical systems