Norwegian Offshoreservice AS
Knowing the ropes
Norwegian Offshoreservice was officially established in its current form in 2006 and, as of 2007, has focused its operations primarily upon the offshore industry.
The company specialises in a range of offshore services for its Norwegian clients, ranging from inspection to rope access. Its roots date back to 2001, when its owner founded it as a scaffolding company. He soon saw the market value in both industrial climbing and non-destructive testing (NDT) services, however, and so adjusted the business strategy accordingly. Today, the company employs over 30 skilled professionals and boasted a turnover of over 20 million NOK in 2008.
The company's vision is to offer solutions for its clients who wish to work in high and inaccessible places, through using rope and climbing equipment in situations where access is otherwise impossible. As a timesaving alternative to clients having to use special equipment, Norwegian Offshoreservice provides comprehensive control, inspection, installation and repair services at height, as well as inspection and control of lifting equipment. Throughout its operations, the company aims to make measurable improvements in the health, safety and environmental aspects, whilst maintaining a zero-injuries policy.
The company's operations are currently split into four main business areas. These include scaffolding, both onshore and offshore; NDT services conducted in pipes, structure and welding; lifting techniques, which ranges from the annual inspection of lifting gear to the service and mounting of cranes; and its core business, rope access techniques. This last business area has grown rapidly since its founding in 2007, with the company now able to rent out rope access personnel with all levels of experience, alongside any necessary equipment as well. In order to ensure safety at every stage of the process, the company uses new extended control methods and combines scaffolding and rope access with the precision of its supervisors.
An important aspect of Norwegian Offshoreservice's strategy is its multidiscipline approach, which places a strong focus on carrying out jobs with maximum efficiency, regardless of weather conditions or unforeseen delays. This is achieved by ensuring that all of its operators master several disciplines, such as engineering, painting, inspection, welding, piping, mechanical work and project supervision. Managing director, Kay Ove Johansen, elaborates: "Whilst rope climbing requires a lot of training and skill to master, it is no good if, once the climber is up there, he doesn't have the skills to carry out the job itself. This is why we place an emphasis on recruiting people who can perform every task rather than just expert climbers. More important is their knowledge of the profession – if the employee is not already a skilled climber then he can build on it through training and courses."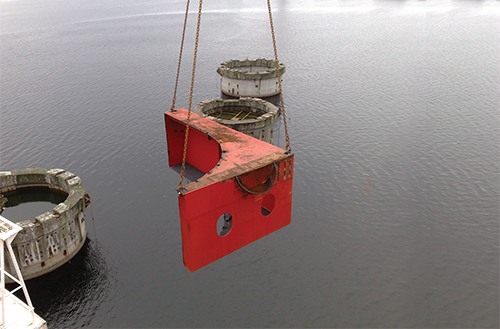 All climbers working within Norwegian Offshoreservice are SOFT approved, which is the Norwegian standard certification for climbing. Operating as Norway's equivalent to the Industrial Rope Access Trade Association (IRATA), SOFT promotes the security and quality of work carried out by company's that supply and use accessible technology. By focusing on safety of personnel and equipment, it represents its members internationally, and provides quality assurance for companies choosing suppliers and partners. Having developed four standards of accessible technology in accordance to present certification, SOFT has helped Norwegian Offshoreservice reach level two of these standards in 2008.
Safety will always be an important factor for involved with the services that Norwegian Offshoreservice provides, as Kay explains: "There are certainly many challenges involved, especially working in the North Sea. Often-harsh weather conditions require not only a steadfast nerve on our employees' part, but also meticulous planning from us. We take every minute detail into account before we send anyone out, and we ensure that we are fully aware of all dangers involved."
Another of Norwegian Offshoreservice's main business areas, NDT, can be employed by clients to examine the condition and quality of an object through not only visual inspection, but also magnetic particle testing, penetrative testing, eddy current testing, ultrasonic testing, film-based radiography and video inspection. The company's NDT operations also includes welding inspection, and it possesses inspection facilities that are carefully developed to ensure that the highest levels of production supervision and material control are always followed. It also places an emphasis on correct procedures and the appropriate certification of its employees. These quality standards are further enhanced by the intrinsically high levels of technical knowledge of paint corrosion and steel toppings required within Frosio inspection.
Kay discusses some of the company's other business areas: "In addition to rope access techniques and NDT, we also offer the inspection of loose lifting gear for our clients. We are hoping to further expand our operations here by getting the company involved with the inspection of cranes and hydraulics here too. The final area of business, scaffolding, covers a wide range of both onshore and offshore tasks, and we have over 20,000 square metres of scaffolding stored on shore ready to be used upon demand."
The company has various projects underway, including carrying out a great deal of work for a client at Ekofisk, a major Norwegian oil field in the North Sea. Kay explains: "We have many ongoing contracts with major oil companies, most of which are in the Norwegian sector of the North Sea. In fact, I would say that at some point we have worked at nearly all of the rigs and installations in the Norwegian North Sea. However, we are also conducting a number of jobs in the UK as well, particularly in Aberdeen. Our strategy is to keep ourselves open to new markets and if an opportunity comes along, we will not hesitate to examine it."
With such an active agenda, Norwegian Offshoreservice looks set to weather the financial crisis, as Kay concludes: "Jobs are decreasing slightly, but that is common during the winter months so it is not enough to cause us any real panic. We don't expect any problems this year and I honestly believe that in a couple of years time we will have an even more flexible business model. We already have an excellent platform in the skilled employees we already have and, whilst we may not necessarily be physically larger than we are now, we will certainly have expanded further upon our core competencies."
Norwegian Offshoreservice AS
Services: Rope access, lifting techniques, NDT & scaffolding