Norwegian Offshoreservice AS
Set for success
Originally established in 2006, but only becoming focused on the offshore industry at the start of 2007, Norwegian Offshoreservice AS is a specialist in a number of offshore services from rope access to inspection.
Though a relatively new influence in the industry, the company has seen great success with its tailor made service provision. Employing 35 highly skilled engineers and administration staff, and with an estimated turnover of nearly NOK 20 million in 2008, Norwegian Offshoreservice is set to make its mark in the oil and gas market. Indeed, in just two years the company has grown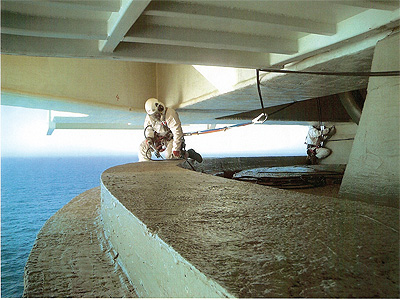 rapidly, from a first year turnover of just NOK five million, through NOK ten million in 2007, to the figure for 2008.
The business provides a range of expert services with its work policy based on zero injuries so far in its operations, and aiming for the same in the future. Its provision includes rope access, NDT (non-destructive testing), welding inspection and co-ordination, frosio inspection and a number of multi-disciplined extras. Norwegian Offshoreservice comprises of a range of welders, industrial mechanics, industrial plumbers, electricians, scaffolders and ultra high-pressure workers. The hiring out of its expert personnel, in conjunction with the equipment is now also part of the organisations provision.
As a rapidly growing company, 2007 saw the creation of a rope access sector and Norwegian Offshoreservice is now capable of renting out rope access personnel, with all levels of experience, as well as the rope access equipment itself. New extended control methods are available while working from the ropes. Combining scaffolding and rope access with the precision of the rope access supervisors, ensures safety is the primary concern at every stage of the process. Although one of the main challenges is sourcing skilled engineers with appropriate rope access, the company has successfully managed to obtain the right personnel. Furthermore, in January last year the company initiated a new division to carry out the control of lifting gear equipment and the control of offshore drilling equipment.
With the aim of improving knowledge and ability in the industry from day one of the company's operations, the testing and inspection facility of the company is a key benefit in the offshore industry. Norwegian Offshoreservice offers NDT to examine the condition or the quality of an object in a number of ways. Such abilities include visual inspection, magnetic particle testing, penetrate testing, Eddy current testing, film-based radiography, ultrasonic testing and video inspection. The company is forever trying to develop the skills and capabilities of its employees, and aimed to have ten NDT operators with rope access experience by the end of 2008.
Its welding inspection facilities are developed to conduct production supervision and material control, as well as generally ensuring that the right procedures are being followed and personnel have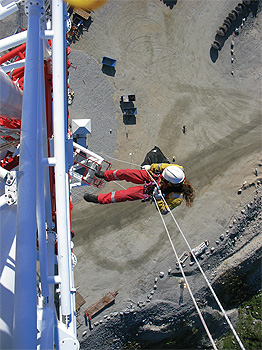 obtained appropriate certification. Frosio inspection requires highly technical and climatic knowledge of the corrosion of paint and various toppings on steel and other metal constructions. The quality control of metal is an important area for the offshore industry and is one that Norwegian Offshoreservice is putting further investment into.
In relation to quality control, Norwegian Offshoreservices regulates its own processes, and endeavours to meet the highest values in the same way it assesses others standards. As such the company is Achilles approved, meeting the health, safety, environmental and quality levels of provision it sets out.
Furthermore the organisation is a member of SOFT, a Norwegian objective that promotes the security and quality of work carried out by those who supply and use Accessible Technology (TT), in regards to personnel, safety and equipment. It represents its members internationally, providing quality assurance for companies choosing suppliers and partners. SOFT has developed four standards of TT in line with present certification – Norwegian Offshoreservice reached level two of these standards in the first quarter of 2008.
A provider of the best equipment and operators to go with it, Norwegian Offshoreservice has a further side to its dynamic capabilities. The company conducts complete projects, taking full control of a contract from the starting phase and conception to the final construction. From engineering and planning to fabrications, testing and installations, Norwegian Offshoreservice has the facility to be there every step of the way. The small but multitalented workforce of the company is able to cover all disciplines through all phases of construction. With the mechanical work taking up most of the workload of the complete project sector, the engineering sector is highly trained and is also able to carry out the subsequent inspections, maintenance, installations and modifications.
The current economic situation is leaving many small companies across the world behind in the scramble to keep heads above water. The oil and gas industry however is managing to maintain its predominance globally as it relies on consumer demand for oil and gas, which looks set to remain high for some years to come. As an increasingly multi-faceted company, buoyed up by its dynamic and multi-skilled workforce, Norwegian Offshoreservice is rapidly becoming a trusted name in the oil and gas market. Though not a large company or a big name in the industry, it is gradually gaining more expertise, areas of business and interesting projects. Its complete package provision enables clients to use just one trusted contractor to construct, inspect and maintain its facility. As it continues to build on its knowledge and extend its abilities, Norwegian Offshoreservice is set for success in the future.
Norwegian Offshoreservice AS
Services Rope access and NDT contractor