An informed response
NOSCA – the Norwegian Oil Spill Control Association, was established in 1992 to bring together governmental, scientific and private industry members to create a knowledge platform for oil spill response.
The organisation was originally founded in Norway, where it continues to operate but today it works in co-operation with companies globally and aims to be an advisory body for everything related to oil spill response and research.
As a non-profit co-operative of companies, NOSCA operates with a spirit of co-operation focused on the exchange of ideas to better address the serious ramifications of oil spills and leaks. It works closely with industry players and governments and currently has 35 members including the Norwegian Coastal Administration, NOFO (Norwegian Clean Seas Association for Operating Companies), SINTEF and others.
NOSCA primarily co-operates with industry players through its yearly NOSCA Seminar, which is routinely attended by around 60 international participants from 15-20 countries. "The seminars are held yearly in Norway for three years and the fourth year are held abroad," explains NOSCA chairman Trond Gulbrandsøy. "The seminar includes presentations that are given by both Norwegian and foreign parties from governments and private industry, focusing on sharing thoughts on oil spill response, the techniques that are used and how we can learn from them."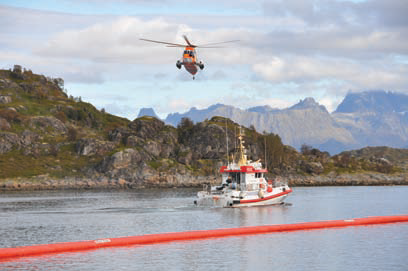 The company also participates in seminars and exhibitions hosted by partners around the world. It is one of the three founding members of Interspill. The Interspill steering committee counts 11 members today and arranges the European oil spill conference and exhibition in a three-year-cycle. Furthermore, NOSCA contributes to the success of IOSC (International Oil Spill Conference) in the US and Spillcon in Australia. Throughout 2014, NOSCA members will attend and support various international events including the HSE Med 2014 Summit in Florence on the 21st to 22nd January and the Arctic Oil and Gas 2014 Summit from 28th to 29th January. NOSCA will also support Arctic Oil and Gas North America during March and the International Oil Spill Conference in May in Savannah, with the Interspill conference to follow in Amsterdam during 2015.
As well as being an active participant in the exchange of knowledge and information, NOSCA takes part in the practical side of oil spill response research and development. Norway is one of the few countries in the world to undertake full-scale on-water testing of oil spill response techniques, these tests are organised by NOFO and provide NOSCA members with a unique knowledge base and research tool for product testing and preparedness.
"The NOSCA seminar includes an on-water exercise," Trond elaborates. "We have a full-scaleexercise, which is normally done with us acting as observers. We have an observation vessel, which we use to follow the exercises that are undertaken by the Norwegian coastal authorities and/or NOFO.
"I think the only way to learn is by doing," says Trond. "We need to exercise not just once per year, but frequently. In this sense I think the NOSCA seminar is one of the most important things we do, it combines the technological part with strategies and an on-water exercise to see how these techniques work in the field, I think that in this respect we are probably unique."
As the complexities of oil spill management are better understood, industry leaders are designing their response capabilities to most effectively meet the challenges of spills that may occur in the future. Naturally, avoidance is the best solution and is something that all operators work towards, however should the worst happen there is a consensus that a rapid, effective response is paramount. Increasingly, companies are investing in new technology and equipment to ensure that they have the necessary tools to deal with any eventuality, as Trond observes: "More so in recent years, I think people are becoming more focused on being prepared and the deployment of larger equipment that is more able to deal with the oil spills that may occur.
"At NOSCA we have everything from detection by satellite through to detection by radar and other means of detection to enable us to respond in an efficient manner. We look at the whole picture, which I think is the most important thing. Different countries are using different techniques to collect the oil, but we still think that collecting the oil and removing it from the environment is the most effective way of addressing spills, but you still need the other tools in the toolbox. A given scenario needs different tools and as it develops the tools that you need will change, the nature of a spill can change in days or even hours so that the strategy that was in place is no longer applicable."
In the future NOSCA will continue its work with the world's governments and oil and gas operators to ensure the industry and the environment are best protected against the harmful effects of oil spills and leaks as Trond concludes: "The important thing for us is to stay on the course that we are on and in saying that, to learn from experience. It is important to adapt also to the things that you learn instead of just carrying on doing the same thing, which is dangerous. So the course we set is to learn from each other globally and to research new techniques and equipment to maintain a continual improvement of techniques, technology and response times."
NOSCA
Services: Oil spill response, consultancy and development