Innovative drilling technology
A worldwide leader in downhole tools and equipment, NOV Downhole Eurasia Ltd is a division of the global giant National Oilwell Varco (NYSE 'NOV').
It supplies the oil and gas industry with a comprehensive range of traditional and bespoke downhole tools for complex drilling projects such as directional drilling, fishing, well intervention, re-entry and well interventions. Strategically located across the globe, NOV Downhole's tool supply and service centres are manned by experienced technicians dedicated to offering customers technically superior solutions to their drilling & fishing challenges.
"NOV is a global US public company listed in New York and as a division, NOV Downhole specialises in drilling bits and other drilling related tools. Major customers include Saudi Aramco, Schlumberger, and Shell Oil Company. We also do a lot of work for other major oil and gas firms, including BP, ENI, Sino Gulf Energy, Exxon Mobil, Weatherford, Statoil and Total, the objective predominantly to reduce operators' drilling costs per barrel," says Gregor Ritchie, commercial director at NOV Downhole. "As a UK producer of synthetic diamond drill bits since the earliest prototypes in 1981, a significant proportion of NOV Downhole's revenue arises from this product line. In 2001 a breakthrough form of synthetic diamond component was developed at the Gloucestershire facility, and is now licensed worldwide to all major drill bit manufacturers. A significant royalty income continues to [be] earned by the UK company from this licenced diamond technology."
NOV Downhole's largest UK facility is located in Gloucestershire and features a 73,000 square foot production and office facility. In addition, NOV Downhole has several thousand leased square feet of sales, distribution and repair facilities in Aberdeen & Yarmouth that serve both the UK and more remote markets. Committed to offering its customers the most cost effective drilling solutions, NOV Downhole deploys leading edge design technology to develop and manufacture cost effective, premium performance products.
"For example, at the main Gloucestershire facility…NOV Downhole solutions engineers develop drill bit designs with solid model visualisation, and mathematically model potential vibration issues which might propogate from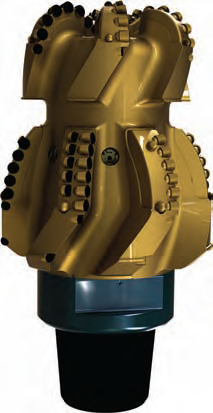 the design. The virtual product design is optimised on computer to eliminate the potential vibration behaviour in the finished product. The CAD CAM design is encoded and downloaded to CNC machine tools, which ensure that the machined steel body conforms 'first time' with final approved CAD design. Robot technology is also used for production of small / high volume components. These are just two example of several techniques used to develop and deliver effective drilling solutions for the customer," highlights Gregor.
All NOV tools are built to meet API and customer specifications, and range in diameter from 3.5 inches to 26.5 inches, in steps of one eighth on an inch and to tolerances of 10/1000 inches. The tightest precision is essential to give customers total confidence that NOV products will not cause operational issues such as stuck bits or stuck pipe.
With 90 per cent of all work exported from UK, NOV Downhole Eurasia works with companies on every continent. The biggest increases in demand have recently been seen in Iraq, Saudi Arabia, Oman, UAE, and the Middle East, although increased drill rig activity is fairly widespread as more challenging hydrocarbon sources are continually developed.
Used to working in compliance with the stringent demands within the oil and gas industry, NOV Downhole is fully prepared for unique or challenging projects, as Gregor elaborates: "Despite there being thousands of existing product designs, there is often further need for customisation of bits and tools from the fundamental components common to most designs. Rock is a complex and naturally variable material, which together to other drilling parameters combine to make for unique drilling challenges. Product customisation is sometimes required to address these diverse challenges."
Aware of the damage that can be inflicted upon tools during drilling operations by excessive vibration, the BlackBox downhole dynamics data recorder takes G-force shock readings at points along the Bottom Hole Assembly (BHA) during drilling operations. At just two and three quarter inches in diameter, the BlackBox recorder's size allows multiple placements along the BHA. Subsequent analysis of the G-force or shock data by NOV Downhole specialists benefits the customer by identifying possible further improvement of the overall design and the component tools within the BHA. The result is a reduction in vibrations, tool damage and rig time, which lower drilling costs and improve well bore quality. This way, customers can drill further, faster, and more reliably than ever before.
Proud of the quality of its products, the technology behind its innovative solutions and the level of customer service offered, NOV Downhole's experienced sales engineers are technically competent, knowledgeable and enthusiastic, as Gregor explains: "Although some see us as a manufacturing company, showing technical competency in front of the customer is an essential part of the business' success. Many technical drilling issues are encountered in the selection and optimisation of downhole products suited to the customer's drilling programme.
"Our sales engineers have the technical competence and operational experience to maintain credibility in front of the customer, discuss tool selection, operating parameters, and even advise on overall BHA design & optimisation if necessary. Our sales engineers typically come from a drilling background for example, degreed geologists with years of operational experience, and they undergo continuous training with NOV as technology develops."
A division of a major global firm, NOV Downhole benefits from the acquisitions and mergers that NOV completes, expanding its portfolio of products and services to further meet the demands of customers working in a complex environment. Previous acquisitions in North America have resulted in NOV Downhole becoming the world's largest independent supplier of drilling motors to the oil & gas industry. The division's motor products are used by most major directional drilling companies worldwide. NOV Downhole continues to enhance its technology, product range, and field service coverage to provide even better drilling results to a broader range of customers than ever before.
NOV Downhole Eurasia Ltd
Services: Drill bit and cutting tools manufacturer