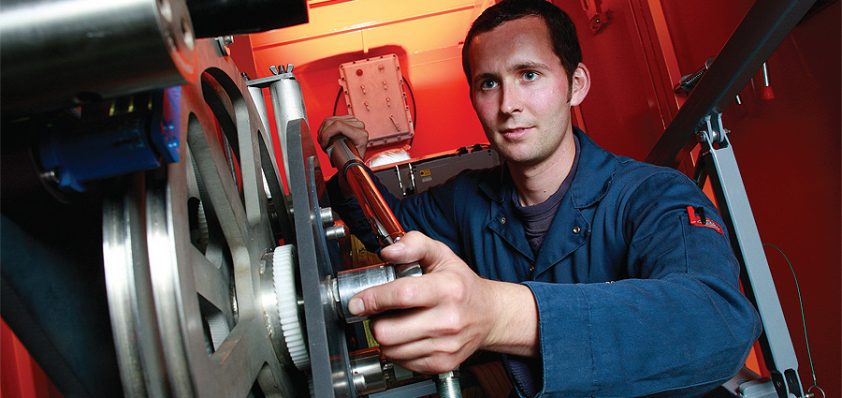 Handling the pressure
Since European Oil and Gas Magazine last featured NOV Elmar in August 2007 the business has maintained its position as a world leader in the design and development of wireline and tubular equipment for oil and gas operations.
Together with launching new and innovative products that are far superior to others on the market, the business has also reached a landmark sales figure for one of its most technologically advanced and successful products – the NOV Elmar Lightweight Lubricator.
Andrew Douglas, general manager for the UK division of the business, tells us more about this achievement and other recent developments: "Ten years ago we introduced our lightweight lubricator
to the market and it has been one of our most successful products – so much so that so far it has taken ten years for our competitors to catch up with the technology. Used during wireline intervention operations, the product still leads the market today and we have recently completed its ten thousandth sale. In total we have manufactured around 82,000ft of lightweight lubricator, which is an astonishing figure when you consider that the average customer only purchases around 60 to 70 feet at a time."
Andrew is right to be proud, for a decade the NOV Elmar Lightweight Lubricator has been the product of choice for companies looking for lighter, safer and more durable products. Available in various sizes and lengths, the product uses a method of manufacture and grade of material that reduces overall weight by up to 70 per cent, which is an enormous saving. To date there have been no reported failures of the lightweight lubricator in operation, making it a true benchmark in the development of wellhead pressure control equipment.
"We are able to produce technology that is so far ahead of our competitors due to the fact that Elmar has always been an engineering driven company," says Andrew. "We are focused very much on first principles – when we design something we carry out a great deal of finite element analysis, complete extensive 3D modelling, prototyping and testing and invest a great deal of time and effort in achieving the maximum results. In the case of the lightweight lubricator the component interaction was so complex that it required a great deal of initial finite element analysis that looked very deeply into the product's behaviour. We also worked very closely with the material manufacturer to develop their manufacturing process to produce a material that is fundamental to this product.
As the industry progresses the demand for lightweight and durable products will continue to increase, and as such NOV Elmar has designed other products around the same lightweight principles, including a lightweight blowout preventer (BOP). "The NOV Elmar lightweight BOP is approximately 60 per cent lighter than previous models and we believe it is the lightest on the market," states Andrew. "The low weight is predominantly due to the fact that it has a cast body rather than the more traditional forged body."
Alongside this, he is keen to highlight another area of NOV Elmar that has achieved much success recently, its range of winch products for wireline and slickline intervention. "Our portfolio of winch products, which are used during wireline operations to control the movement of equipment in and out of a well, has expanded faster than any of our other product ranges," he explains. "Previously this was a relatively small product line for us, but it has doubled every year for the last three years in terms of output and we have won some very significant contracts in that time. Notable among these is our biggest order of all time from a company called ENSP for 21 trucks. To deal with the growth of this range we are operating at a large, brand new assembly facility, and we are now a leading player within this particular sector."
In the modern oil and gas industry, wireline and electric intervention operations are conducted at extreme depths, and as such the equipment is subject to considerable pressures. In this field NOV Elmar is globally renowned for its pressure control equipment, as Andrew explains: "When people around the world think about pressure control products, such as skids and BOPs, you can
guarantee that more than 90 per cent of possible clients will consider the Elmar name before others."
Such a reputation has seen the company's business in this sector grow with considerable vigour in recent years. As a result the firm soon recognised that specialised pressure testing equipment was essential to retain this competitive edge. Consequently a state-of-the-art underground pressure testing facility was designed and built by NOV Elmar with equipment capable of testing up to 60,000 PSI.
"If you are testing this kind of equipment once a month then it is relatively easy to manage the risks involved," Andrew comments. "However, if it is necessary to pressure test 40 or 50 items a day as we do, and if you really want to lead the industry in this area in terms of safety and efficiency, then such testing equipment is essential. The custom designed underground pressure testing facility allows us to confidently test our equipment to pressures that far exceed operational parameters. At present few products in the industry go beyond 20,000 PSI in terms of safe working pressure, but we are confident that through the use of this facility we will be the very first company to release products that can operate up to 30,000 PSI. We are already designing with this target in mind and have some very interesting and innovative developments in the pipeline."
It is clear that in terms of technological innovation, design and engineering capabilities NOV Elmar is far ahead of its competitors in the market. Not only does the business boast a current product line that can outperform most of those on the market, it has the capabilities to push the boundaries of product design and development much further in the coming years. With industry requirements for oilfield equipment becoming increasingly demanding, there is no doubt that for many companies NOV Elmar is the only name to turn to for the foreseeable future.
NOV Elmar
Products: Wireline, perforating and completion equipment