High pressure safety
NOV Elmar is at the forefront of the manufacturing, design, and service of wireline and tubular equipment for the oil industry
With offices all over the world, and its global and regional operation headquarters located in Aberdeen, Elmar has a global turnover of $130 million. The company recently became a subsidiary of National Oilwell Varco Inc, adding the prefix to Elmar's title; yet Elmar is allowed a free reign over the running of the facility while profiting from the very large support of the parent company.
Elmar specialises in the manufacture of wireline products, as well as perforating hardware, and casing services. Formed in 1981, the company has a wealth of design and installation experience in wireline and completion services.
Andrew Douglas, for Elmar Aberdeen, elaborates on the company's position: "Elmar has four manufacturing plants around the world. I am the general manager of the UK plant, the biggest within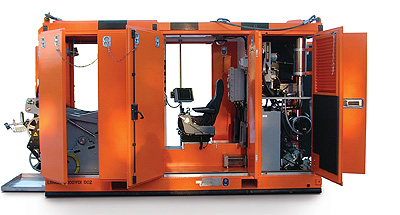 the company, forming 60 per cent of the total manufacturing capacity. In the UK, Elmar employs 260 people, and is a manufacturer, so it doesn't technically provide a service for its customers – it makes equipment, which it then sells."
Elmar manufactures a number of products for oilfield clients, as Andrew explains: "Making products to be used in oilfields, the company is divided into two halves; wireline products and tubular products. In the wireline product line we design and sell slickline and e-line equipment to which we have intellectual property rights. Slickline intervention usually involves a mechanical operation on the well, whereas electric line or e-line, uses a conductor cable and can be used to make sophisticated measurements or supply power and commands to down-hole tools. Elmar does not actually make the cables, but instead focuses on everything up from the cable, like the pressure control equipment that allows entry in the wells under pressure and winches, cranes, and masts that allow running electrical and mechanical tools in and out of oil wells."
Alongside wireline units and systems, Elmar produces an array of other products and services – for example, grease and hydraulic control, chemical injection, and spooling unit systems. Andrew comments: "The company also produces wireline wellhead equipment, which allows intervention work in high-pressure oil wells. These products provide solutions that allow work to be conducted without any spillage of oil. This equipment enables successful intervention work to be undertaken, and the technology has been around for many years. Elmar is the world market leader in wellhead technology and products, as well as in masts. We have only recently begun to manufacture truck and skid mounted winches in any volume and to compete with the other established manufacturers. We hope to continue growing market share by encouraging innovation and investing in the best people and facilities."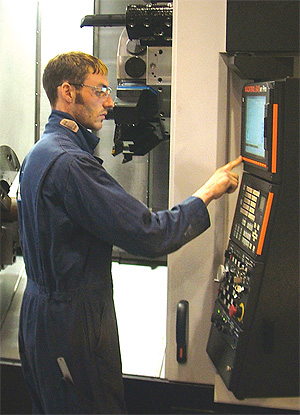 Andrew continues: "The wireline product line is one half of Elmar's business. The other half focuses on contract manufacturing in relation to tubular or down-hole completion products. When a well is drilled, various equipment is installed and left there. For example, sand screens that filter unwanted sand out of the produced oil stream. Elmar manufactures these for customers, as well as perforating guns. These are lowered into a well before oil is produced, and are designed to create communication between the wellbore and the reservoirs by blowing holes in the metal lining of the well and the surrounding rock."
The design of products manufactured by Elmar is built upon a detailed research and design process. Andrew outlines what separates the company from competitors: "A key strength of Elmar is the ability to innovate, and the strength of the company's research and design development team. At least ten per cent of the workforce operates within engineering and research and design. This group of 30 people focus on designing and redesigning products, which is unique within the industry. Elmar has to do this in order to stay ahead of its competition, as is the nature of the oilfield technology market."
This emphasis on development has seen the creation of innovative new products, as Andrew is keen to highlight: "The department has just completed a field trial of a new system called Smart Inject. This technology is an advance on well intervention, where normally, a wire would be inserted into a well under pressure via a grease seal. Holding this seal involves the use of a hydraulic control panel, operated by a skilled person at all times. This can be a risky business, as the loss of seal can result in a high pressure spillage of hydrocarbon, with consequential damage to the environment or even risk of explosion.
"Elmar has developed a solution to this old problem with a product that allows the automatic monitoring of pressures via computer and wireless control," he says. "This product has been under development over the past few years, but has accelerated over the last six months through the involvement of a client. In July, the Smart Inject technology was used for the first time, with a 100 per cent success ratio. This product is patented, and is a unique development in the field for Elmar."
The company prides itself on the rigorous safety testing of its equipment, particularly in relation to pressure holding capability. All Elmar pressure control equipment is rigorously tested to a test pressure that exceeds its working pressure, thus verifying the safety margin available when deployed.
On this issue, Andrew is keen to emphasise the safety of Elmar's processes: "Pressure cannot be seen, it is an invisible danger; the amount of companies taking shortcuts in the protection they offer to employees is unacceptable. Elmar makes design calculations for worst-case malfunction scenarios at the highest pressure. The company has come to the conclusion that its is very difficult to totally protect its employees at the Aberdeen plant with an above ground pressure test bay, due to the high volume and pressure of the testing completed. Elmar has created an underground pressure testing facility, and I can confidently say that it will be the most state-of-the-art pressure test bay in the industry. The chamber can be filled with water that allows testing of equipment for failure, with maximum attention to safety."
Andrew concludes: "Elmar's emphasis is on utilising all its talent, and keeping everyone focussed. My major focus in this regard over the next few years is ensuring motivation and team spirit, and therefore promoting innovations and advanced designs, thus remaining the market leader."
NOV Elmar
Industry: Manufacturing wireline, perforating and casing equipment