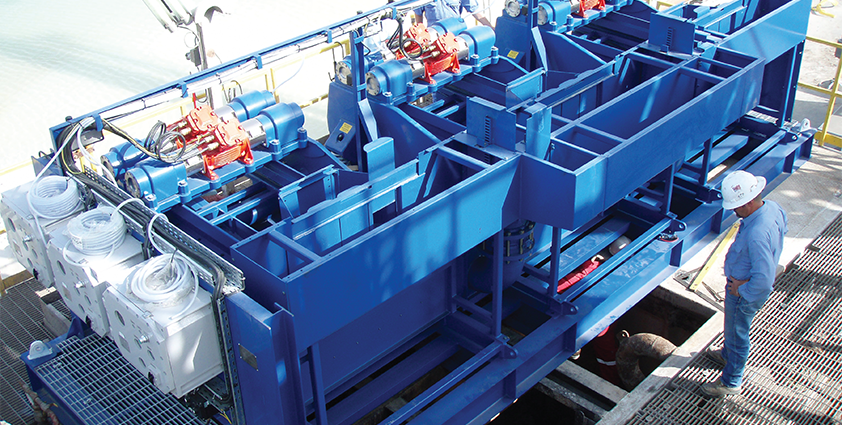 Separating the competition
NOV FluidControl, formerly NOV Brandt, a division of National Oilwell Varco (NOV), specialises in solids control and waste management products and services.
Providing services to the oil and gas industries since 1973, NOV FluidControl has a global network of sales, manufacturing and distribution centres. NOV FluidControl Dubai office employs approximately 200 personnel to cover sales and operations in the Middle East, North Africa, Caspian, India and Pakistan region (MENACIP).
National Oilwell Varco has been providing high-quality oilfield products and services since 1841. With over 700 manufacturing, sales and service centres worldwide, NOV supplies customer-focused solutions to meet individual quality, productivity and environmental requirements. A global leader, NOV offers a complete spectrum of products from major mechanical components for land and offshore drilling rigs to drilling motors, bits and tools. The group also provides supply chain services through its distribution service centres, which are situated close to major drilling and production sites worldwide. NOV incorporates a large number of various brands and product lines dealing with every aspect of the drilling industry, from waste management equipment and pressure control devices to software.
Solids control is generally considered to be one of the most important phases of the drilling process. Drilling fluid is used by rigs to help with the process of drilling boreholes for oil and gas exploration. This fluid is usually liquid, made up of either water or non-aqueous fluids, combined with speciality chemicals. It has a number of functions including keeping the drill bit clean and cool during the drilling process and to assist carrying cuttings to the surface. The primary purpose of mechanical solids control equipment is to separate the cuttings from the drilling fluid, which can then be re-used. If the solids are not properly controlled, it can result in fluctuations of the parameters of the drilling fluid, which has a negative effect on the drilling process and the environment. NOV FluidControl uses Brandt solids control equipment to keep mud parameters within the desired levels.
A variety of Brandt solids control equipment is available including shale shakers, mud cleaners, degassers, hydrocyclones and centrifuges. Shale shakers use a vibrating basket with specially designed and sized screens to separate solids from liquids, generating a G-force between five and eight. Several shale shakers are generally used during the drilling process. NOV FluidControl manufactures a number of different models of Brandt shakers including the VSM series and the Cobra family of shakers. These are targeted at different sectors of the market, from small workover land rigs to large offshore installations.
One of the most important considerations when purchasing solids control equipment is functionality in the field. Brandt solids control equipment is designed with reliability in mind and is able to maintain optimal operation under difficult conditions. Brandt equipment is constructed with few replacement parts and minimal maintenance is required, which translates into cost savings and reliability.
To help clients with their environmental concerns NOV FluidControl offers flowline to disposal solutions, including waste management processes, such as Thermal Desorption and Cuttings Re-injection (CRI).
NOV FluidControl prides itself on producing user-friendly and customised equipment that not only meets, but also often exceeds customer requirements. Although the last few years have been increasingly challenging for many businesses, NOV FluidControl has continued to identify opportunities for growth, acquiring drilling fluids and portable power companies to provide Integrated Project Management (IPM) solutions.
Looking to the future, NOV FluidControl continues to focus and commit resources to the region. NOV FluidControl's success stems from its instantly recognisable trademark names e.g. Brandt, backed by a quality service. It is this reputation, which separates NOV FluidControl from market competitors.
NOV FluidControl
Products: Drilling fluids, solids control, waste management & portable power