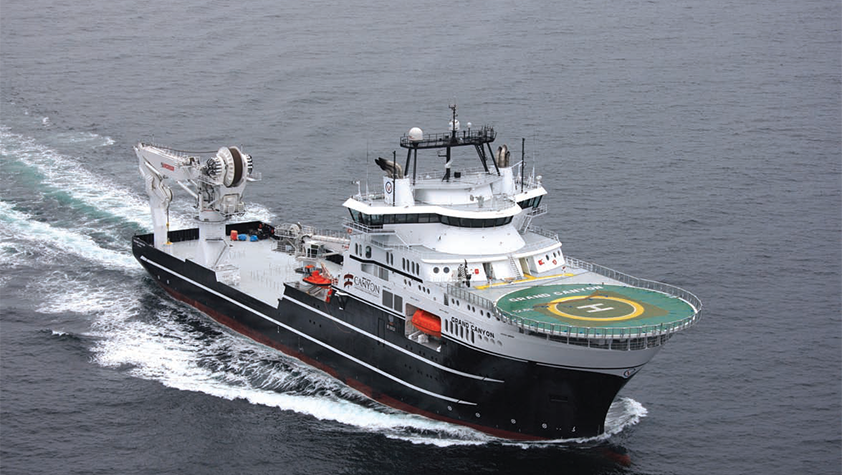 An eventful year
A world leader in supplying HVAC systems, Novenco Marine & Offshore operates across three divisions to deliver solutions to all clients in the merchant ship, offshore and special ship industries.
As part of Novenco Group, it has approximately 300 employees and a strong global presence with offices in Naestved (Denmark), Bergen and Oslo (Norway), Trieste (Italy), Shanghai, Singapore, Korea and Brazil. An expert in its field, the company has 66 years of experience in the marine and offshore industry, having delivered over 12,000 HVAC systems for all types of applications around the world.
"Novenco is active in all markets, which makes us the one true global supplier," says Roald Hauge sales director in the special vessels department. "We serve all the major shipyards in the world and have local offices in all major shipbuilding countries. Furthermore, as part of the Norwegian marine cluster, Novenco has been involved in the OSV (offshore support vessel) development that has increased over the last 20 years."
The offshore division of Novenco has been supplying HVAC systems to the offshore sector for more than 30 years and is today recognised as a respected and reputable supplier to this demanding market. Novenco Offshore's experience and product range means it can find solutions to the most complex projects. "We have a standardised product range for projects with standardised requirements, and we also have a flexible production line where we custom build equipment according to owner demand. In addition, we also have test facilities available to prove product designs when required," explains Henrik Jorkjen, sales and marketing director of Novenco's Offshore division. "We have the flexibility and capability to develop new products that suit both market and client demands."
One product that stands out in the company's wide range is eVent, a custom made software for the energy optimisation of HVAC systems on ships and offshore installations. Following five years of focused work, Novenco has created a win-win situation for ship owners looking to save spending for fuel, and at the same time satisfy the increasing need for an environmentally friendly image. "The most important feature of eVent is the online HVAC energy calculator, which calculates actual energy consumption every hour all year-round based on actual position of the ship at that hour, using the actual weather conditions outside the ship. Summarising this over a full year, we calculate the energy consumption and use the software to offer
alternative products and design solutions to show the client what they can expect from these options. This way the client gets a great decision tool that can be used to justify a small investment that normally has a payback time of six to 12 months," highlights Roald.
The company has used the eVent concept on the Seven TBN at Hyundai shipyard for Subsea 7, which involved the design and installation of new accommodation AHUs, chillers and engine room fans, resulting in energy cost savings of $118,000 a year and energy savings of 967,206 kWh a year.
One major offshore project that involves the utilisation of eVent is with KEFLS yard, Singapore, on behalf of Maersk Drilling, which involves supplying HVAC equipment for the world's largest and most advanced ultra-harsh environment jack-up rigs. Novenco has also developed a new generation air handling unit type ZPR (AHU) to meet Statoil's specifications, which has extended strength, is customised as standard and is a design that offers low leakage. "With our own R&D centre and ownership of our own factories we have full control of product quality and performance, which is one of our key strengths. On top of this we are aware that offshore companies work in all environments, so we have developed a full spectrum of HVAC systems that can operate in any climate or environment," highlights Henrik.
With factories based in Denmark and China, as well as a recently opened office in Korea, the group's Offshore division is continuing to prepare for the upcoming boom in business throughout 2013 and the coming years. "The offshore market is certainly hectic at the present time," says Henrik. "We have a number of big projects, but are also looking to take on more. To ensure we can do this we have focused on developing our project department so we can achieve an increase in projects from last year. We are increasing our project handling capacities and are taking on new employees every month.
"One particular area of interest for the company is Korea, where we aim to increase participation in projects and develop a stronger local presence. Over the next few years we aim to retain our steady growth in China and keep our foothold in Norway and Brazil, while at the same time preparing to take a bigger share of the Korean offshore market. We have recently opened an office in Korea and see definite potential for future growth," concludes Henrik.
Novenco AS
Services: Global supplier of HVAC systems