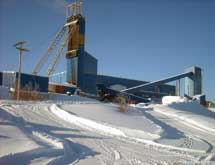 For most companies, keeping a mine open in down times can be difficult. But according to Nyrstar Langlois General Manager Jason Morin, "That's where our operational excellence comes in. We focus on the way we conduct our business so we have competitive costs and operation to allow us to bridge those gaps during the low times – that's the key."
As Morin puts it, "Anybody can operate in the high times. [The challenge is] operating consistently through the ups and downs and consistently generating a return – or at least bridging to the next high time. Maintaining a steady operation for the long term will generate a lot more value, both from a return on investment, employee job security and a way of life," he says.
Morin emphasizes that social aspect of mine operation. Nyrstar understands that the Langlois Mine in northwest Quebec – which has been opened and closed three times by prior owners since being started in the 1990s – will be an important part of the community. And he emphasizes that Nyrstar and the community are a good fit – when it bought the mine in fall 2011, Nyrstar held a reception to introduce itself to the locals.
"So employees working here saw a change in the way the business is operated, the way the management is working, the way corporate supports it," Morin emphasizes. "They've seen a lot of changes. The word of mouth spreads that there's something different about Nyrstar. When we came to town, we had a reception and invited the whole town. We had little appetizers and soft drinks and some speeches, and the press was there. It was well-covered in the French business paper 'L`Affaires.' We actually took the time to have a reception and introduce ourselves to the community and try to integrate with the community."
The Nyrstar Way
That concern about people is important because employee recruitment and retention are crucial. "There's a shortage of mining-skilled people in the market," he declares.
"So differentiating ourselves and the fact we're located close to town and can offer a family life and competitive compensation package [is important], and it's become fairly attractive," Morin continues. "We're being fairly successful in our recruiting, although it still has its challenges."
Most of the employees have been recruited from the region of Abittibi and other close regions, and a few even internationally. Although the local area has a strong tradition of mining that was strengthened when 10 of 14 sawmills in the area closed after 2006 – encouraging many forestry workers to switch to mining – an overall shortage based on growth projections still is expected to be developed in the province and globally.
The company's seven principles encourage employee recruitment and retention. The Nyrstar Way – to prevent harm, be open and honest, keep your word, make bold decisions, create value, think innovatively and creatively, and be driven – is practiced throughout the company. "Our way of managing is based around those values to the point that it's built into employees' performance evaluations," Morin notes.
Another example of Nyrstar's way of doing business is that the Langlois Mine is only 50 kilometers from town. So "we offer a steady family life," Morin notes, unlike other mines for which the employees fly in and out and only see their families for half the year. "Our employees go home every night," he points out.
Mining Your Own Business
The Langlois Mine is approximately 50 kilometers northeast of the town of Lebel-Sur-Quévillon. The mine's previous owner, Breakwater Resources, started commercial production at the Langlois Mine in July 2007, but the mine was placed on care and maintenance in 2008 because of declining zinc prices and a lack of development.
Nyrstar was created in 2007 by combining the zinc smelting and alloying operations of Zinifex, an Australian mining company, and Umicore, a Belgian materials technology company. "Our overall strategy is to vertically integrate, and that involved selectively acquiring mines, which we've done over the past few years," Morin reveals. "When all of our mines are at full production, Nyrstar will become the fifth-largest zinc miner globally.
"This will represent approximately 42 percent of the feed requirements to our smelters," he asserts.
The company invested a significant amount of capital expenditures in 2011 at the Langlois Mine to develop infrastructure and purchase equipment. "This year, we are looking at investing additional capital expenditures to reach our objectives," Morin estimates. "So at this point, we [have] started to ramp up to commercial production levels."
Much of the mine's equipment was well-maintained during the shutdown after 2008 and some of it was taken down properly and put on maintenance during the shutdown. "Our investment has primarily been in terms of new equipment to provide high reliability and availability," Morin explains.
The mine's facilities include a head frame, a paste backfill plant, mechanical and electrical shops, a service building, a zinc/copper concentrator and a tailings pond. It is scheduled to open during the first half of 2012.
Polymetallic Site
Zinc is predominantly used to galvanize steel for corrosion resistance and as die castings for mechanical parts. Galvanized steel is used extensively in the auto and construction industries and its demand is fueled by emerging markets.
Morin thinks the future is bright for zinc. Nyrstar will produce predominantly zinc concentrate from the Langlois mine but also will make a copper concentrate. Some gold and silver also will be present, but Morin emphasizes that the polymetallic mine primarily will be zinc and copper.
Nyrstar has signed a four-year collective agreement with the miner's union. "So stability is there, and we're part of a large international company, so those are all positives," Morin points out.