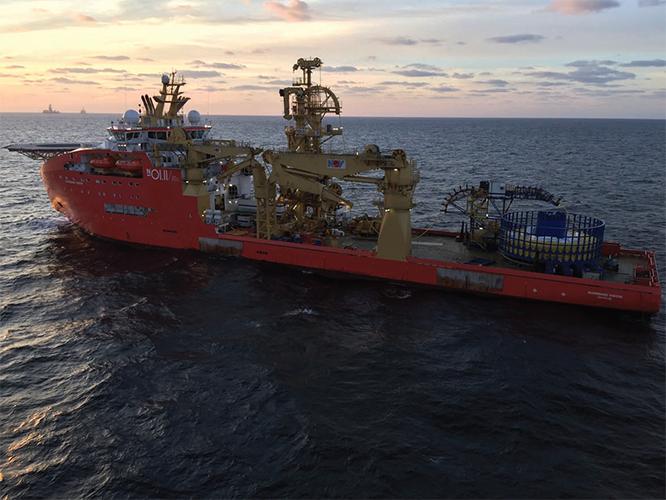 On the rise
Since its foundation in January 2011, Ocean Installer AS has experienced rapid growth thanks to its in-depth industry experience and market ambition, swiftly progressing from a fledgling business to an internationally recognised and successful industry player. Following a prosperous three years, the company has grown to approximately 300 employees and boasts an annual income of $200 million alongside a backlog that is nearing $400 million. "Ocean Installer has experienced rapid growth along all key parameters – in terms of organisation, geographic presence, backlog, assets and operations. We currently have six established offices in Stavanger, Norway; Aberdeen, UK; Houston, US, Rio de Janeiro, Brazil; Perth, Australia; Dubai, UAE and Mexico City, Mexico, as well as operations in a number of regions," begins Steinar Riise, CEO of Ocean Installer. "This carefully balanced, yet rapid growth has placed Ocean Installer in a position where it now bids on and wins, as well as successfully executes, subsea projects in competition with the major global subsea contractors."
Boasting strong SURF (subsea structures, umbilicals, risers and flowlines) expertise, the technical staff at Ocean Installer have an average of more than ten years experience within this subsea segment. The company also provides full EPCI (engineering, procurement, construction and installation) services within the marine and subsea sectors, offering turnkey solutions in SURF, inspection, maintenance and repair (IMR), surveying and trenching and rock dumping.
To ensure the delivery of the highest possible quality, efficiency and sustainability, Ocean Installer has invested in a fleet of three first-rate, robust construction support vessels (CSVs) that promote environmentally cutting edge operations and solutions. Built in 2002, Normand Clipper was extensively upgraded in 2005 and is today a global capacity vessel that is suitable for both shallow and deepwater operations. The vessel has a 250 tonne crane capacity and 1700 m2 deck and a DP class two system. Meanwhile, the Normand Mermaid, a light construction support vessel (LCSV), was built in 2002 and is equipped with a DP class three system, a 100 tonne crane capacity and 765 m2 deck; the vessel can perform general subsea construction, installation of smaller structures and ROV intervention.
The most recent addition to Ocean Installer's fleet is Normand Vision, which was introduced to the market in the second quarter of 2014. Built for heavy construction work, the high capacity CSV is equipped with a 3000 tonne carousel, a 150 tonne vertical lay spread system (VLS), a 400 tonne active heave compensated (AHC) crane and launch system for ROVs. Highly advanced in station keeping, efficiency and performance, she is designed to operate in demanding conditions and has been purpose built for SURF projects. In November 2014, following Ocean Installer's award for an umbilical installation project with Oceaneering for LLOG on the Delta House Project, the Normand Vision began its first SURF project in the Gulf of Mexico, having previously taken on a number of projects in the Norwegian Continental Shelf.
As expected, Ocean Ocean Installer 120Installer has continued to enjoy success since it was previously featured in Shipping & Marine magazine in April 2014; other key developments for the firm include the establishment of an office in Australia in October, followed by the opening of an office in Brazil in December, two strategically important areas that offer further opportunities for carefully executed growth, as Steinar notes: "The Asia Pacific- and Oceania region represent significant growth opportunities in the years ahead, and we saw a need to meet client demand for subsea construction services. Mr Bijan K. Mahapatra is leading the office in Perth and with his local knowledge and network we are well positioned to expand our operation and business in the region. In addition, we saw the need to establish an office to serve the Brazilian oil and gas market. The company has seen an increasing demand of targeted vessels in the region and the short time frames in which accurate engineering solutions are demanded. We have already introduced our high capability vessel Normand Clipper to the region working for Saipem, with very promising initial client feedback. We were very fortunate to hire the highly experienced Mr Marcelo Mendonca. He has done an excellent job promoting Ocean Installer in the region."
Other projects that the company has been involved in include the installation of umbilicals for BP on its Thunderhorse project, which was a milestone for Ocean Installer in the Gulf of Mexico; it has also recently secured further work with Statoil for an umbilical marine installation at the Visund field, as Steinar highlights: "The work scope at the Visund field will include load out and transport of new umbilical riser, installation of a new umbilical riser system including vertical anchor and mud mat for supporting umbilical termination assembly. The content of the work includes all activities necessary for installation of the pliant wave umbilical riser. Furthermore, we have also signed contracts for various installation services on the Troll and Åsgard field for Statoil. This underlines the importance of the 'home' market for Ocean Installer."
Through a combination of experience, skills and high capability vessels, Ocean Installer is certain to flourish as it continues to build long-term relationships with clients by delivering excellence in the short and long term. "The key to further success relies on our ability to fulfill and exceed our client's expectations on existing projects. Our overarching vision is to become a key service provider in the global SURF market, and this will be our guiding objective also over the next five years. In more concrete terms it implies further consolidating our position in the regions we currently have operations," concludes Steinar.
Ocean Installer AS
Services: Subsea construction
Issue 122 July 2015