Ambitious momentum
Since it was last featured in European Oil and Gas Magazine in June 2013 Ocean Installer AS has continued to display its characteristic ambition and maintained its growth within the subsea market.
Established on the 1st of January 2011, Ocean Installer is a relatively new company operating within the subsea structures, umbilicals, risers and flowlines (SURF) segment. However, despite its youth the business is far from inexperienced in the field and maintains a dynamic approach in servicing the subsea industry. Its technical staff boast an average of ten years experience meaning that whatever the requirement, Ocean Installer has the right professional people to meet its customers' needs.
As well as its SURF operations Ocean Installer provides effective turnkey solutions for inspection, maintenance and repair (IMR), survey, diving and trenching and rock dumping."The business is based upon extremely qualified and experienced people coming together," begins Steinar Riise, chief executive officer for Ocean Installer. "All of the success that Ocean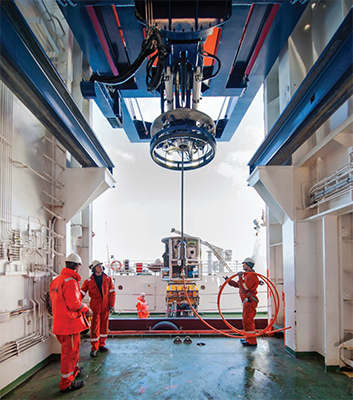 Installer has achieved since January 2011 is based upon the individuals we have on board, many of whom have long track-records and expertise in running major SURF and engineering, procurement, construction and installation (EPCI) projects across the globe."
At present the company is based at its headquarters in Stavanger, Norway and has additional offices in Aberdeen, Scotland and Houston, US, and has grown to incorporate three fully equipped vessels designed to service the subsea industry. The origins of Ocean Installer's fleet expansion can be traced back to its original charter party agreement with Solstad Offshore ASA for the Construction Support Vessel (CSV) Normand Clipper and the Light Construction Support Vessel (LCSV) Normand Mermaid. These agreements both run for a fixed duration of five yearswith options to further extend, with the first contract beginning in quarter two of 2012 and the second starting in quarter one 2013. As of 2013 the company is awaiting delivery of a cutting-edge large CSV, which is set fordelivery in 2014. Ocean Installer will operate the new ship (Normand Vision) in joint ownership with Solstad. "We have been very happy to work in partnership with Solstad and expect to continue to work with them well into the future," comments Steinar.
The company's asset expansion is reflective of its continued success in the subsea sector. Since January 2011 Ocean Installer has consistently displayed its professional caliber and secured significant projects that mark it as a respected provider of EPCI and SURF services. Its earliest contracts were within the UK sector and its native market of Norway. Awarded to the business by Xcite Energy Resources Ltd, the UK project called for the installation of two oil export pipelines from the Rowan Norway production jack-up to a shuttle tanker for the Bentley field. The project commenced in quarter two 2012. At the same time Ocean Installer was awarded a significant two-year contract with A/S Norske Shell covering EPCI services in the Draugen oil field, which is planned for completion in 2014 at a total value of around $180 million, including exercised options and variation orders.
Throughout 2013 Ocean Installer has continued to secure important contracts from globally recognised names like Statoil, Total and Talisman. In a landslide month for the organisation, in March 2013 it won contracts with both Shell UK and Talisman Sinopec Energy as well as a major EPCI contract with Statoil valued at $100 million, including exercised options and variation orders. In the latter half of the year, it has lost none of its momentum gaining a contract with Total E&P UK Ltd for the recovery of casing at the Tomintoul location, west of the Shetland Islands. In a major endorsement of Ocean Installer's capability, as of September 2013 it won a second contract with Statoil, this time in SURF operations, valued at $55 million plus options in excess of $95 million. "We are very pleased to announce our second contract with Statoil within six months," Steiner begins. "This is technically demanding work and the award demonstrates that the market has confidence in our project management and engineering capabilities and in our ability to execute challenging projects in a safe manner," he concludes. The project takes place on the Norwegian continental shelf and will be executed offshore during the summer season of 2014, 2015, 2016 and potentially 2017. Once delivered, the CSV Normand Vision will play a key role in the contract's operation.
Although a relatively new player in the subsea sector, Ocean Installer has relied on a number of key strengths to power its spirited entry into the market. With Subsea 7 and Technip previously the only major SURF companies operating in the North Sea area, Ocean Installer saw an opportunity to become a third considerable SURF operator in the market. With its core of highly skilled personnel and solid experience base the company has demonstrated that it is not only able to compete with larger companies in the area, but also that it is able to do so without compromising on quality. Core to this are its values, which are to remain reliable, collaborative, competent and demanding with itself in terms of the standard of work it provides.
In many ways, the company's small size reflects a significant bonus rather then a hindrance. It is able to maintain shorter lines of communication and make decisions relatively quickly when compared to larger organisations with more lumbering decision-making structures. Crucially, Ocean Installer has also been able to essentially handpick its personnel to ensure it has the best possible people for the job. "What is important for us is that we have the right people. What is recognised by our clients is that we have the right people with experience and track record in subsea markets," explains Steinar. "We enjoy the attention from these people because we are a small organisation, there are efficient communication lines from engineering level to top management level so people can be part of the final decisions that are made. All of our people feel that they are part of and can make a difference in the organisation."
Ocean Installer is majority owned by HitecVision, which is a major investor in the oil and gas industry. Drawing on the support from HitecVision, Ocean Installer has proven that it is more than able to compete with larger competitors in the subsea market. Its commitment to excellent standards of quality and client satisfaction has marked the company as a trusted partner in the provision of subsea solutions.
Ocean Installer AS
Services: Subsea construction