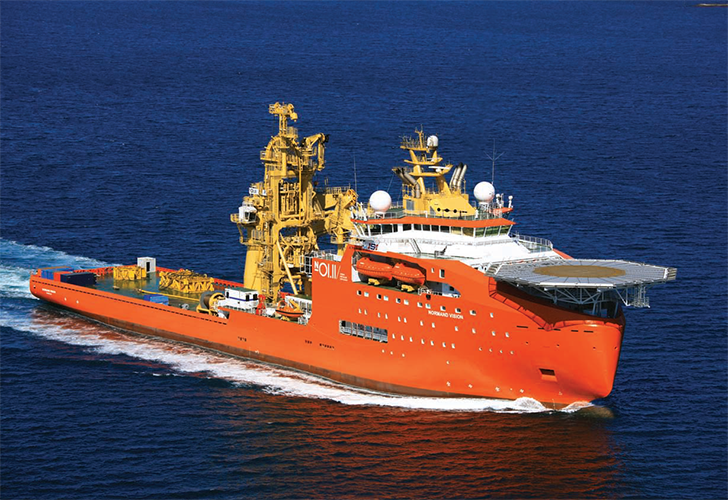 Riding the waves
A powerful drive in 2014 has resulted in a very exciting period for the young company. Ocean Installer has had three long-term chartered vessels in operation simultaneously, including its new world-class asset, Normand Vision, as well as hiring several vessels on short-term charters for specific operations.
"We have worked on a number of offshore projects for key clients including Shell, Statoil, BP and Noble Energy, both in the North Sea and in the Gulf of Mexico (GoM)," explains Steinar Riise CEO, having completed several lay operations from its new build vessel, Normand Vision, for customers such as Norske Shell in the North Sea. "At the same time we performed lay operations from the Normand Clipper for BP in GoM," he adds, with the broad range of offshore work illustrating continued expansion of activities.
Commenting on the delivery of Normand Vision in July 2014, Steinar points out: "We are extremely pleased; construction was to the original schedule, below supervision budget, and with timely delivery from the yard." The vessel is a result of a consultation partnership between STX, Solstad Offshore and Ocean Installer, as he adds: "Normand Vision is one of the most innovative CSVs in the market and is built for heavy construction work. Highly advanced when it comes to station keeping, efficiency and operational performance, she is capable of conducting the full range of subsea construction operations in the global market and is particularly well fitted for subsea, umbilical, riser and flowline (SURF) operations."
Additionally, the vessel is equipped with a 150t VLS and a 3000t below deck carousel, ROVs in hangars launched through moonpools, and two AHC offshore cranes all topside rated for water depths of 3000 metres. "Normand Vision supports our strategy of serving the SURF engineering, procurement, construction and installation (EPCI) market in the North Sea in a
targeted manner, whilst also being very well suited for global operations. The vessel will play an important part in the development and growth of Ocean Installer," says Steinar. The vessel completed its first planned offshore campaign with Norske Shell on the Draugen field with heavy lifting, flow line and umbilical works delivered, tested and commissioned on time, successfully installing two heavy lift/subsea manifold structures weighing more than 280 tonnes using the high capability crane. "We were also awarded a long-term subsea lines modification project for Statoil in 2013 that will last until 2017, in which we are performing well and according to the client's expectations," he adds.
In April 2014 the company was awarded a contract by Fairfield Energy with a work scope that included air diving services and light subsea construction at the Dunlin field. "So far we have performed our first air diving campaign in the successful fast track project constellation between OI and CalDive. We are very pleased with the opportunity to work with Fairfield Energy and expand our operations in the UK. A month later, we were awarded, and have now completed, a subsea installation job for BP at Thunder Horse in the GoM. The project involved the installation and testing of umbilicals and associated equipment and was our first SURF-contract in the region," points out Steinar.
Having enjoyed an extremely positive year in 2013, success has continued throughout 2014, and as Steinar explains: "We are still expanding in terms of operations and vessel days. The successful delivery and introduction of Normand Vision has been a milestone for the company this year and we have established our presence in promising new regions. We are currently in a strong investment and development phase and overall 2014 will reflect the market with several extensive long-term projects and company development with global expansion."
The 280 strong workforce consists of individuals whose qualifications, aspirations, ambitions and working style allow them to contribute and excel with rapid development. "Every employee plays an important part in the further development and success of the company and we offer our personnel sufficient training at all levels. Further growth depends on the market and Ocean Installer's ability to win new contracts in the global industry. In recent months, there has been some spending reduction from operators in the North Sea and fewer contracts to bid on; however we still feel there are a lot of opportunities in the increasingly important global market. We constantly monitor opportunities, ensuring market utilisation," says Steinar.
As a key service provider in the global SURF market, Ocean Installer targets constant development and expansion of its global presence in several promising markets, as Steinar indicates: "In January, we entered into a co-operation agreement with a partner in Mexico in order to gain a foothold and position ourselves for potential work. We have also hired Patrick Chapalain, who will be present in the AFMED & MIddle East region in order for us to assess our commitment to another promising region. Moreover, we consider Canada to be an exciting region and we have already started to assess projects there." Looking towards the future for the business, Steiner summarises the company's focus: "Beyond completing our current projects to client's expectations, we will furthermore continue to build the company in all established regions by contracting and delivering on complex projects. In terms of assets, we will build further on the successful introduction of the Normand Vision, as well as exploring other assets in line with the company's strategy."
Ocean Installer AS
Services: Subsea service and EPCI provider in the global SURF market