A solid foundation
Founded in 1985, engineering, procurement and construction (EPC) company Ocean Oilfield has grown to become a highly competitive company serving the oil and gas industry in the Middle East and Asia.
Based in the UAE, the company's main services include refurbishment and repair of rigs and ships, including vessel conversion, tug and barge construction, steel fabrication and machinery overhaul. With around 400 highly trained employees Ocean Oilfield has the expertise to carry out maintenance both offshore and at its large dedicated facility in Sharjah, UAE, which has a number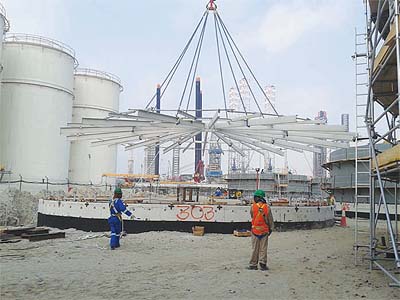 of facilities capable of supporting ship building and heavy steel fabrication projects. Having gained ISO 9001, ISO 14001 and OHSAS 18001 accreditations, the company is well established to carry out projects to high quality, environmental and safety standards, and backs this up with its own detailed attention to inspection and quality assurance.
Where Ocean Oilfield has established a strong reputation is in the maintenance and refurbishment of rigs. Its main scope of work on the rigs ranges from small repair and maintenance projects to extensive replace or refurbish services, including: steel replacement, accommodation refurbishment, hull painting and leg and spud can repair. The company has a growing portfolio of projects that it has successfully completed at the jetty side of its yard and has two maintenance projects currently ongoing offshore. These projectshave laid the foundations for future success. "We are in bidding stages for various new build and rig refurbishment projects, and are close to securing two or three of these," operations manager, John Brocklesby tells European Oil and Gas Magazine. "Much of our revenues at the moment come from repeat business as we offer excellent service."
The company's vision is to achieve farreaching success in every field by developing innovative, integrated and enterprising worldclass service in the global offshore oil and gas market. Recent activities have seen Ocean Oilfield prove its worth in the tank storage segment of the industry. In March 2015 the company successfully completed a project to build six storage tanks. John explained: "We have completed this successfully because of excellent operations support, man management, forward planning and good execution, but most of all because of our attention to high safety standards." Elsewhere it continues to show its strength in this segment by building a new 29 diesel and fuel oil storage tank terminal, which includes the complete installation of tanks and accompanying facilities. Another demonstration of its fabrication strengths is in a uniquely designed spreader beam with an SWL of 3200 tonnes that the company fabricated for an offshore client.
In other segments, Ocean Oilfield is clearly demonstrating its strengths in the refurbishment sector. It has recently been involved in the refurbishment of converting two jack up rigs into
accommodation barges. Additionally, the company has undertaken the refurbishment of a snubbing barge, which has involved the installation of new accommodation, generators and fire pumps.
Ocean Oilfield is in the process of successfully growing into the complete rig solutions company it strives to be. Part of this growth involves developing a proven record of service in all fields across the oil and gas industry, but it also involves learning and developing the best expertise as it approaches each new market. "In the next 12 months we intend to complete already won projects with the same commitment as previous projects, but implement the lessons we have learnt from past projects," John highlights. "We hope to improve greatly in areas we believe we are lacking in to push forward with our vision of growth." John adds: "Our main strengths would be that we are always striving to improve whilst maintaining high safety standards. Our budget management is excellent, and delivery time and construction execution is second to none."
The company does not operate in ignorance of how competitive the market is. Its mission is to be at the forefront of this market by exceeding managerial, technical and operational standards. Critical to achieving this is its commitment to the development of its service portfolio. With big ambitions, Ocean Oilfield markets itself as being capable to undertake any major EPC project across the globe. This is a promise it can back up by being part of Amwaj group, a network of companies that provide offshore services in installation management, marine support and logistics, fabrication and engineering, catering, life support and transport. At present it is clear that Ocean Oilfield has built itself a solid foundation, and looking forward the company appears set to continue achieving the success and growth it strives for. "Over the next three to five years, our goals are to become the market leader within the industry so that Ocean Oilfield is the first name on our clients lips when approaching new projects or expansion programmes," explains John. "I also hope that we are in a position to undertake our first full jack up rig design and build."
Ocean Oilfield
Services: Offshore services