Energy sufficiency
Operating as part of the Hashoo Group and with close to four decades of industry experience, Ocean Pakistan Limited (OPL) has grown to represent one of Pakistan's leading oil and gas exploration and production companies. The roots of the business date back to 1979, when the Occidental of Pakistan, Inc (OXY) started exploration activites in Pakistan. OPL was officially incorporated during March 1995, when the Hashoo Group acquired 100 per cent stocks of the exploration and production company Occidental and renamed Orient Petroleum Inc. (OPI) from Occident of Pakistan Inc. (OXY). As the successor company to OXY, Ocean Pakistan Limited is engaged in oil and gas exploration and production. Its exploration licenses include Sakhi Sarwar block in Punjab, Marwat block in Khyber Pakhtunkhawa, and Harnai South block in Balochistan Province. The company also has operatorship and equity production from oil and gas fields in the Punjab province, including Dhurnal, Bhangali, and Ratana; and international operations in the South Turgay Basin in South-Central Kazakhstan through its associate company Orient Petroleum Central Asia and in shallow waters offshore Gulf of Mexico, as well as the Texas and Louisiana onshore areas through Osprey Petroleum.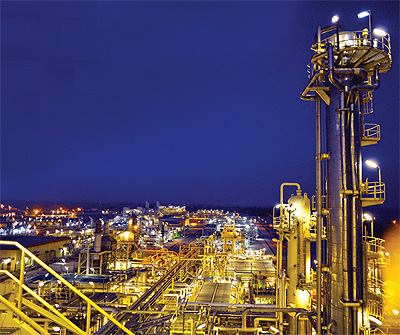 The Hashoo Group was established during 1960 by Mr. Sadruddin Hashwani as a trading enterprise that has grown to emerge as Pakistan's premium conglomerate with a diverse international business portfolio. From its humble origins in cotton trading the Hashoo Group has expanded to include interests that encompass the hospitality, oil and gas exploration and production, information technology, investment, minerals, ceramics, pharmaceuticals, travel and tourism, real estate and commodity trading markets. Today oil exploration plays an important role at the heart of the business, with the Hashoo Group maintaining a balanced exploration portfolio, sustained growth, incremental production and cutting edge technology as a major part of the company's strategy. Within its vertical structure the Hashoo Group presently owns several companies within the oil and gas sector that are comprised of Ocean Pakistan Ltd., Zaver Petroleum Corporation Ltd., Zaver Mining Company, OPI Gas, Orient Petroleum Pty Limited and Osprey Petroleum. "Mr. Hashwani first entered into business through the trading of commodities and later moved on to the construction and ownership of hotels," elaborates OPL CEO, Kamran Ahmed."Eventually he made the move into the oil and gas sector in 1991 through Zaver Petroleum. Following this, Zaver was the first private company in Pakistan to acquire, explore, develop and produce oil and natural gas and its by-products while operating within a number of blocks. In 1995 Occidental divested its producing assets in Pakistan, including the Dhurnal, Bhangali and Ratana fields and it was these assets that would eventually became Ocean Pakistan Limited."
Ocean Pakistan Limited today represents one of the oldest and best-established foreign oil exploration and production companies in Pakistan, having made Pakistan's largest oil discovery at the Dhurnal fields in the Punjab province. In all OPL has to its credit 11 discoveries in the southern region and three in the northern region. The company is known for its quick turnaround in commercialising discoveries in record time and has made a concentrated effort towards reducing Pakistan's dependence on imported energy while taking a lead in using the latest technologies for development in this sector. Since becoming part of the Hashoo Group in 1995, OPL has embarked on a comprehensive expansion and growth path that has seen the company acquire the largest acreage amongst exploration and production companies within Pakistan. OPL has also successfully acquired 25 per cent of the Government of Pakistan share in the Dhuranl and Ratana fields and was also a major competitor to BP in the bid for the Badin concession.
During the past 30 years OPL has enjoyed great success in oil and gas exploration with Pakistan, generating more than $1 billion in revenue. The Dhurnal oilfield for example, has produced over 50 million barrels of oil. The field lies 60 km south-west of Islamabad in the Potwar Basin and is currently producing over 150 BOPD and around 1.0 MMscfd gas. In all OPL holds three operating and 11 non-operating development and production leases, three exploration licences along with joint venture partnerships within various blocks in Pakistan.
Today the company is ready to embark on a new phase of growth that is firmly embedded in its longstanding foundation of success in a rapidly developing country. During December 2015 for example, it was revealed that the Hashoo Group has acquired the assets of the operator of the Zamzama field, BHP Pakistan (BHPP). BHPP had previously acted as part of Australia-based BHP Billiton Limited and has since been renamed as Orient Petroleum Pty Limited. Quoted in a press release regarding the purchase, Kamran revealed that the parent company of BHPP had opted to divest certain assets in Pakistan to focus on its oil business around the world. An auction was undertaken during 2014, with some 45 local and international firms participating. The Hashoo Group business, OPL was one of only three firms shortlisted to bid for the company and having formally taken over BHPP, is set to invest up to $35 million in the drilling of further wells in the Zamzama field in 2016.
The Hashoo Group will continue to drill new wells despite the low gas prices and has invested some $600 million in oil and gas exploration within Pakistan to date. Following its investment into taking over BHPP, the Hashoo Group has entered into a period of consolidation. As part of this, OPL will continue to focus on maximising the efficiency of its oil and gas production within its existing fields, while the industry waits for the price of oil to rise. "Production from the Zamzama field stands at 140 million cubic feet of gas per day (MMcfd) and the company plan to enhance it to 150 MMcfd in an effort to lend a helping hand to the government to overcome energy crisis in Pakistan," Kamran concludes. "If crude prices rise to $50 per barrel, it will be a good sign for Hashoo and the wider market that will allow the industry to sustain its business."
Ocean Pakistan Limited
Services: Oil and gas exploration and production