Operational synergy
Founded in 1996 Ocean Rig has seen a history of lively growth and dynamic expansion in over a decade of operating experience in ultra-deepwater environments.
The company took delivery of its first two harsh environment ultra-deepwater rigs, Leiv Eiriksson and Eirik Raude, in 2001 and 2002, respectively. In 2008 the company was acquired by Dryships (NASDAQ:DRYS), controlled by Greek shipping entrepreneur George Economou of the Cardiff Group. The acquisition saw Ocean Rig become part of the Cardiff Group's wider shipping activities taking advantage of the synergies of its association with the group's years of maritime expertise. The Cardiff Group currently possesses assets worth over $12 billion and in addition to expanding into the offshore sector, the business is active within the drybulk, container, tanker and LNG shipping segments.
By 2011 Ocean Rig's first four ultra-deepwater drillships had arrived and a further three new-builds were ordered for delivery in 2013. In addition, in 2013 Ocean Rig ordered one new-build for delivery in January 2015. In 2012 the company began a major management re-organisation plan, which included relocation of its headquarters to Athens, Greece in 2013. Ocean Rig today is able to take advantage of the wider group's experience and infrastructure and currently has several international hub offices in areas including Aberdeen in the UK, Houston in the US, Stavanger in Norway, Rio De Janeiro in Brazil, Luanda in Angola, and Geoje island in Korea.
The four sixth generation ultra-deepwater vessels operate at up to 10,000ft water depth, with a drilling depth of 35,000ft. They offer two million lbs hook load capacity and boast dual derricks allowing for optimal efficiency. Ocean Rig is expecting delivery of three new seventh generation ultra-deepwater drillships during the second half of this year. A fourth seventh generation drillship is also scheduled for delivery in 2015. All four seventh generation ultra-deepwater rigs are able to operate at a water depth of up to 12,000ft and have a drilling depth capability of up to 40,000ft. They offer 2.5 million lbs hook load capacity with dual derricks allowing for optimal efficiency. All eight ultra-deepwater drillships mentioned above are built at Samsung Heavy Industries, which ensures uniformity in relation to utilisation of spare parts and training standards.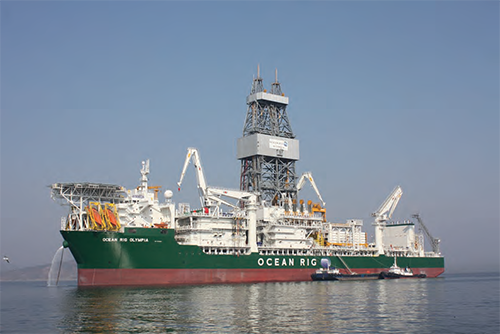 Ocean Rig's fleet is one of the most advanced and young ultra-deepwater rig fleets within the industry with an average vessel age of three years. Operating some of the most modern, advanced and sophisticated drilling rigs have ensured a solid performance improvement in the rig fleet's operating efficiency (currently about 96 per cent). In parallel Ocean Rig has succeeded in improving its environmental and safety records substantially on a year-by-year basis. Furthermore, to ensure Ocean Rig continues to develop and build the best crew competency it is in the process of creating a training center in Athens. The excellent performance of Ocean Rig has ensured a solid contract backlog of about $6 billion.
Ocean Rig's vision is to be the preferred drilling contractor within the ultra-deepwater drilling sector. It aims to supply sophisticated and modern assets and unique engineering solutions. Core to the company's mission is its focus on a motivated, competent workforce, which is maintained through a high standard training programme that is shared between all vessels. As the company grows it is focused on long-term customer relationships with a strategy to obtain repeat business through its reputation for providing world-class service. Ocean Rig has drilled in excess of 150 wells for a number of major, independent and national oil companies and has a client list that includes globally recognised names like Shell, BP, Total, Eni, Statoil and Petrobras. As the company moves forward it aims to expand its share in the ultra-deepwater drilling sector while continuing to focus on operational excellence. At present the company has been aggressively expanding its fleet, aiming to expand to ten deepwater drilling units
within the next few years. Long-term the company aims to accelerate this growth to a total of fifteen ultra-deepwater drilling units by 2017. The group has also been focused on developing its offices in Brazil, Angola and Norway with an aim of being closer to its customers so that it is able to deliver direct, effective and second-to-none customer service.
Ocean Rig's history has been one of internal and collaborative synergy. The company operates in an environment of mutual co-operation and support by offering its clients focused customer service while lending the support of a larger shipping company to each of its sectors. This sets Ocean Rig apart as a company that is able to offer a diverse portfolio of services underpinned by an impressively resilient support network, which will place the business on a sure footing moving into the future.
Ocean Rig UDW Inc
Services: Ultra-deepwater drilling specialists