Decommission possible
With a focus on deepwater applications, Oceaneering is a global oilfield provider of engineered services and products primarily to the offshore oil and gas sector.
In addition, it serves the defence and aerospace industries through the use of its applied technology expertise. By growing organically and through strategic acquisitions, Oceaneering has built up a reputation as a diversified advanced applied technology company that operates on an international level. The company is involved in a wide variety of areas, ranging from ROV activities, inspection and integrity management, and subsea umbilical controls production. Its own specialised deepwater technical solutions division focuses on two major areas: subsea engineering, and intervention
tool design and rental.
The ROVs that Oceaneering works with are part of the Hydra series, with the Hydra Magnum representing the core of the company's fleet. The vehicles are known for their ease of maintenance and ability to perform in severe weather conditions at water depths of up to 10,000 feet of seawater (fsw). Oceaneering is also heavily involved with emergency intervention tooling, which includes various pipeline repair tooling devices as well as retrofit clamps for sand detection monitoring. This sector also features pressure clamp removal tools as well, which are designed, built and tested from scratch in just three weeks.
Dave McKechnie, Oceaneering's DTS (Deepwater Technical Solutions) eastern hemisphere manager, explains what distinguishes the company in the marketplace, and how it has been able to continuously develop its operations abroad: "We're a one-stop service and solution provider, through each of our individual departments, with the capability to provide a vast amount of resources and support from the group level. Owing to this strength, we were able to become heavily involved in Angola and Nigeria, mainly in tooling provision and maintenance. Africa remains a high focus for us and we have provided additional support to deepwater activities through our ROV operations there. In fact, we have just opened up a base in Takoradi in Ghana, which is the newest development for us. Africa is an interesting and growing area in terms of our sector, so we're well placed to take advantage of the situation."
Africa is not the only noteworthy region for Oceaneering at present and the company has several projects underway in Europe, with a strong focus on the North Sea. Dave elaborates: "We are particularly involved in decommissioning activities through companies like Heerema on the North West Hutton and Ekofisk projects. The North Sea is certainly an area that has seen a recent resurgence of activity, and we are well poised to provide major support tooling and services for the companies that operate there. We have started up our own decommissioning and dredger team, which has been very successful and will continue working well into this year. Decommissioning is an activity that we pay close attention to in order to develop forward and our dedicated team working on that specific angle gives us a much clearer focus with regards to those sort of operations."
Elaborating on another area of significance to Oceaneering, Dave reports: "We're exploring subsea product sampling and we currently have a focus group looking into that activity. There's quite a bit of different development going on in the background, so it's a case of bringing together a number of synergies and presenting them collectively. Our deepwater operations are expanding all the time around the globe and we are looking at future potential in areas besides our new base in Ghana, such as the West of Shetland to Faroe Islands and the Mediterranean. Within Europe, we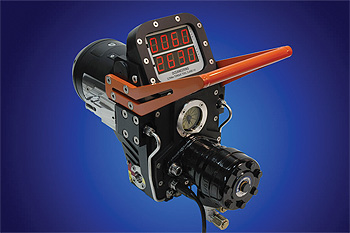 believe that more and more opportunities will continue to present themselves, especially with regards to decommissioning activities."
In order to capitalise on such potential, Oceaneering has to ensure that it retains a loyal workforce, as Dave explains: "It is vital to not only employ the best possible candidates for the job but to keep our employees well-trained, enthusiastic and supported. We achieve this by offering interesting and comprehensive training that gets our staff involved not just in waste elimination but also in all of the other key features that we cover. It is their involvement that is crucial in achieving success in these areas. Keeping a strong, loyal team is one of the main challenges any company faces and we certainly don't want to lose anyone."
Reflecting on the company's endurance throughout the recent period of recession and looking ahead to the future of the business, Dave concludes: "It's certainly been an interesting year and I think everyone in the industry will agree with me on that. We are living in challenging times, but with these challenges there often comes great opportunities. Oceaneering has managed to maintain stability, rather than see any dips or troughs, but we have still managed to make some important developments.
"Having been so used to working at maximum capacity, the slow-down in activity gave us the chance to take stock of the business and assess areas that we previously had no time to examine. For instance, we have improved the waste elimination side of our business for the benefit of the environment, we've enhanced our individual safety training, and we have concentrated on core processes that we utilise in our everyday business. The recession has acted as a brief respite, and we're now ready to grasp the opportunities that come along. On the whole, we have a positive outlook and we're well placed to be involved in the right areas of the oil and gas sector."
Oceaneering
Services: Deepwater applications and solutions