Remote controlled
Operating as part of the wider Oceaneering group, Oceaneering Brazil has a long history of serving the South American oil and gas industry since it began providing diving services to Petrobras in 1973.
Further subsea intervention services would be introduced in 1979, and since that time Oceaneering Brazil has continued to develop its service offering to clients in Brazil and abroad. Today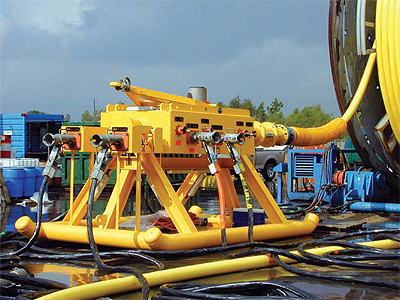 Oceaneering Brazil specialises in remotely operated vehicles (ROVs), ROV tooling, blowout preventer (BOP) control systems, umbilical control cables, pipeline repair systems, subsea field development hardware, installation services and inspection services.
At present Oceaneering Brazil manages over 1000 employees across its Niterói umbilical manufacturing plant, which began operation in 1999 and its Macaé operational base, which was opened later in 2001, as well as its Rio de Janeiro office and offshore. Although its main area of business is located in its native Brazil, Oceaneering Brazil serves a broad base of clients at home as well as the surrounding region. "It is no surprise to reveal that our main client is Petrobras, however in addition to this Shell, McDermott, Aker, Repsol, Queiroz Galvão, OGpar and several others are well served by our products and services," explains ROV manager Wayne Betts. "Although Brazil is our main focus as it is an important market, we still provide ROV services to customers in Argentina and Colombia and have our eye on other emerging markets in South America."
The services on offer from Oceaneering Brazil include turnkey ROV and umbilical solutions supported by strategic businesses such as ROV tooling, service and rental, asset integrity management and speciality connection solutions. The Niterói umbilical manufacturing plant for example, offers a complete service package of engineering, qualification tests, project management and the manufacture of thermoplastic and steel tube umbilicals. Furthermore, the facility is able to offer several product related services such as umbilical termination assemblies, hydraulic and electrical tests, pipes and hose cleaning, maintenance and repairs, reel construction and remodeling.
Oceaneering is the world's largest manufacturer and operator of Work Class ROVs and as such is the leading provider of ROVs to the oil and gas industry. The Oceaneering group employs over 330 Work Class ROV systems and more than 2700 ROV offshore personnel worldwide. Within Brazil the company currently operates over 30 ROV systems with staff trained at the ROV Training and Excellence Centre in Macaé. These ROV units can perform various supporting tasks to operations such as drilling, completion, installation, construction, maintenance, intervention and inspection in offshore oilfields – making them a vital component in subsea engineering and projects.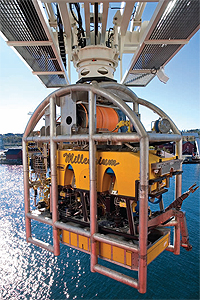 Furthermore Oceaneering Brazil and indeed the wider Oceaneering group, offers an extensive service offering within its ROV tooling business, which completes the company's extensive turnkey package, as Wayne details: "The ROV tooling business works mainly with ROV units to solve subsea challenges for the oil and gas industry. The business unit is able to provide a broad range of services and engineered products on a rapid or long lead basis. The services provided include engineered ROV intervention tooling; project management and engineering; rental tooling packages; skids for subsea intervention in Xmas trees; manifolds and so on; hydrate remediation systems; the management of customer-owned tooling (tool pool); flow assurance and decommissioning."
As such the Oceaneering fleet is available in service and rental applications that are designed for a host of installation and workover operations including deepwater projects, such as equipment testing and flushing. Additionally, bespoke capabilities and solutions are available for long-term lease or on a spot basis for services comprised of hydraulic control, tests and flushing units, umbilical reels, chemical injection, pumping systems, electrical downlines, heave compensated retrievable umbilical systems and service and rental tooling.
Oceaneering Brazil's membership of the wider Oceaneering group means that it has the ability to share resources and resolve issues very quickly, which is vitally important in the ROV business where operational uptime is considered to be a fundamental concern. Furthermore the company maintains a live operating system that informs it of any issues affecting any ROV system around the world. "This can be viewed in real-time in any Oceaneering office," Wayne elaborates. "Having this high visibility allows us to focus regional and worldwide resources to work through any issue as quickly as possible to ensure that we are providing the best possible service to our customers.
"We have specific strengths targeted at each business sector operating in Brazil. In the ROV market for example, we have the highest uptime performance in the industry, which is made possible with a highly trained and experienced workforce coupled with an onshore inventory strategy to support it," he continues. "For the umbilical market we have an engineering team able to provide global solutions, a complete qualification lab and expertise on encompassing the use of steel tube umbilical systems worldwide. Overall I would say that being part of a global and wealthy company gives us some advantages, such as a great portfolio of products and services, strong engineering capabilities and the ability to make significant investments when the need arises."
Of course it can be argued that no amount of financial support and infrastructure is of much use without a talented team to use it. Indeed Oceaneering Brazil is acutely aware of the need for skilled engineers and operators within the oil and gas sector and strives to ensure that it has the best team to deliver projects to clients. This balance of market-leading technology and a world-class team will drive the business forward in 2015 and beyond. "One of the main differentiators for the ROV group is training and competency," Wayne says. "We focus on training our onshore and offshore personnel, ensuring that they have the correct knowledge base and superior skill sets to effectively perform the job to the best of their ability.
"Over the next 12 months we will focus on growing the parts of the business, which are still relatively small in Brazil, but have huge potential to grow," he concludes. "Our vision for the next three to five years is to be Brazil's largest product and services provider within our market segment and the preferred choice among our customers, suppliers and employees."
Oceaneering Brazil
Services: ROV services