Oceaneering Subsea Asset Integrity
Subsea investigation
Celebrating its 50th anniversary during 2014, Oceaneering International was founded in 1964 as the Gulf of Mexico based company, World Wide Divers.
As the demand for subsea and diving services grew so too did the company and in 1969 World Wide Divers merged with two other diving companies to form Oceaneering International, Inc. Since that time Oceaneering has transformed from a small regional company into a truly global supplier of engineered products and services. As of 2014 the business employs over 12,000 people across 25 countries.
Oceaneering Subsea Asset Integrity (SAI) is an industry leader in the provision of high quality inspection and integrity management centred services that has grown in line with Oceaneering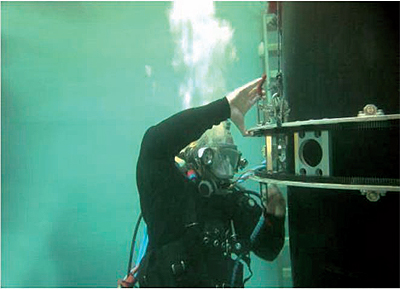 International's wider strategy of organic growth and targeted acquisitions. As such, SAI today represents one of the largest suppliers of integrity services in the world, operating globally in North and South America, Africa, Europe, South East Asia and Australia. Indeed SAI also shares in the wider Oceaneering group's 50 years of experience to deliver services in a safe, innovative and cost-effective manner in a number of applications within the oil and gas, chemical, power and construction industries.
Today SAI provides advanced 'real-time' subsea inspection techniques with both ROV and diver deployed solutions, which can be broadly broken down into subsea radiography and ultrasonic services. These include its Neptune ROV and diver-operated Trident ultrasonic systems, which allow versatile subsea piping inspection. "Our Neptune and Trident ultrasonic systems provide 360 degree circumferential coverage through 0.5 metre axial length allowing corrosion mapping of pipework, flowlines jumpers and risers," explains sales engineer, Mike Killeen. "The systems can be deployed with pulse echo and phased array probe configurations to perform such inspections. In addition, the systems can be deployed with time of flight diffraction (ToFD) probes to check crack detection and weld inspection. The Neptune system is ROV deployed and is rated to 3000-metre water depth; to date its deepest dive is 1700 metres.
"In addition to performing inspections of rigid piping, the Neptune and Trident can be used for flooded annulus detection on flexible piping," Mike continues. "Upon detecting flooding within the annulus region the system can then take thickness measurements of the tensile armour wires to aid in remaining life assessments. Neptune is the only ultrasonic system on the market with a proven track record of successfully detecting the flooded or non-flooded status of flexible piping having performed scans on over 200 risers worldwide since its introduction."
Further to these systems SAI also operates a system known as Magna Scan, following the acquisition of the Houston based company Spectrum. Magna Scan has been adapted for use in marine environments as an ROV deployable tool called Sea Turtle, which tracks along the top of pipes and locates defects for further inspection. The system functions as a scanning tool prior to inspection utilising the Neptune or Trident systems.
Presently Oceaneering International owns and operates two thirds of the world's workclass ROV systems, which gives the company enormous scope in integrating inspection systems with ROV
units. Furthermore, operating as part of the wider Oceaneering Group provides SAI a strong base from which to develop market-leading solutions, as Mike elaborates. "Being part of Oceaneering International gives us the financial backing to produce a number of inspection systems, which gives us greater flexibility operationally to meet customer requirements. There are currently six Neptune systems in existence positioned globally in Houston, Angola, Perth and Aberdeen. This allows us to deploy systems where they are needed and when they are needed."
As well as ensuring that the company is geographically close to its clients, SAI is keenly aware of the operational requirements of subsea operations. With five decades of experience in operating in the offshore environment SAI is well placed to deliver the right solution in a professional manner, every time. "Understanding customer requirements is the key to any sales process and selling inspection solutions to operators is no different," Mike says. "Failure to understand pipe coating when performing ultrasonics for example, can prevent inspection data from being obtained. This is not good for the customer and it is obviously not good for us. We make use of questionnaires to fully capture details of a piping system, which is critical for an internal inspection solution. Alternatively through a consultative sales process these details are captured anyway and allow us to develop multiple solutions for the client."
As such, SAI is well placed to continue to grow and increase client awareness of its services over the coming years. "SAI has great potential to grow significantly over the next few years. New tools are being developed while the current tooling is being developed further," Mike says. "Although the inspection tooling is well used, SAI is only beginning to scratch the surface in terms of where the business can go. Operators are becoming more aware of the inspection services we can offer, which is something that is clearly linked to obtaining more business. In addition to awareness of the techniques available to the operators there are various life extension projects that are ongoing and in planning that will push the requirement for these tools.
"The next 12 months will be about getting in front of operators to increase the awareness of what we have in our service toolbox. In terms of product development the Magna Scan, Neptune, RITS and the Digital Radiography Tool all have plans in place to take them closer to fulfilling their potential. The next three to five years will involve opening SAI bases in new locations around the globe, which will be dictated by customer demands. The subsea factory is on every operator's lips at the moment and is something that Oceaneering is developing inspection tools for," Mike concludes.
Oceaneering Subsea Asset Integrity
Services: Subsea inspection techniques