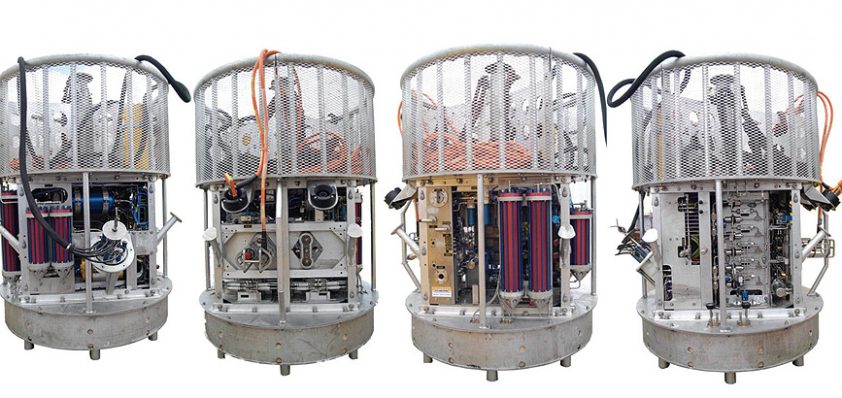 Deep thinking
Oceaneering's rapidly expanding Deepwater Technical Solutions (DTS) division in Aberdeen has considerable experience in operating at depths of 3000 metres and more, and provides ROV tooling and work packages, emergency intervention and inspection services, and advanced subsea technology for deepwater operations.
The organisation, active in the North Sea, West Africa, Caspian and Mediterranean areas, works with many of the industry's leading companies.
As part of this expansion, David McKechnie, who has moved into the newly created position of DTS eastern hemisphere manager at the business, elaborates: "At present the DTS division offers a range of advanced deepwater and subsea solutions and services to the oil and gas market. We are currently very busy in a number of the leading deepwater exploration areas, particularly the West of Africa – in Angola and Nigeria – right through to Egypt, Baku and up into the North Sea. We are very active in supporting the other Oceaneering divisions, including the ROV and Inspection unit, to provide a total technology package."
DTS specialises in the design, fabrication, operation and maintenance of ROV related tooling and equipment. Working in close cooperation with Oceaneering's ROV department, the division provides technology encompassing a broad range of engineering fields, including mechanics, electronics, hydraulics, automation, the development of advanced simulation software, and virtual tools. DTS supplies a full range of emergency intervention tooling solutions, including pressure cap removal systems, valve override systems, pipeline repair tooling, retrofit sand detection clamps, and riser recovery clamp systems.
David believes that DTS' active presence in the important deepwater exploration areas is a key advantage: "I think that the fact that we are actually positioned in areas such as Luanda and Nigeria is very important. They are certainly not the easiest areas to work in, and present a number of unique challenges, but we have the equipment and people there to support our clients with whatever they need. The advantage of this includes the cut down of transit times for equipment to and from the area, and that the equipment can be repaired and recalibrated in the nearest country rather than being sent away and taking months to get back on site.
"Our customer base is predominantly orientated towards the larger operators that are currently working in these sectors, including BP, Chevron, Shell and Esso," says David. "An important part of our business relies on working closely with our clients to produce bespoke products or solutions that are tailored to individual requirements. We respond to bespoke needs, but at the same time we have a range of industry standard tooling and products that is ideal for the typical needs of oilfield support.
"Recently we worked very closely with teams from Chevron and FMC in the development of one of our latest solutions – the ROV Workover Control System (RWOCS)," he continues. "RWOCS provides hydraulic and electrical control to a subsea control module, and is one of our key developments at the moment. Typically subsea the trees are deployed on wire today, and what our system can do is hook into that tree, test the control module and structure functions and configure the structure for sleep modes ready for future intervention or operational start up. In terms of deepwater operations, developments such as RWOCS, are certainly an area of high priority."
In a move to further strengthen its capabilities and product development programmes, the business recently acquired a specialist subsea electrical actuator company. David explains: "We acquired IFOKUS Engineering AS in 2007, as we see it as a key partner company that will enable us to become more involved in a number of new development areas. IFOKUS is heavily involved in the development of all electric actuator technology both linear and rotational movement. IFOKUS also brings unique ROV tooling solutions such as the 3 Stab enabling easy wireless connection and hydraulic hookup to a tooling package or subsea structure. This simple solution provides a good platform for tooling packages to be independently deployed, collected and operated subsea, without permanent installation to the ROV. It will save a great deal of time in the overall operation, and reduces the need for extensive A-frame and winch modification to handle bulky or heavy tooling packages."
"A very recent addition to Oceaneering and the DTS group is GTO Subsea AS of Kristiansund Norway. We look forward to working with the GTO team and their dredger technology throughout the region."
As with any company operating in the busy oil and gas sector, David explains that Oceaneering is experiencing the present industry-wide personnel shortages: "There certainly is a challenge in finding new employees that can be developed through company training schemes and in field experience for safe international operations. In addition to the normal channels we actively seek to train the nationals in Angola and Nigeria, and this is working very well for us. It is very pleasing how the nationals have stepped forward and demonstrated their excellent qualities and capabilities."
David is confident that the company's experience and local presence in deepwater operational areas, combined with its dedication to innovative technological development, will ensure continued success in the future: "I think that in the past we have certainly led the field in tooling support and design development, and we aim to continue to take this technology forwards. The design and development of new technology will always be a challenge, but we will strive to continue to be the leader in bespoke tooling solutions for all of our customers' needs," he concludes.
Oceaneering
Services Deepwater technical solutions