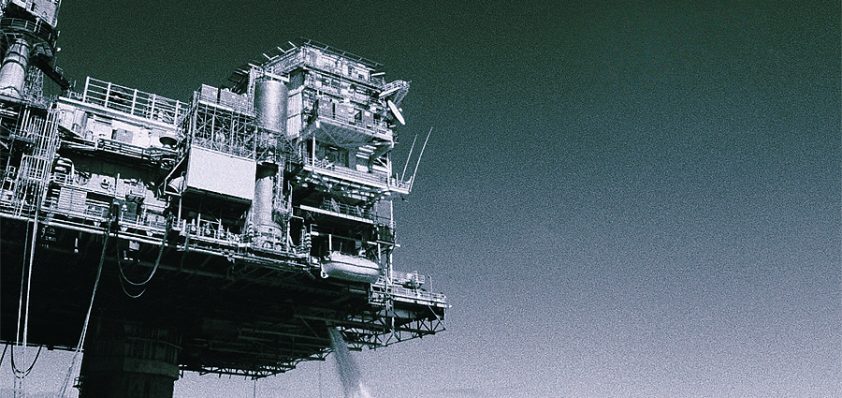 A family owned company
Odfjell Drilling is one of the North Sea's leading drilling and well service contractors, with more than 30 years experience in the management of drilling operations worldwide.
The company is a leading designer, owner and operator of state-of-the-art semi-submersible drilling rigs, currently operating three units in the North Sea. Additionally, the business supplies drilling and technical operations personnel to major producers, and provides casing and tool rentals services.
Ketil Lenning, CEO at Odfjell elaborates: "Odfjell Drilling is a family owned, and controlled drilling and well service company with a great deal of experience in the industry. Together with our headquarters facility in Bergen, Norway, we have offices in ten other locations around the world, although our main operating areas are the North Sea and the Middle East. We currently employ around 2400 people, and we are actively expanding all of the business segments within the company.
"We have four main operating segments within Odfjell Drilling," Ketil continues. "They undertake the operation and ownership of mobile drilling units, the operation of platform drilling rigs on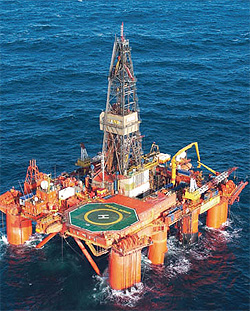 behalf of various oil companies, the provision of various oilfield services, including the specialised provision of down-hole tubular services and casing services, and fourthly the provision of engineering services, such as project management, application tasks, re-engineering, and greenfield and brownfield engineering."
Ketil believes that Odfjell Drilling's tradition as a family owned and controlled company, differentiates it from many of its competitors: "Being a family owned business means that we have a long-term industrial view, which is very important in a cyclical industry. Also, the spirit, and the strength of our internal culture is an important factor to our success. This culture is based on the core values of strong relations with our customers, the continuous training and development of our employees, and maintaining the highest standards of quality and safety awareness throughout the business."
Ketil elaborates on the company's development as a leader in the ownership of mmobile drilling units: "The majority of our business is linked to the ownership of mobile drilling rigs, and it is an area where we are looking for further opportunities. We originally became involved in the sector in the early 1970s, in the development and evolution of the AKER H3 design, which was a very successful semisubmersible drilling rig, and a step-forward from the existing technology. During this time we also became involved with the ownership and operation of semi-submersible drilling rigs.
"By 2001 we owned and operated three units, which were built in the late 1970s and early 1980s, leading us to look into fleet renewal activities," he continues. "In 2005 it became clear that the semi-submersible market was going to become strong in the future, so we entered the market place to find a suitable shipyard to undertake our new build programme and construct a semi-submersible drilling rig to meet the latest offshore requirements.
"Following negotiations we signed a contract with a Korean shipyard in 2006, which will form the basis of our ongoing new build programme," says Ketil. "The first unit is scheduled to be delivered in October 2008, and the project is progressing according to plan at present. More recently, we have exercised the option for a second new build, which should be ready for service in 2010."
Another of the company divisions, Odfjell Drilling Technology, undertakes a range of projects throughout the industry: "Our technology division was initiated in 2002 to expand our base knowledge, and to effectively use the strong technological background and experience in Odfjell Drilling to give us a technological and engineering presence in the market," Ketil comments. "Today it consists of around 200 engineers, based in Bergen, Aberdeen and Stavenger, and is involved in new building projects in the mobile drilling sector, and modification activities on existing units."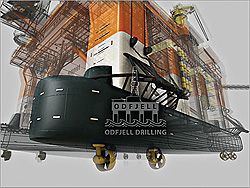 In addition to this, the company operates a considerable well services division, providing a range of services that includes rental, tubular rental, casing and tubing running: "The well services division has expanded from a basic Norwegian operation, to have a strong presence all over the North Sea, and activities in the Middle East," Ketil explains. "We aim to continue our service operations in the Middle Eastern region, whilst expanding those activities into the Caspian region, and towards India and South-East Asia."
Ketil explains that a continuous focus on the highest standards of health and safety are essential to Odfjell Drilling's operational culture: "The fundamentals of our business are what make us successful. Safety is one of our core values, and all our employees are conscious and aware of the fact that safety is at the centre of everything that we do. In this sense, we are extremely committed and motivated, and spend a great deal of time spreading this culture through internal meetings, seminars and extensive in-house training."
In an industry that is thriving, Ketil believes Odfjell Drilling can overcome any challenges in the market: "The main challenge will be related to maintaining our strong culture in a continuously expanding business environment, where one of the main restrictions is linked to competence and personnel. However, we are expanding by around 200 people per annum, and last year we received around 10,000 applications for positions within the company, so we are still attracting a lot of good people."
Despite this, he is confident in the company's future: "The market is very strong across the spectrum of services that we offer, which gives us the opportunity to renew our mobile drilling fleet. We intend to achieve strong international growth by becoming more active outside the North Sea home market, whilst continuing the renewal activities of our assets.
"Additionally, we will continue to focus on finding new technology solutions that enable us to provide better, more efficient, and more environmentally friendly solutions for the future. I have been involved in this business for 30 years or more, and I believe that the company has never been in a stronger market position than it is in today," Ketil concludes.
Odfjell Drilling
www.odfjelldrilling.com
www.ijdesign.org content