On solid ground
As a knowledge and experience intensive enterprise in the oil and gas industry, ODIM is characterised by its specialist commitment to innovation and quality handling solutions.
The company's detailed knowledge of its core markets and the products it offers has resulted in 30 years of increasing success in the industry. With a global presence in the market holding offices, agents and suppliers in the US, India, Europe, Canada and Brazil, ODIM is able to serve customers with the best products possible, wherever in the world they may be.
ODIM's operations can be separated into three divisions; Offshore Service Vessels, Naval and Power, and Subsea and Deepwater Installation. Oyvind Olsen, senior vice president of communications, outlines the company's position in the marketplace: "When we were founded in 1974 our mission was clear – to develop our own unique solutions that were not copies of competing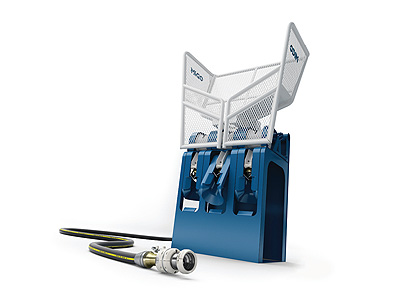 products. With a historical and geographical proximity to the sea, it was natural for our founders to begin with equipment and services for fishing fleets and then exploit their experience and expertise when the oil age reached Norway. Today we are the global technology leader with safe and automated handling solutions for the international offshore and naval markets. We have more than 30 years experience in the seismic segment and are the world leader for cable handling solutions. Through our North American subsidiaries we also have a strong position in the defence market."
Success for the customer is at the forefront of ODIM's operations, working with them to bring value through creative solutions that improve and enhance the efficiency of a clients' business. The company's expertise is facilitated by its specialised and dedicated 700-strong workforce, which holds an attention to detail unrivalled in the industry. It is in the very genes of ODIM to develop original smart solutions, a principle that was put in place at the origin of the company. The organisation's technologies are designed to aid customers in being more efficient in their operations, making jobs faster and enabling clients to multi-task, making production more cost-effective and environmentally friendly.
Currently the company is putting increasing amounts of emphasis on the deepwater and subsea installation sector of the oil and gas market. This challenging and demanding area of expertise is ideally suited for ODIM's self-professed 'deep knowledge', as Oyvind highlights: "Subsea and deepwater installation, and well intervention and drilling are the most important business areas for our continued commitment to the very promising subsea and deepwater market. We can offer complete automated handling systems for offshore construction and installation vessels, as well as complete topside systems for drilling and well intervention. Work is well underway for commercialising our portfolio."
As offshore oil and gas drilling moves into extreme water depths of over 2000 metres, lightweight fibre rope is revolutionising the potential for deepwater installation and mooring. Fibre rope is as strong as steel wire but only a tenth of the weight in air, meaning that it can handle a substantially better payload in deep water. However, handling fibre rope presents a whole new range of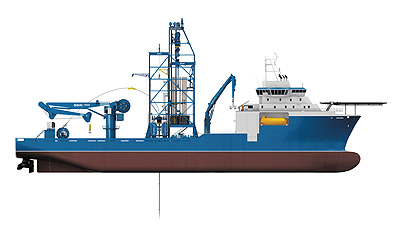 technological challenges as it stretches by one to three per cent under load. Traditional winches experience slippage between the rope and drums generating heat and abrasion, wearing down the rope and causing premature failure.
ODIM has met this challenge head on and the biggest development for the company in this competitive sector has been in its patented ODIM CTCU cable traction control unit. This solution has been identified as the most important core technology for deepwater projects. The ODIM CTCU has been proved to solve the main challenges in penetrating ultra-deep waters quickly, flexibly and cost-effectively. This winch system handles fibre rope and cables in an extremely careful manner – it is not the lightweight fibre rope that makes the system unique but the way it is handled without being damaged. With its low net weight, fibre rope permits the use of winches and handling equipment that require far less power; this reduces energy consumption and makes it possible to employ smaller ships or rigs for the same job, ensuring cost-efficient operations.
Close co-operation with customers and other companies is a mainstay of ODIM's research and development operations, using demands in the market to fuel design, as Oyvind highlights: "Long-term relationships underpin everything we do, we co-operate closely with our customers and have become familiar with them over years of collaboration. We know their operational challenges and are constantly being drawn into overcoming new ones. Our in-depth expertise is further developed through new challenges and assignments. For example we have worked with the company PGS for many years and its Ramform vessels are packed with ODIM equipment with a value of well over 100 million Norwegian kroner – we are a trusted supplier."
The current economic situation has affected everyone in the industry and ODIM is no exception. As a supplier the company has experienced an increased focus on costs and has had to challenge its own suppliers to hold a cost focus and reduce prices. However ODIM has a large order reserve with low risk of cancellation, and holds a solid economy within the company. It also predicts that demand for unique automated handling systems will continue to increase.
Oyvind outlines ODIM's vision for the future: "We have ambitions for further growth and are constantly seeking new markets where we can exploit our core competences. It is hard to predict how long the financial commotion will last and to what extent it will influence us. Clients are spending longer than normal on their decision-making but the orders we do have are solid.
"We are looking for a revolution in deepwater and ODIM is well positioned with the technology, expertise and product portfolio to become a preferred supplier of installation and well solutions. The ODIM CTCU is a key technology and has overcome the challenges faced by efficient installation in deep water. We will continue the commercialisation of this technology and work to increase our market share in the international subsea and deepwater industry. Our strategy is the same today as it was in 1974 – to be the number one partner for customer critical operations."
ODIM
Products Automated handling solutions