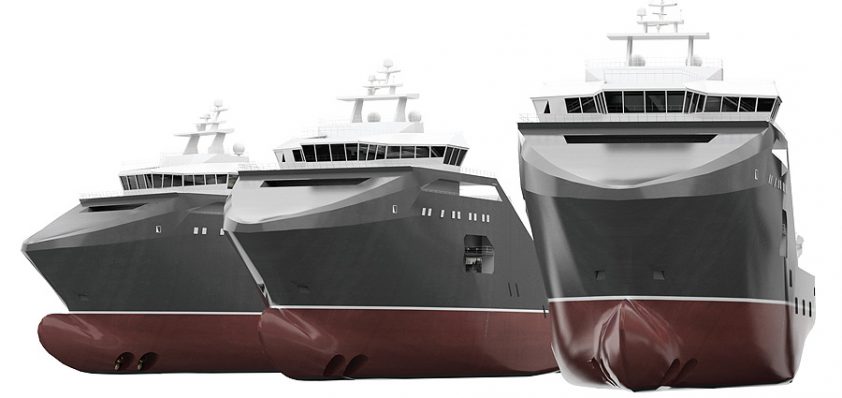 Deep impact
ODIM is a fast-expanding Norwegian technology company, which develops advanced automated handling solutions, primarily cable-handling systems and winches, for use on offshore and naval vessels.
Its knowledge of its core markets and products means the company has enjoyed over three decades of increasing success in the industry. With a global presence the group occupies a leading position in selected market segments, such as seismic, subsea and offshore supply. Furthermore, it has established itself in the defence sector through its subsidiaries in North America.
ODIM's services are split into three business areas – offshore service vessels; subsea and deepwater installations; and naval and power. Oyvind Olsen, vice president of communications, discusses ODIM's market position and capabilities: "We were founded in 1974 to develop our own unique solutions. With a historical and geographical proximity to the sea, it was natural for our founders to
begin with equipment and services for fishing fleets. We then moved in to exploit their experience and expertise when the oil age reached Norway. Today we're the global technology leader in safe and automated handling solutions for the international offshore and naval markets. We boast 35 years experience in the seismic segment and we're the world leader for cable handling solutions."
Since its formation, ODIM has been expanding purposefully and is committed to the deepwater sector, having established a unique position with its ODIM CTCU technology. This exceptional technology makes it possible to use fibre rope as opposed to steel wire cables for deepwater installation work, which provides major benefits in terms of weight and allows the use of smaller, cheaper vessels.
It is perhaps the most important component in the company's ODIM Smart AHTS solution package, which is widely regarded as a gamechanging solution that moves anchor handling towards becoming a more cost-effective, ecofriendly and safe operation.
This solution led, in part, to ODIM winning the accolade of Innovator of the Year 2008 at an event held in Ålesund, Norway. The award reinforced ODIM's identity as an inventive company that is committed to contributing to positive development in the region. Having been nominated alongside four other strong finalists, ODIM impressed the jury partly because of the depth of expertise among its employees.
Acting chief executive Arild Hatløy notes: "It's very inspiring to be given the award, in that ODIM is celebrating its 35th year in the industry. It's almost 'in the genes' of everyone in ODIM to develop smart solutions and not to merely copy the products of our competitors. This simple but very effective strategy has been honoured from our formation to the present. This prize heightens our creative spirit and encourages our competitive instincts."
The pioneering anchor handling concept ODIM SMART AHTS has allowed ODIM to launch a solution that demonstrates the company's considerable innovative abilities and a clear climate-friendly profile. It is three times as effective as competing solutions in terms of capacity, economy, safety and consideration for the environment. In fact, ODIM Smart AHTS is a complete automated system for anchor handling that addresses the oil companies' needs for cost-effective solutions for future prospecting and production drilling for oil and gas. The concept brings considerable efficiency gains in anchor handling operations and simultaneously increases safety for vessel crews.
Additionally, ODIM Smart AHTS contributes to new and effective anchoring methods that greatly reduce consumption of fuel on drilling rigs. Based on calculations for just one rig for one year, this can lead to an increased value creation of NOK 200 million to 300 million, as well as reduced emissions of 50,000 to 100,000 tonnes of carbon dioxide and 1000 to 2000 tonnes of nitrogen oxide.
"The very reason that ODIM was nominated for the award is that it has worked continuously on environmental issues at the production and product levels – showing consideration for the environment in its production processes and in the practical use of ODIM products and systems," comments Annik Magerholm Fet, a jury member on the award panel. "ODIM has the ability to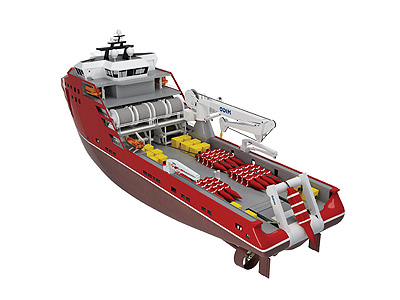 envisage new possibilities of protecting the environment."
In terms of ODIM's considerable success, its breakthrough contract with Aker Oilfield Services and important acquisitions of former ABAS Crane and Aker Brattvaag Winch have contributed to ODIM's buoyancy in the market. In recent years the company has progressed with assertive development in deepwater, whilst remaining focused on costs and project execution. Acquiring companies with such long traditions in the maritime industry has significantly improved ODIM's product and service portfolio.
Both organisations delivered special cranes, lifting systems and specialised electric winches for ships and offshore installations – and shared many of the same clients as ODIM. These additions only served to reinforce ODIM's expertise and capacity, strengthening its position as a complete system supplier of aft decks solutions in its various markets.
More recently ODIM made another investment in the form of a brand new $20 million production facility in Vung Tau, Vietnam, which the company opened in October 2009. This development is in line with ODIM's existing strategy of technological leadership with automated handling solutions in those parts of the value chain that contribute most to value creation in the group. At the same time, this decision represents a long-term and flexible solution to ODIM's capacity challenges, on competitive terms. This is the organisation's first venture into the Vietnamese market.
"This will secure our long-term growth opportunities in a region with competitive terms," comments acting chief executive Arild Hatløy, who participated in the celebration of opening the new ODIM facility in Vung Tau. "Together with our existing network, this solution will give us considerable flexibility in utilising expertise, our product mix and making deliveries to the benefit of customers." Torbjorn Hovden, managing director of ODIM Vietnam, adds: "With lower production costs, a talented young workforce and a growing economy, Vietnam is an ideal country in which to expand ODIM's growing network throughout Asia. The new state-of-the-art facility marks ODIM's strong commitment to building a long-term and successful operation, not only in Vietnam but also in the Asian region."
This latest development has helped ODIM in achieving its aim of becoming a major player in the deepwater installation industry, while continuing in its mission to develop systems and technology solutions on the basis of close, enduring relations with customers.
ODIM
Services: Automated cable-handling solutions