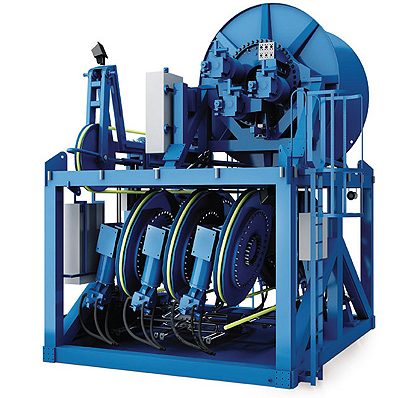 Exploring the possibilities
ODIM ASA is a fast-expanding Norwegian technology company that develops and sells advanced automated handling solutions, primarily cable-handling systems and winches, for use on offshore and naval vessels.
With a global presence, the international group occupies a leading position in selected market segments such as seismic, sub-sea and offshore supply and, through its subsidiaries in the US, it has established itself in the defence sector.
The group's service is broadly split into three business areas – offshore service vessels, mooring and deepwater installations, and naval, oceanographic and power. ODIM is expanding purposefully and, in addition to its established market segments, the group is making a heavy commitment to the developing deepwater market, having established a unique position with its ODIM CTCU technology. This exceptional technology makes it possible to use fibre rope as opposed to steel wire cables for deepwater installation work, which provides major benefits in terms of weight and allows the use of smaller, cheaper vessels.
ODIM has enjoyed considerable success throughout 2007 through the execution of its deepwater growth strategy and, in the third quarter of this year, reached record levels on revenues, earnings and order back log. Its breakthrough contract with Aker Oilfield Services, and important acquisitions of JMC, ABAS Crane and Aker Brattvaag Winch, have contributed to ODIM's current buoyancy in the market. Revenues for 2007's third quarter were up 62 per cent from the corresponding period of last year and the order backlog reached record levels in September of this year.
In recent months, ODIM has progressed with assertive development in the deepwater business, whilst staying focused on costs and project execution. The recent acquisition of Norwegian
companies ABAS Crane and Aker Brattvaag Winch, both with long traditions in the maritime industry, significantly added to ODIM's product and service portfolio. The organisations deliver special cranes, lifting systems and specialised electric winches for ships and offshore installations. They share many of the same clients as ODIM, as well as value-chain philosophy, and the advanced offshore and marine cranes from ABAS are the perfect supplement to the automated handling systems that ODIM has developed for the offshore supply and sub-sea installation markets. These additions have therefore strengthened ODIM's expertise and capacity, reinforcing its position as a complete system supplier of aft deck solutions in its various market segments.
ODIM aims to develop its new acquisitions by building on their specialist teams and expanding their workforces. The combination of ODIM CTCU technology and ABAS's cranes raises customers' effectiveness for the installation phase in deepwater, further demonstrating ODIM's commitment to the fast-expanding deepwater market. The group's objective now is to launch a crane that can increase the efficiency of deepwater marine operations, making it possible to operate at unlimited depths faster and at a lower cost to the customers' benefit.
In addition to making tactical acquisitions, ODIM secured several significant contracts over the past 12 months that have extended its leading position. In August 2007, ODIM agreed to deliver to Aker Oilfield Services a 125-tonne ODIM CTCU System as part of a joint industry project (JIP) supported by Norway's Demo 2000 research programme. The contract primarily ensured full financing for ODIM's fabrication and on-field testing of a system with a two-fall configuration that allows players pursuing demanding deepwater projects to install structures weighing up to 250 tonnes. ODIM's unique handling systems are a very costeffective solution for developing oil and gas fields in deepwater and, as the installation market is seeking systems that can handle modules weighing up to 250 tonnes in water depths of more than 1500 metres, ODIM CTCU represents the best solution.
A few months after this agreement was reached, ODIM entered into a further contract with Aker Oilfield Services for the delivery of a tower and module handling system for deepwater installation that includes the delivery in 2009 of an automated module handling system featuring a handling tower, moon pool hatches, cursors, skidding arrangement and control systems.
Throughout all of ODIM's business operations, its commitment to customer service remains constant and the business operates a full aftermarket service including the provision of spare parts, service engineers that provide onboard assistance and technical support around-the-clock. Other after sales services include supervising the installation of ODIM products and onboard start-up, pipe work, flushing of hydraulic systems and engineering support. Such a commitment to solving its customers' problems is a key part of ODIM's client-focused strategy and, combined with its reputation for pioneering and durable products, this aftermarket provision has helped the company to play an active part in the development of new and efficient systems.
With regards to future plans, ODIM aims to round off the year with a total increase in annual revenue of 50 per cent, compared with 2006. It intends to focus strongly on integrating its recently acquired businesses and realising its primary visions of becoming a major player in the deepwater installation industry.
ODIM ASA
Products /services: Automated handling solutions