Seismic activity
As the world-leading supplier of automated cable handling solutions to seismic companies, ODIM has a market share of approximately 90 per cent.
Almost every new seismic vessel features one of the company's systems for handling its streamer and gun-cable systems, and this dominant position is attributed to an innovative focus and highly skilled employees that make it possible to offer tailormade, total integrated solutions to meet the needs of a wide variety of customers and their vessels.
The group's service is broadly split into three business areas; offshore service vessels, mooring & deepwater installations and naval, oceanographic & power. Renowned for its automated handling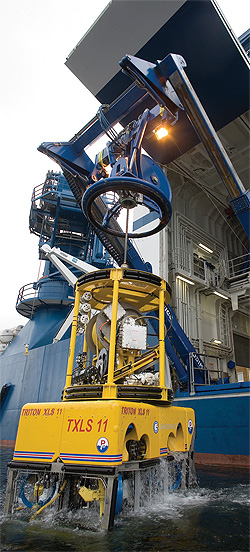 solutions for offshore service vessels, ODIM expanded its service by working together with companies with existing expertise in these additional areas. Today ODIM Alitec AS runs its mooring & deepwater installation business, while the naval, oceanographic & power sector is split into the businesses of ODIM Spectrum and ODIM Brooke Ocean Technology (ODIM BOT). ODIM Spectrum is a global leader for establishing new technical standards in the design and implementation of advanced marine mechanical and hydrodynamic systems, while ODIM BOT provides hardware, systems engineering and R&D services to the marine science, naval and oil and gas sectors, specialising in the development of equipment and systems to operate in harsh marine environments.
Despite success in these new business areas, the offshore service vessels remain the group's dominant focus, and it is this sector that ODIM is most commonly associated with. Broadly split into five main areas, seismic, subsea, offshore supply, and after sales & service, the solutions have been developed throughout its history to ensure that the clients are provided with an industry leading service.
Serving all of the major seismic companies, including Petroleum Geo Services (PGS), WesternGeco and Veritas DGC, ODIM works closely together with its customers to develop leading innovative solutions. In the last years, the development of the technology within the seismic industry has made enormous progress, with ODIM and its clients playing a major role in the evolution. Driven by the need for more costeffective seismic exploration, the average number of streamers per vessel has increased from four to ten, while ODIM has become the exclusive supplier of streamer handling systems for all of the larger multi-streamer vessels that have a capacity of up to 22.
Established as a world-leading supplier of cable handling solutions, all of the company's winches are controlled through an advanced system that ensures simple simultaneous operation of up to 22 streamers and eight guncables. The range includes streamer, gun, lead in, wide tow, storage, and auxiliary winches, with each one delivered according to specific customer requirements. They are also all hydraulically operated through manoeuvring valves, with tailor-made power packs supplying the appropriate level of hydraulic oil. The winches handling streamer, lead-in, wide tow and gun cables are also remotely operated from a waist-held control panel, making it possible for a single worker to handle multi-cable operations, such as synchronised retrieval or the deployment of cables.
In addition to winches, remote control systems and hydraulic systems, ODIM also delivers all of the other equipment necessary to perform the efficient handling of back deck equipment. These products include gun arrays, various handling beams and booms, drums, wire blocks, fairleads, traction devices,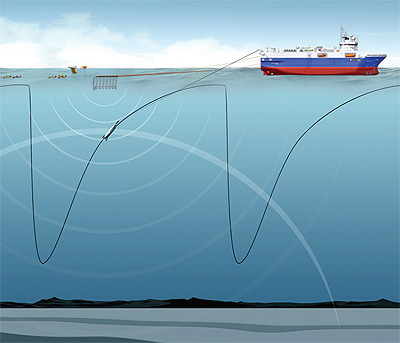 de-tension units and bird conveyor and storage systems. The subsea sector of the offshore service vessels sector focuses on ROV handling systems, and ODIM is a leading supplier of these systems to the offshore and seismic industry. The company's subsea services include mobile skid mounted systems, vessel integrated solutions and single units, winches, hydraulic power units, A-frames and handling gear to meet a variety of demands.
Offshore supply is a relatively new area of interest for ODIM, building on its 30 years of experience in designing and constructing winches and equipment for other markets. Offering towing, windlass mooring, tugger, bunker, wire and wire bundle winches, the company can also tailor-make these solutions to meet special requests.
A current particular area of focus is the investment of resources into the research and development of this offshore supply business, and some of the latest projects include two systems for Safe Cargo Handling. The systems offer the automatic connection and disconnection of cargo handling hoses and the hook for handling load carriers.
Constant throughout all of ODIM's business operations is a commitment to customer service, with clients depending on the products for effective seismic exploration. Offering a 24-hour after-sales service, the department is split into four sectors to ensure clients are provided with comprehensive support. The service aspect covers repairs and maintenance, spare parts concerns stock holdings, service contracts facilitates its long-term relationships, warranty offers one year's free service, and the ODIM School offers extensive training.
Such a commitment to solving its customers' problems is a key part of ODIM's client-focused strategy. Combined with its reputation for high quality and durable products, this thorough after-sales service has helped the company to achieve success, and as it continues to play a proactive part in the development of new and efficient systems, it seems set to extend its industry leading position.
ODIM ASA
www.odim.com