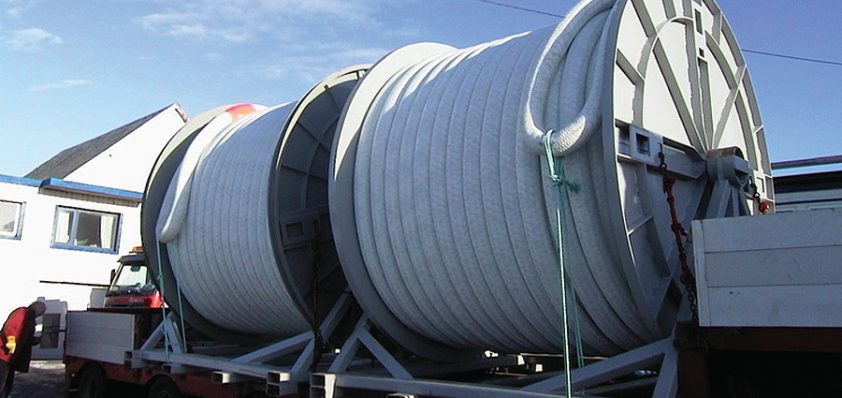 Offshore and Trawl Supply (OTS)
Learning the ropes
Offshore and Trawl Supply (OTS) is a Norwegian manufacturer of synthetic fibre ropes for operational installations in the offshore oil and gas market.
It specialises in the production, design and engineering of high tech fibre ropes and combined products, including thimbles, shackles, chains and buoys. The OTS factory, which is situated near Aalesund in Norway, is one of the most modern sites in Europe, fitted with the latest production lines, using high tech fibres to produce ropes up to a diameter of 350mm. OTS' ongoing strategy is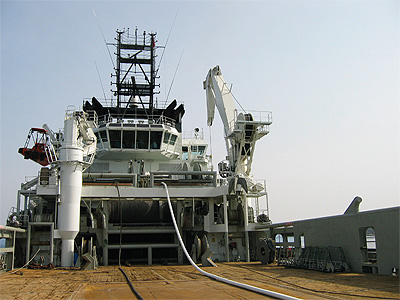 to offer well-tested products, and for this reason it is a close partner to companies involved in various projects and tests carried out offshore within the oil and gas market.
Runar Paulsen, managing director of OTS, outlines the company's work within this sector: "OTS presently serves the oil and gas industry as its main market. For the foreseeable future, oil and gas will be the most important source of energy in Europe and the rest of the world. If you look at it from that perspective then we are in an interesting and rapidly growing business. Our co-operation with our main materials supplier, DSM, is essential to maintaining our strategic position in this market."
He goes on to describe the current conditions of the market and how he sees it developing in the future, with regards to OTS: "At the moment, the consumption of oil and gas is considerably higher than the rate of new discoveries – in other words the balance between the potential supply and demand is becoming ever tighter. This is particularly the case as we look beyond the current economic situation and into the future. For this reason, there is a need to launch more explorations, which we are beginning to see in new frontier areas, such as the Arctic waters, and other deeper waters. We then need to collect more seismic data to understand the seabed and the geological effects of our exploration work. We also need production and storage facilities, as well as loading and offloading systems. I see underlying growth within all these fields of the oil and gas market, and as this is where we do most of our work, it is very positive for us."
OTS' main product is its Dyneema based synthetic fibre rope, which has many advantages over rival products made of steel or polyester as Runar explains: "Depending on the specific application and the working environment in which the rope is used, there are definitely advantages in using this kind of fibre. When compared to other types of rope, it is 15 per cent the weight of steel rope and 60 per cent the weight of polyester rope. This clear weight advantage means that if the rope is carrying out tugging work or activities on the seabed, then it requires less winching capacity and less energy to either tug or winch it. In this way the customer gets more metres of rope for the same weight, meaning that they can expend the use of existing equipment. Its lightweight nature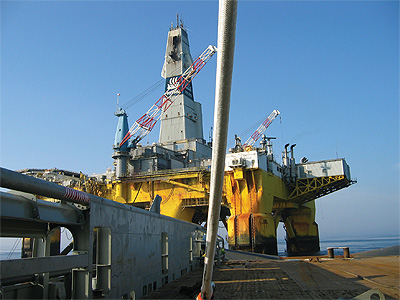 also makes it easier and safer to handle for the people on board."
The technology behind the rope is a result of OTS' extensive R&D operation. A partnership scheme run by OTS' main supplier, DSM, has allowed the company increased access to R&D facilities, which has helped in the development of a number of products. Runar explains: "DSM has chosen a handful of partners worldwide and entered into licence agreements with them. This makes us a preferred customer of quantities of this fibre, giving us better access to the R&D capabilities, as well as tremendous technical support and an access to expertise and testing facilities."
Another important and patented product is the OTS protective jacket. This is fitted around the rope as a protective measure during use. Runar elaborates: "The jacket is one of the best protections – if not the best – that is available on the market today. It can take a lot of wear and tear regardless of the application and the product is out-performing others in the market. Within the rope there are various coating techniques in place, which increase the strength of the rope and also create less friction, making the operation easier. Through extensive testing we develop this sort of technology in-house at OTS, ultimately giving the end user the full benefit of our R&D work."
In terms of the current market conditions, Runar believes that the underlying growth within OTS' main sectors of the oil and gas industry will see it through the financial downturn: "Regardless of the recent setback in the economic climate, I think that the basic areas of the oil and gas sector are seeing positive growth. We already have a strong market position in some of the segments in the industry and we're going to strengthen that position by establishing a complete value-added chain for all rope activities. So from before the exploration actually starts, right through to the end of production, we will have applications that are suitable right through the value chain. This will be our main focus throughout the years in order to strengthen our position and to get into niche segments of the market."
OTS Offshore and Trawl Supply
Services: Synthetic rope fibres