Offshore Construction Specialists Pte Ltd
Bridging the gap
One of the greatest challenges that the offshore industry faces today is the growing shortage of properly qualified and motivated engineers with the right experience to deal with the complex issues this challenging sector contends with on a daily basis.
It is on this basis that Offshore Construction Specialists (OCS) was not only founded with an expert team of marine construction specialists, but continues to ensure its sustainability through the training and mentorship of new personnel.
Based in Singapore, OCS was formed in 2007 to provide construction management, engineering and consulting services into the offshore oil and gas sector. The business bridges the gap that often exists between design engineering and operational constructability enabling it to take on both large projects, or discrete elements depending on client needs.
OCS has grown steadily since incorporation with a current staff of 55 personnel, including 30 engineers and draftspeople. To complement the operational and field engineering staff, OCS has also developed a Construction Support Engineering division equipped with the latest industry software for engineering analysis. The human side of the business is further supported by an extensive suite of strategic portable equipment for pipeline pre-commissioning, pipeline pre- and post-trenching, cable and umbilical lay, jacket launching, and mooring pile installation.
This closely mirrors OCS' general portfolio of services, which includes constructability studies and field development options, offshore installation engineering, planning and general offshore construction management, field engineering support, and installation of sub-structure, topsides, subsea structures, cables, umbilicals, and pipelines.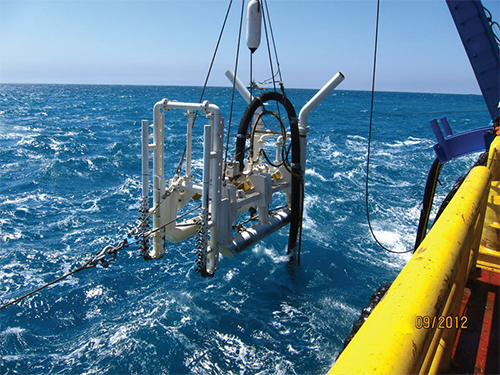 In fact at present OCS' workload is at record levels despite the challenging economic conditions of the past few years. This has been primarily down to the business' project based order book, which has kept it busy during this time. One project that OCS has recently completed has been Yolla Mid Life Enhancement (MLE) works for Origin Energy, which is a project to retrofit accommodation and compression facilities to an existing self-elevating platform in Bass Strait in S.E Australia. As to the reasons behind OCS' selection for this contract, managing director Keith Jackson says: "Because Origin were self-managing the work they needed a qualified installation engineering contractor as opposed to just a design partner, and at OCS we can provide both the engineering and field support that normally comes with a bigger contractor.
"The contract has been partially successfully completed with safe insallation of the accommodation, although Bass strait weather issues resulted in the storage of the compression module ashore for installation at a later date, using a larger vessel. We also have ongoing work for Larson and Toubro for three large wellhead platforms and infield pipelines in Burma, which is our biggest contract yet. Other projects include pipeline post-trenching for Sapura Clough at the Chevron Domestic Gas Pipeline, mooring studies and engineering lifts with Solstad for the Chevron Gorgon LNG jetty, and a twin 42-inch pipepull in Gladstone Qld for MCJV," he continues.
Over the company's lifetime OCS has already executed projects across Southeast Asia and further afield including Australia, China, India, Russia, Indonesia, Vietnam, Singapore, Malaysia, and Thailand. Of these Vietnam and Russia are new areas of business for the company, where it is respectively working on feasibility studies for accommodation barge conversions, and spool installation engineering and procedures for the Arkutun Dagi development with Heerema Marine Contractors.
In addition to its general service portfolio, OCS offers specialist services to operators and contractors designed to bring additional value to projects. For operators this means an ability to review and assess installation options, marine construction budgets, and negotiate technical details. By engaging with OCS for planning and implementation at the early stages of a project operators can adopt the most suitable contracting strategy, and identify contractors with the expertise and equipment required to execute this.
Contractor support is in the form of offshore construction management and execution expertise during the tendering, planning, and delivery stages of a project. This includes assisting in preparation of installation procedures and subcontract packages, as well as vessel and equipment mobilisation, and supervision of offshore activities.
OCS has also been giving consideration to the long-term future of the business, and what developments may be required to facilitate this. "Because we work in offshore construction we would like to be able to manage long-term, although not necessarily own, a vessel for the execution of projects," describes Keith. "Currently we manage vessels short-term for specific projects on behalf of other companies, but having our own managed asset would fit well with the company experience profile.
"At the same time we appreciate that ownership of a marine construction vessel is a major undertaking, so we are putting plans in place to enable the company to take advantage if the opportunity presents itself. We also want to expand our pipeline pre-commissioning business and develop new post trenching equipment. We are always on the lookout for opportunities using strategic portable equipment which can be leveraged by our engineering capabilities," he adds.
With the challenge of retaining and replacing expertise in the industry remaining a perennial problem, OCS is confident that its own internal approach towards this issue places the company in a strong position. Having the right experience and skills within the business is also crucial in being able to deliver on the company's growth aspirations. "We are focusing on incremental growth and sustainable expansion as opportunities arise. We have a unique group of people so we hope that the fact that we have a business model that can deliver good engineering without a significant ramp-up requirement will be a plus in a market where customers often want very quick reaction times. We have found that employing engineers that have specific know-how and are prepared to put in the hard work and time involved in successfully executing offshore construction projects is increasingly difficult. As such, OCS offers opportunities to customers to engage a company that has people with these characteristics without investing excessive time, effort and expense," concludes Keith.
Offshore Construction Specialists Pte Ltd
Services: Construction management, engineering, and consulting services