Offshore Group Newcastle Limited
The evolution of OGN
Offshore Group Newcastle Limited (OGN) is a leading UK oil & gas and offshore wind engineering, procurement and construction contractor and service provider, founded in 2007 and headquartered in Tyneside.
The Hadrian Yard, OGN's flagship facility, has a long and distinguished history of executing and delivering a significant proportion of the offshore infrastructure operating in the North Sea/UKCS/Norwegian sector over a 30 year period.
In late 2009 OGN required a facility that could accommodate large scale EPC contracts and the Hadrian yard, with its previous track record and glowing credentials, and which had been mothballed by former owner Amec in 2005, seemed the perfect option.
OGN's Big Break – The Apache Forties Alpha Satellite Platform (FASP) Project
OGN's first major EPC contract was for the Forties Alpha Satellite Platform (FASP) for Apache North Sea Ltd – one of the largest North Sea EPC contracts to be fully completed in the UK in recent years.
Awarded in September 2010, the scope of work for this 18 slot drilling and production platform is summarised below: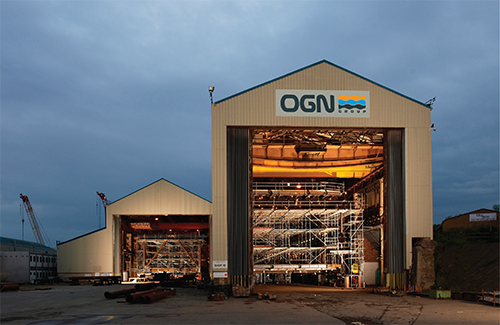 A 5750te integrated production platform including wellbay drilling area, separation, compression and power generation, which is due for delivery in Spring 2013.
A 5900te 4-leg jacket for 106m of water comprising 3-pile cluster assemblies and mud-mat structures at each corner, which sailed away from the Hadrian Yard facility in August 2012.
4000te of fabricated jacket piles around 80m in length.
A 450te link bridge structure between the new satellite platform and the existing Forties Alpha host platform carrying personnel access and hydrocarbon/utility services between the facilities.
So why the North East?
There are three main factors for OGN Group basing its headquarters in the North East of England, and they are:
1. Resources – The North East has a long standing heritage within the heavy industry sector, and as a result benefits from the UK's largest resource of skilled engineering manpower.
2. Facilities – The Hadrian Yard boasts a 32 hectare dedicated offshore construction site with extensive fabrication shops, engineering and project offices and reinforced quays which allow for handling of heavy load-out structures up to 13,000 tonnes. This provides OGN with the perfect facility to undertake EPC projects for the oil and gas market.
3. Access to the market – Located on the banks of the River Tyne, OGN is perfectly situated to access and service the North Sea oil and gas industry.
Apache FASP – success
The three factors above, together with a collaborative 'can do' approach adopted by both the Apache and OGN integrated teams, has produced a world-class performance and a positive business result for both organisations. Commenting on this proactive and dynamic approach to the fast-track project execution, Craig Melville, OGN's executive director & chief commercial officer states: "Both Apache and OGN recognised from the outset that delivery of the FASP project would only be achieved with the focus of our integrated effort being on the project, and by jointly embracing the execution and implementation challenge we would face. This has been achieved and maintained and OGN looks forward to continuing to support Apache's growing business going forward, both from a North Sea and international perspective."
Building on the success
Success breeds success, and OGN has now secured a further two major projects for Talisman Energy Limited on the Auk and Montrose fields. Both projects were awarded in October 2012, the first for a Power Generation Module on the Auk field and the second a jacket structure, which will form part of a new bridge-linked platform within the Montrose Area Redevelopment (MAR) field. In a multi-million pound deal, the jacket, which weighs circa 5400 tonnes and measures 118 metres in length, will be due for delivery in March 2014.