Offshore Heavy Transport (OHT)
New heights
Embodying more than 30 years of heavy transport experience, OHT today represents one of the leading heavy transport vessel operators in the world. During its history the company has transitioned through various conversions and acquisitions, including the acquisition of OHT's newbuilt vessels by Dockwise in 2001 in an event that placed its vessels under the ownership of Dockwise and effectively ceased the operations of OHT. Dockwise has since become part of Boskalis, while the OHT brand was revitalised and re-established in 2006 through the
delivery of its first converted heavy lift vessel, Eagle, in November that year. Its second converted heavy lift vessel named Falcon, was delivered in early April 2007 and by 2009 the company had converted a total of four vessels in various sizes. Since last appearing in Energy, Oil & Gas during 2013, OHT has also added a newly converted vessel named Albatross in 2015.
The Albatross is a converted shuttle tanker, previously known as Tordis Knutsen and built in 1993, which was deployed in the oil and gas sector to transport oil from offshore production platforms to oil terminals on the coast. The addition of the vessel to the company's fleet and its specialist conversion represents the long history of expertise and heavy-lifting knowhow that has come to typify OHT and its commitment to efficient operations. "The conversion of the Albatross was undertaken according to our own specification at Qingdao Beihai Shipbuilding Heavy Industry in conjunction with the specialist ship designer NED Project in Poland to ensure that the vessel's critical areas, such as its ballast tank arrangement and pumping systems, became superior in relation to time for submerging as well as ability to compensate for tidal differences during roll-on/roll-off operations. The ship is 204m long and 42.5m wide, with a completely new cargo section that was constructed as part of the conversion," reveals OHT CEO, Torgeir E. Ramstad. "This new section has a length of 130m, which accounts for the usable cargo space however; often the cargos that we carry are not space intensive assets and tend to be very heavy but smaller in terms of footprint. The Albatross is the most efficient vessel in the fleet at this time, because it is able to carry very heavy cargos at a speed of 14 knots, consuming 35 tons of bunker a day, which is probably around a third less than the competition."
Further to owning and operating its own specialist fleet of vessels, OHT also encompasses several decades of industry experience. This allows the company to undertake all of the key roles of vessel management in-house and to work in close collaboration with its clients in the development of projects. "We work slightly differently from other companies operating within the heavy-lifting and transport industry, in that we manage the set up of our vessels completely in-house. We have a professional specialist engineering department; a procurement team to source the required materials for these services; ship management capabilities; technical management through sister company Songa Shipmanagement; the vessels themselves; and other support functions," Torgeir explains. "We try to cover the entire value chain in-house and also try to use that to enable us to work with clients at a much more early stage in the project to engineer a solution long before the lifting contract has been awarded. This means that when it comes to bidding for projects we already know the clients and we know what is required,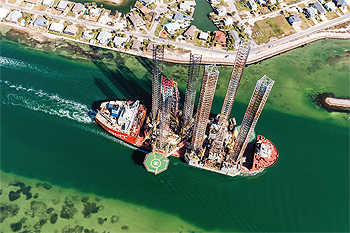 which means that we should be in a better position to be awarded the final lifting and transport operation. In some cases these projects have lead times of several years before they reach the execution phase, which means that there is a lot of engineering work and other activities that are undertaken over the years before the lift happens."
By working in close collaboration with clients in the design and execution of heavy lifting operations, OHT has established a reputation that has allowed the company to work with major clients across several industry sectors. The company separates its business between the oil and gas industry and markets outside of the energy market. "We have recently employed our vessel Hawk to lift and transport a semi-submersible rig called the Transocean Winner, which had previously been towed around Scotland but came loose from its tug during a storm and grounded. The rig was salvaged and kept afloat until we were able to submerge under the damaged rig and secure it on our deck and lift it out of the water. The Transocean Winner has now arrived in Turkey to be scrapped," Torgeir details. "Within the non-oil and gas sector we have recently carried the world's largest offshore wind jacket installation vessel, the Seajacks Scylla from Korea to Europe during 2015/16. The vessel is actually wider than the transportation ship that was used to carry it and is now successfully undertaking wind farm installation work in Northern Europe."
Although the impact of the drop in the price of oil is very much being felt across the oil and gas market, OHT continues to offer a competitive lifting solution to clients across several markets and has successfully weathered the downturn of the energy market. This has been in part due to the growth of the offshore wind industry and the company's ability to efficiently transport equipment to where it is required. This will enable OHT to remain buoyant both now and into the future. "We signed a contract for the offshore wind market during September 2016 to transport foundations for the world's first floating offshore wind farm, Hywind off the coast of Scotland," Torgeir concludes. "This represents a highly engineered project, which began a year ago with us working with the client to develop a solution. The wind segment is certainly one area that will produce new opportunities for transportation over the coming years, because wind farms consist of several units and often heavy components need to travel some distance prior to installation."
With the company's prominent market position and healthy balance sheet, it should be well placed to take advantage of opportunities that may arise through the current downturn and come out as an even stronger market player.
Offshore Heavy Transport (OHT)
Services: Semi-submersible heavy transport vessels