Offshore Painting Services
A stroke of genius
When brothers David and Paul Jones recognised, in May 2010, that there was an opportunity to provide niche painting services to the renewables sector, particularly offshore wind farms, the result was the creation of Offshore Painting Services (OPS). Based in Liverpool, OPS initially worked on a small number of projects, growing the business through the quality of its workmanship and by referral. Within four years the company's workforce numbered more than 45 technicians and it was able to offer an additional service, blade inspections and repairs.
A year later, with premises now open in Grimsby, OPS achieved ISO:9001 and 14001 accreditations. Then, in Spring 2016, relocated to larger premises in order to begin offering a wide range of training courses, including Industrial Coatings Application Training Scheme (iCATS). That same year OPS would accumulate accreditations from the Industrial Rope Access Trade Association (IRATA), the Global Wind Organisation (GWO) and The Society for Protective Coatings (Train The Painter). In January 2017, the company would take the next step in its rapid development by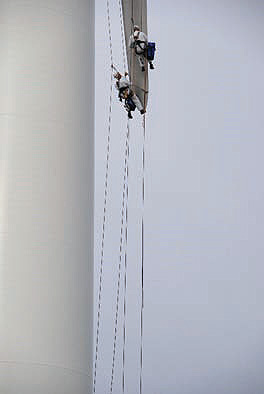 commencing with industrial contract works for the first time.
"The core elements of the business are its ability to provide complete corrosion protection, as well as blade inspection and repair services," begins OPS Co-Founder and Operations Director, Paul Jones. "The two elements comprise a part of the O&M function on the windfarm, both onshore and offshore, and include rope-access and ground-based operations. Our services are also provided at every stage of windfarm development, from preassembly to commission and beyond, through to decommissioning. At the end of the day, our primary function is to preserve our customer's asset and prolong its operational lifespan."
OPS boasts a diverse customer base, which includes the likes of MHI Vestas, Senvion, Siemens, DONG, RWE/Innergy and SP Energy, while its technicians can be found working across the globe, from Scandinavian to Africa, and beyond. Equally as diverse is the company's project history, which encompasses undertakings requiring anywhere between one and 30-plus technicians to be deployed, sometimes for just a few days or potentially several seasons. These projects may involve blade work, paint work, window cleaning on high-rise buildings or even the painting of the underside of a railway bridge that spans an expanse of water. Whatever the case may be, each task presents a specific challenge to plan and organise, which OPS is well versed in responding to.
Recent examples of the company's work include a five-week project to dismantle, repair, paint and reassemble an electricity gantry across a canal for a large utility provider, and a two-month undertaking to attach acetates to the sides of wind turbine nacelles on a large windfarm in central Africa. Closer to home, OPS has a team of more than 25 technicians currently working on pre-assembly preparation for several windfarms off the east-coast of England.
"Our company has an enviable reputation for quality, with an ethos built upon excellence in all that we do," Paul continues. "This ethos is part of the company psyche and one which we believe begins during the recruitment process. Furthermore, we are one of only a select number of businesses that can offer both operations and training services that complement one another. This helps us to provide our technicians with potential employment opportunities upon completion of their training, while at the same time providing OPS with a quality and competent resource with which to meet present and future requirements."
Training has always been considered as a fundamental contributor to the success of the company, with its reputation for quality being in part, due to the skills and knowledge of itsteam. It is also important to remember that the demands and needs of the industry are everchanging,making the need for regular and thorough training to ensure each technician is fully competent and able to deliver to the best of their ability all the more relevant.
"Training, as part of the business model, is not a new concept, having been on the agenda since 2014, rather it was a matter of timing to find the right premises for our training centre, which we purchased in Spring 2016," Paul states. "From this point on we were able to bring most of our own training requirements in-house, meaning we no longer had to be reliant on external providers. This in turn meant that we could concentrate on delivering a first-class service to our customers, knowing that their training needs would be fulfilled. Meanwhile, the addition of monthly career-development days for all technicians provides them with the opportunity to refresh their skills when they feel the need."
While the future is always difficult to predict, the outlook for renewable energy is broadly positive and with technicians from the UK considered to be among the best in the world demand for their services is likely to continue in the coming years. At the same time, declines in other sectors are contributing to an influx of technicians looking to transfer their skills into the renewables sector, all of whom need to obtain the relevant training and certificates to enable them to work in the industry.
"Our business model is to continue in its current format, further strengthening and growing the core areas of paint and blades, while continuing to recognise and utilise new technologies in order to improve efficiencies,and meet customer needs," Paul adds. "Our new functions of training and industrial contracts have begun life well, and they will need support and nurturing to develop into mature revenue streams. Additionally, the imminent introduction of further certification and accreditations, including ELCAS, will help to secure the foundations for strong growth over the next three-to-five years. As the industry continues to evolve and change, so too must OPS, adapting and innovating to meet the challenges of the future head-on."
Offshore Painting Services (OPS)
Services: Perilous painting, maintenance and training