Walk this way
With the intention of increasing safety and cost effectiveness, Offshore Solutions provides the most advanced marine access systems and related services in the oil and gas industry.
Its range of safe and reliable transfer systems for maintenance personnel and services has marked Offshore Solutions out as the market leader in the building and provision of the Offshore Access System, Offshore Transfer System, overall vessel/OAS concept, FEED studies, operations and asset maintenance, and associated services.
Revealing how the business started, general manager Ian Sadler outlines its main aims: "We were primarily set up in 2007 to design, manufacture, lease, operate and sell Offshore Access Systems (OAS) by our shareholders, Amec and Cofely Oil & Gas (formerly Fabricom). They have a pedigree in the oil and gas industry, and were aiming to gain leverage in the sector, as well as the wind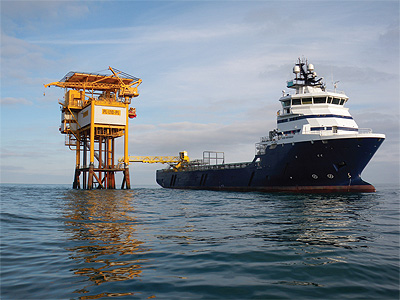 energy industry, with OAS.
"We offer a far safer solution for offshore access and transfer of personnel; the oil and gas industry has a dreadful track record of fatal helicopter crashes but we can avoid terrible incidents because our OAS is 50 per cent safer than a helicopter transfer, which is a statistic that comes from Shell and other major companies."
Unsurprisingly, major players like Shell, BP and Chevron have worked with Offshore Solutions to improve the safety of their operations. "We've deliberately targeted blue chip companies and have a global agreement in place with Shell for the use of OAS throughout the world," Ian comments, as he elaborates on the organisation's progress since 2007. "We have completed one contract with Shell in the Philippines and have a unit sailing to China to fit onto the back of a new build vessel that will sail to Qatar, also for Shell. Besides that, we have a unit in Houston and one in Singapore."
Speaking in further detail about Offshore Solutions' activities, Ian discusses an innovative new project: "A Norwegian company, EDDA Accommodation (part of the Østensjø holding group), is building a brand new accommodation vessel in Spain, to hold 600 to 1000 people. We built the access system to go onto the back of that, which has unique features, including the fact that the pedestal raises up out of the deck to lift the gangway to the same height as the main deck of an offshore gas or oil platform. The concept, in part, was borne of a need to speedily get people offshore; billions of dollars worth of damage was caused in the Gulf of Mexico when Hurricane Katrina occurred and the accommodation vessels couldn't move quickly enough.
"This vessel in Spain can move away at short notice, at some speed, and our system enables the whole concept to move forward. It's a major project for us; the standard OAS weighs about 24 tonnes and this unit weighs 240 tonnes – and it can be accessed at different wave heights due to smart technology in terms of hydraulic design and engineering."
Continuing, Ian reveals that the main challenge of this venture was the unit's size and scale: "Three years ago we discussed with Østensjø Offshore what was to be achieved; namely, going in at the main deck level of a major oil and gas installation, transferring people two ways (requiring a much wider than normal gangway), and reaching a distance of 28 to 42 metres. All of that has led to a very large and heavy, but extremely manoeuvrable, piece of equipment."
Offshore Solutions has also developed a smaller unit and is in discussion with two or three companies about its Offshore Transfer System, which can cope with a wave height of one and a half metres. "The OTS is a patented walkway, suitable for benign waters that don't pose rough conditions but where there's still a transfer issue. Rather than personnel jumping off the back of a boat onto a ladder, we'll use the lightweight OTS to move them across. We're hoping to test the concept on wind farms in the Dutch sector this summer."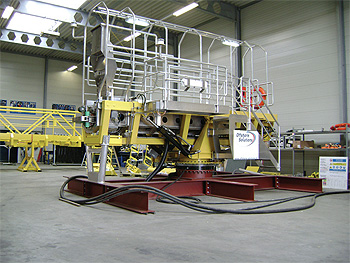 Clearly, R&D is a central theme of Offshore Solutions' operation and its focus on product development enables it to maintain its market leading position. "We have 33 staff members who develop products and we set aside a fairly considerable budget to look at what customers potentially require," Ian reveals. "We work closely with wind energy companies to see what problems exist in terms of access to offshore turbines, and then propose solutions to 'unsolvable' problems. We offer savings of 30,000 to 50,000 euros per turbine and wind energy clients have worked with us to generate ideas. In particular, Centrica and RWE have been very supportive."
Ian believes that collaborating closely with clients is important, as is forging enduring alliances for the long-term benefit of everyone working in the industry: "Our longest relationship is with Shell and our customers have been allowed to go onboard Shell platforms in the North Sea, gaining access to what would normally be considered competitor information. Shell believes in our concept so much, it's prepared to share information with companies that would otherwise be classed as rivals; Gaz de France, Chevron and BP have all been on Shell's systems to understand how the concept works and how much safer, efficient and cost effective it is compared with helicopter access."
Indeed, it's Shell's four-year use of OAS that has allowed this unique concept to prove itself. With everybody in the European oil and gas market feeling the pinch, Offshore Solutions' cheaper alternative to helicopters or jack-up vessels has never been more relevant. Now that the sector is recovering, Ian feels that 2010 will see vast growth in OAS use. "Oil and gas companies tend to be conservative in terms of new ideas and concepts, and this mindset deepened when the recession hit. Budgets were put on hold, but now the market's opening up again and we had five enquiries from major oil and gas companies in the first week of 2010. It's almost like someone has turned the tap on again. Promisingly, we've attracted interest from the Middle East and from well-known companies in the North Sea."
Ian shares his vision for the company's future: "We'll consolidate our efforts in European waters and export knowledge in the Middle and Far East. Additionally, we'll enhance our products, so that they're even more effective in reducing other costs, and raise our profile as a one-stop shop for offshore access, globally."
Offshore Solutions
Services: Design, develop & manufacture access systems