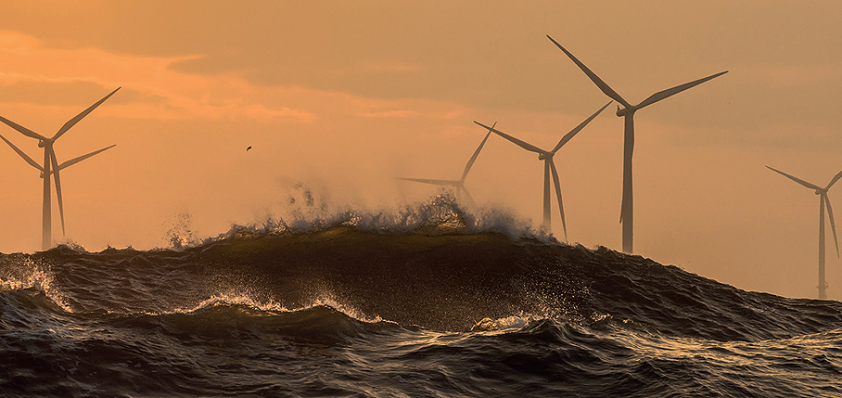 Pulse Structural Monitoring, an Acteon company, signed its first major contract for the provision of digital structural monitoring and insight services and equipment on an offshore wind farm. The contract, which provides for the design, fabrication, yard installation and commissioning of its market-leading monitoring instrumentation on three wind turbine foundations to be installed offshore Taiwan, was awarded by global offshore wind leader Ørsted.
"Being one of Ørsted's important partners on the Greater Changhua wind farms is a major milestone for Pulse Structural Monitoring," notes Brian Taylor, Head of Sales at Pulse. "This contract recognises that we have achieved a major and strategic transfer of skills and knowledge to the offshore wind and renewables market."
Pulse will supply its cutting-edge NX2 digital platform for acquiring a range of high-quality measurements that include bending and torsional strain, inclination, displacement and acceleration in key components of the jacket legs, nodes and wind turbine generator towers.
This Acteon integrated solution will also include the provision of corrosion and anode monitoring equipment to provide Ørsted with the full package of digital measurement data required. Deepwater, another Acteon Group company, is working with Pulse to provide anode monitoring systems.
Potential life savers
Global healthcare provider Iqarus, an International SOS company, has extended its new service to safely manage suspected cases of coronavirus following their disembarkation from an offshore location to support the Southern North Sea.
Following the success of the COVID-19 Medevac (CMED) service in Aberdeen which cares for an average of two patients a day, the service is now available to support assets in the Southern North Sea through one of Iqarus' strategic partners in Norwich.
The new CMED service includes assessments to determine if a worker is fit to travel, and the provision of tailored advice from the Iqarus clinical team, developed in line with current Health Protection Scotland guidance.
Following initial offshore assessment from the asset medic, the patient will then be transported via bespoke helicopters – aptly dubbed 'the corona copter' – that meet full hygiene standards for each trip.
Upon arrival onshore, the patient is assessed following which specialist clinicians will advise suitability for onward travel or alternatively, refer them to the next point of assessment.
The new opt-in service, CMED, is available to all duty holders in line with HSE L123 as well as any employing companies wishing to extend the service to their employees where this is not currently in place through the duty holder. Fully risk assessed, it is the exclusive means by which Iqarus will use a medevac for suspected COVID-19 cases.
Norwegian sea discovery

Wintershall Dea, Europe's leading independent gas and oil company, has made an oil discovery at the own-operated Bergknapp prospect in the Norwegian Sea, close to the Maria field. The well, drilled by the Scarabeo 8 drilling rig, encountered an oil column of at least 60 metres in the Garn Formation and an oil column of at least 120 metres in the Tilje Formation, with reservoir qualities ranging from poor to good. Initial recoverable resource estimates put the discovery at between 26 million and 97 million barrels of oil equivalent. The license partnership will now initiate studies, investigate potential appraisal measures and development options for the discovery. "This exciting discovery near existing infrastructure confirms the untapped potential of Norway as a core area for exploration, development and production now and in the future," said Hugo Dijkgraaf, Wintershall Dea Chief Technology Officer and responsible Executive Board member for global exploration. "The Norwegian Sea is a key area for Wintershall Dea Norge. Apart from our other Haltenbanken assets, we are also a key operator in the Vøring basin and have licenses in other areas of the Norwegian Sea. With our investment on the shelf, we are exploring and developing new fields, while also supporting our existing fields and infrastructure," added Alv Solheim, Wintershall Dea Norge Managing Director.
Increasing safety

ABB has developed an innovative augmenting technology aimed at digitalising the field operator experience and improving interaction between field and control room operations. Developed specifically to meet the needs of field operators, the technology will empower seamless integration between the field and the plant distributed control system offering improved safety, reducing the risk for human error and making field operations more efficient.
ABB Ability™ Augmented Field Procedures will enable consistency when executing manual procedures, standardising operating procedures and maintenance or repair techniques in the field, tightening field to control room integration and digitally recording notes to ensure operational knowledge is captured and utilised.
Operatives will be able to access hands-free, real-time data related to plant assets, processes or procedures using industrial tablets, smart phones and Microsoft HoloLens glasses, increasing real-time collaboration and enabling immediate data entry from the user interface in the field.
Unlike traditional paper-based operating procedures, the technology enables interactive execution of procedures using a mobile device to guide operators through each step in a consistent, effective and safe way.
Supporting operators across oil, gas, chemical, process, power and water sectors, it will help transform plant operational procedures, putting the power of digitalisation, mobility, and connectivity into the hands of field workers.
Chris Naunheimer, Digital Lead, Energy Industries, ABB, noted that: "During these challenging times, it is more important than ever to balance worker safety with productivity. ABB is committed to supporting both: protect people, while enabling business continuity and continued running of essential services, through providing remote access and digital tools and solutions."
Is CHP the answer?

Energy bills for most organisations will rise following further big increases in Climate Change Levy (CCL) rates on natural gas, says Hugh Richmond, CEO of Edina. The decision was announced in the March 2020 budget. It will affect all businesses and public bodies in scope of CCL, except those with Climate Change Agreements or using low carbon technologies such as 'good quality' Combined Heat and Power (CHP).
On-site CHP/cogeneration is a highly efficient process involving the simultaneous production of electricity and useful heat. It is almost twice as efficient as using individual boilers and conventional power generation, where the waste heat is normally wasted to the atmosphere and transmission losses occur in transporting power to the end-user. CHP can help organisations reduce their energy costs and ensure the security of their supply. It also provides a cost-effective way to make carbon savings.
"Most businesses will see their energy bills rise due to these hikes in CCL on natural gas, which is a fixed, non-negotiable cost for the majority of organisations. However, organisations using high efficiency CHP will benefit from financial relief," noted Hugh.
Hydrogen project
Neptune Energy has announced that Eneco, a leader in the field of sustainable energy, has joined as a partner on the PosHYdon pilot, the world's first offshore green hydrogen project. Eneco will supply simulated wind data from its offshore wind farm, Luchterduinen, to support the project, which aims to integrate three energy systems in the North Sea: offshore wind, offshore gas and offshore hydrogen.The data will be used to accurately model the use of electricity generated by the windfarm to power the electrolysis process on the Neptune-operated Q13a platform, using sea water. The sea water is demineralised on the platform in order to produce hydrogen.PosHYdon is an initiative of Nexstep, the Dutch association for decommissioning and reuse, and TNO, the Netherlands organisation for applied scientific research, in close collaboration with the industry.
NC drilling contracts
Dolphin Drilling will carry out a programme of North Sea drilling work for Wellesley Petroleum AS after securing a two firm well contract with the option for two more. The first firm well work is scheduled to commence this autumn, with the second being drilled in 2021. The two optional wells are also planned for 2021, and Wellesley has chosen the Borgland Dolphin as its Rig of Choice for the Norwegian Continental Shelf (NCS) work.Bjørnar Iversen, CEO of Dolphin Drilling, said: "I am very glad that Wellesley Petroleum AS is showing responsibility by drilling on the NCS during this difficult time with coronavirus and low oil prices. I hope that… other oil companies see through the short-term market fluctuations and use this opportunity to use Borgland Dolphin to get their wells drilled in 2020 and 2021."