Fuel Britannia
For nearly a century now, Oikos Storage has ensured that essential fuel supplies reach the UK industries that rely on them. Based in Canvey Island, Essex, Oikos operates Britain's only independently owned bulk liquid import and storage terminal with access to the deep-water navigable channel of the River Thames, links to the national strategic road network and connections to the UK's key fuel pipeline networks. With two operational marine jetties, over 35 storage tanks and road loading capabilities at its disposal, Oikos continues to make a significant contribution to the safe and reliable supply of fuel to major airports and other ground fuels sites crucial to the running of the nation.
Operational throughout the Covid-19 pandemic, Oikos maintained its regular supply of fuel around the UK, in spite of a reduction in volume and availability. The company's strong performance throughout the crisis enabled it to keep investing in substantial infrastructure upgrades and enhancements, including developments like Project Annexus and Premo.
"Project Annexus is connected to the formerly named GPSS system (now Exolum Pipeline System) and involves the re-commissioning of the Oikos Feeder line between the Oikos Terminal and the Exolum Thames B pump station," explains General Manager Tony Woodward. "It was recommissioned on the back of customer interest in jet fuel, and we were able to successfully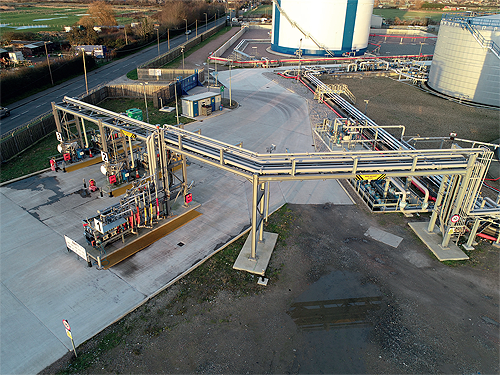 complete and commission the system in February 2020.
"We also managed to commission a project called Premo, which is effectively the building of a new state-of-the-art loading bay for diesel. Again, that was completed by the middle of 2020 and means we now have three road loading bays at Oikos."
New projects
Oikos' long-term development plans carried over into 2021, and most recently, the company embarked upon the preliminary stages of Project Hydra. Also known as the Oikos Marine and Southside Development (OMSSD), Project Hydra is an undertaking that will see the firm develop the operational efficiency of its harbour facility and enhance its ability to supply essential transport road and aviation fuels to UK industries. Having submitted a provisional environmental impact report (PEIR) for the project in March 2021, Oikos now hopes to receive consent to proceed with the build program by 2023.
"Essentially, Project Hydra involves putting in more than ten new tanks on the south side of our site, as well as connections to other tanks, other parts of the terminal, the UKOP and Exolum pipeline systems. It may also require the installation of additional road loading capabilities," Tony reports. "Obviously, a key part of the development will be the upgrading of Jetty Two, which was newly commissioned in 2019, but will now receive further marine loading arms, pipework and other ancillary equipment.
"As Project Hydra is a Nationally Significant Infrastructure Project (NSIP), we must go through a lot of front-loaded processes. In other words, all the consultancy work for visual impact, environmental, noise, traffic and safety to name just a few, have to be performed upfront. As of March 2021, the PEIR is in the public domain and we are now working towards the submission of a development consent order in September, which will essentially start the planning process. The nature of the project is such that we've already invested quite a bit of money into it, but we are getting closer to the work starting in earnest."
Improving the company's infrastructure has not been the only area of attention for Oikos over the past 12 months; the firm has also strengthened its management team. Alongside a new Finance Director in the shape of Matthew Bache, Sean Waring has joined the firm as Managing Director, whilst Arun Sriskanda has come on board as Commercial Director.
"Our Finance Director will support the modernization of systems and processes that we use, recognizing that, as newer fuels come into the site, the level of complexity, and our ability to financially control and report on that, will only increase," Tony reveals. "Similarly, our new MD has been brought in to take over wider stewardship of the asset. We want to make sure we are moving with the changes and increasing responsibilities at the terminal. Finally, Arun's role as Commercial Director involves managing the external relationship that the terminal has with the market and developing new leads."
Since taking up his new role at Oikos, Arun has played an instrumental role in a project that will see the firm's offloading systems upgraded in order to accept more biofuel components. The initiative marks another step comforward in the company's efforts to increase its focus on renewables in 2021.
"Biofuels, or renewables, are a key part of the transition away from 100 per cent fossil fuel usage," Arun says. "That's the direction the market is going in, which is why we already have biodiesel blended on-site. The energy transition is at the forefront of our customers' minds and we take our cues from them."
Though Oikos, as Arun makes clear, is committed to sustainable growth through renewable fuels, the company will not be abandoning its traditional supply activities. Liquid fuels will remain a vital part of the facility over the next two decades, with renewable fuels contributing to the diverse nature of the site's capabilities – a site which, thanks to continued investment, maintains its standing among the best in the UK.
"From a physical asset perspective, the operational foundations of our site in Canvey really set it apart from the competition," Arun states. "The jetty we commissioned in 2019 is one of only a few on the Thames able to berth and discharge larger LR2 vessels, and we benefit from connections with the UKOP and Exolum pipeline systems, as well as suitable modes of road ingress and egress.
"Our customer-led approach is about partnership," he continues. "It's about developing solutions and supporting our client base. Constant site upgrades like Project Premo and Project Annexus give our customers confidence that we can keep evolving in line with their needs."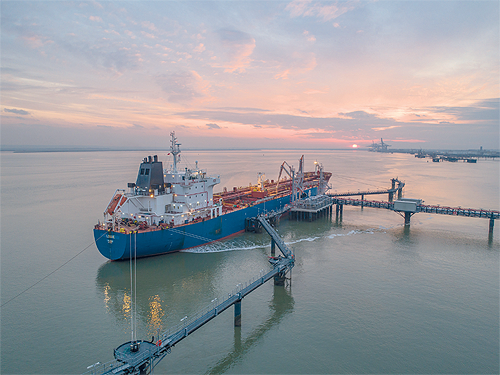 Always looking for ways to improve, Oikos plans to increase the size of its ground commaintenance team in 2021 and is currently recruiting for an electrical technician to join a recently hired mechanical technician. Having kept its workforce safe and its facility operational throughout the Covid-19 pandemic, the company now hopes to see regular volumes return, especially in sectors like aviation.
"After a reduction in imports, we are looking forward to seeing demand come back," Arun declares. "Diesel has been pretty resilient because of its role in national ground logistics, but we want to see jet fuel returning as well. At the moment, no one is certain when that will happen – it may be 12 months or more – but if Oikos could get back to the levels of 2019, then it would be a sign that the terminal, and the country as a whole, was getting right back on track."
Future services
In the years ahead, Oikos will continue to take projects swiftly from conception through to construction – on time and on budget – thanks to the company's flexibility and lean management structure. For Oikos customers, the company's trademark partnership approach to business will likely prove fruitful as both parties tackle the ongoing energy transition, while recent upgrades mean the company's Canvey Island facility will remain a step ahead of its contemporaries for decades to come.
"Looking forward, I would like to see us complete Project Hydra, set the terminal up for the future and protect the asset for our customer base," Tony remarks. "The completion of Hydra will be significant as it will add an extra 300,000 cubic meters of storage and will allow for different products, a greater range of additives, more blending and bigger ships. The structure of Jetty Two was always based on the arrival of LR2s and they will be bringing in much bigger parcels from places like the Middle East – something we are already starting to experience with cargoes arriving from all over the world."
"New projects for Oikos will involve varying the types of grades that we have on-site and many will lean towards the more sustainable kind of energy provision that customers are looking into," Arun summarizes. "Importantly, we are trying to strike a balance between our existing services and those of the future. The Oikos facility is part of our nation's critical infrastructure, so by adding tankage, it increases the robustness of a vital national asset. At the same time, we are making sure that our footprint is sustainable and that our approach to the energy transition is sustainable as well."
Oikos Storage
www.oikos.co.uk
Services: Bulk liquid import and storage