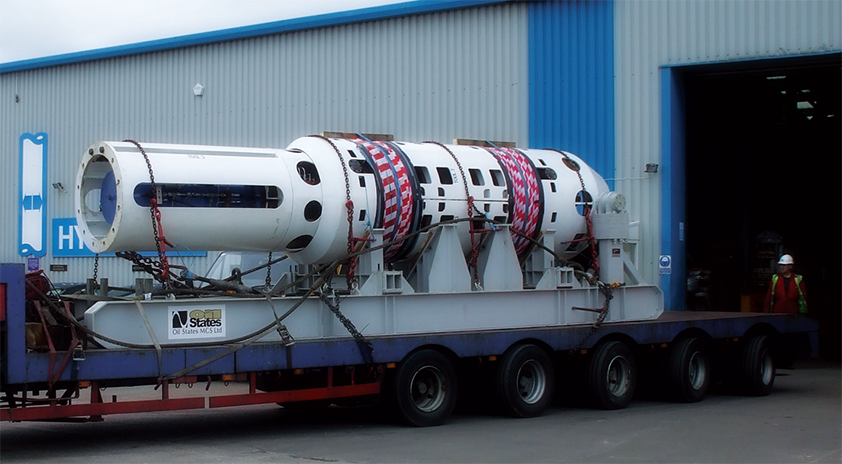 One source… diversified solutions
Oil States MCS Ltd. is growing strong in construction, maintenance and decommissioning services
It started with connections
Operating out of Barrow-in Furness, UK, Oil States MCS Ltd. has been involved in the offshore construction industry since 1979. The company was acquired by Oil States Industries Inc. of Arlington, Texas, the US in 1996.
Early on, the company was focused entirely on Hydra-Lok® pile swage connections for small subsea structures. Hydra-Lok® offers an alternative to traditional grouted connections between offshore jackets and driven foundation piles. The system works via hydraulic expansion of the foundation piles into a sleeve fabricated on the offshore structure (e.g., a pre-drilling template, deep water jacket, ice resistant structure or subsea manifold). Hydra-Lok® technology has been used on hundreds of installations worldwide, from the North Sea to South East Asia, the Gulf of Mexico, West Africa, Canada and Russia.
Today the Hydra-Lok® product line includes Hydra-Lok® pile-to-structure connections for subsea structures and jackets secured by means of large diameter piles, and the Hydra-Lok Lite™ system for connection of lightweight subsea protection structures. Combined with Latch-Lok jacking systems, these solutions offer a complete package for levelling and securing offshore structures.
Expanding to meet demand
Over time, the company expanded into maintenance, repair and decommissioning, including the operation of abrasive water jet cutting systems for platform removal and offshore/onshore repair and maintenance. The Hydra-Lok® swaging system has also been adapted for the repair of corroded and damaged caissons on offshore installations and for downhole pressure testing and casing repairs. Today, Oil States MCS designs, builds, and supplies all the necessary tools, equipment and personnel to carry out these services.
"We can offer oil companies and installation contractors a complete solution for offshore structures; from installation to decommissioning," says Tony Sneesby, project manager at Oil States MCS. "We have a team of highly qualified engineers and technicians who have a wealth of experience and knowledge of our equipment and the offshore industry. We design, operate and maintain all of our equipment and are known for our problem solving and bespoke tooling solutions to support client requirements."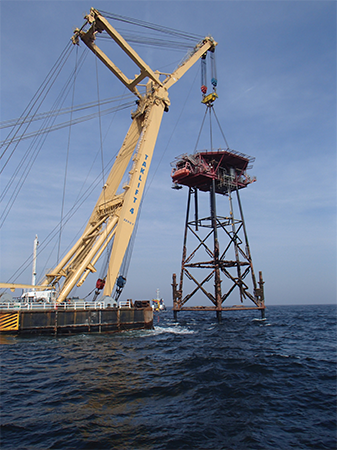 Into deep water
To complement its portfolio of internal pile cutting tools, Oil States MCS has introduced a range of ROV-deployed external cutting tools for severing tubulars from 12 to 60 inches in diameter.
These multi-functional tools can perform tapered and castellated cuts and are purpose-built for deep water decommissioning projects, where large structures must be removed in smaller more manageable sections.
"We are continually improving our core tooling and systems to ensure that we provide the most efficient and cost-effective solutions to our clients," notes Tony. "We are constantly reviewing market requirements to identify viable long-term products that we can either purchase or develop for utilisation in the oil and gas, and renewable markets."
Success breeds success
According to Tony, two of the company's recent decommissioning projects include the removal of the Q8B jacket and TOGI subsea template. These structures were previously installed by Oil States MCS using the Hydra-Lok® technology in 1994 and 1989, respectively. The TOGI template, located in 300m water depths, had its piles severed at a depth of three-metres below the seabed using Oil States MCS' abrasive water jet cutting technology. The pile severance was completed in May ahead of the arrival on site of a heavy lift crane vessel in August. The crane successfully lifted the 1800 tonne structure from the seabed at the first attempt.
Growth ahead
Oil States MCS has had one of its most productive years to date in 2012 and is striving to expand its facility to meet growing market needs. "We are presently looking at steady growth and expansion in many aspects of our business including our facility, personnel and markets – both new and old. We are currently on a recruitment drive for mechanical design engineers to help handle the increased workload we have at present. We have a new general manager in Nick Jones, who took over from Owen Osmotherley following his retirement in February. We have also focused on expanding our services to new geographical regions such as the Gulf of Mexico, Far East, South America, Gulf of Iraq, Russia, and the Caspian Sea," concludes Tony.
Oil States MCS has continued to adapt to the ever-changing environment of the global offshore oil and gas industry and now provides many sectors with highly efficient, cost-effective and safe services.
Oil States MCS Ltd
Services: Construction, maintenance and decommissioning services