Green future
Oilon is a privately owned, family-run company that designs, manufactures and markets oil and gas burners, heat pumps, and solar collectors for heating houses.
Founded in Lahti, Finland, in 1961, the company has developed a strong reputation in its field, amassing more than fifty years of experience in environmental and energy technology. Its products are sold to 35 countries across the globe through four company interests in Finland. Oilon Oy, Oilon Energy Oy, Oilon Home Oy and Ecopower Technology Oy all help drive the mission to supply
high quality and premier performance oil, gas and duel fuel burners and combustion systems to the market. With a capacity range of 12 to 63,000 kW (kilowatts), Oilon's scope is huge and its applications are utilised for steam production in the oil and gas industry, the heating of houses and buildings, district heating plants, vessels, industrial processes, power plants, hazardous waste plants and ground source heat pumps the world over.
Operating with the vision of offering environmentally friendly energy to customers, Oilon's product portfolio is divided into domestic, industrial, marine and power plant and process burners. Its burners can also utilise low quality oils when needed in an efficient utilisation of the industry's valuable raw materials. Its additional accessories division and spare part capability aims to provide clients with longevity of service. The company has been a leading supplier to the marine industry for over 45 years and its burners can be used for almost any kind of fuel from non-sulphur light oils to heavy fuel oil, as well as sludge combustion. Designed for easy commissioning, all components for the burners are sourced from reliable and quality international suppliers and are mounted on the burner for quick and easy access and manoeuvrability. Electrical connections are also located on the top of a burner for efficient servicing. Should a customer encounter any complications during operation they benefit from a worldwide service network of engineers that are equipped with their own stock of spare parts as well as expertise.
Constantly striving to create a product that meets the evolving and challenging needs of its customers in the oil and gas, and alternative industries, Oilon holds an essential focus on R&D activities. With over six per cent of the company's overall turnover being invested in product development every year, its market leading R&D centre provides a platform for industrial progress. Having recently been renovated with the installation of large combustion technology testing boilers and equipment for developing heat pump technology, this facility now includes twostoreys of modern laboratory equipment and its standardised combustion chambers range from 20kW to 10 MW (mega watts). Versatile tests are carried out in conjunction with the utilisation of various boilers currently on the market andextremely accurate measurements are obtained using both oil and gas. Minimum emissions and maximum efficiency are among the most important targets with all fuels used.
Eero Pekkola, managing director of Oilon commented on the company's customer-focused website: "We have increased our production as our turnover has increased, and our small burner plant was transferred to Hollola, within a couple of kilometres from our Lahti plant. We increased the size of our production facilities by 5000 square metres and were able to clearly improve the efficiency of our industrial burner plant. Our delivery reliability and capacity have clearly improved and now we have even better opportunities to grow together with our customers without compromising our delivery reliability."
This accredited laboratory complies with all international requirements at all times while continuing in its quest to develop applications with extremely low emissions, high efficiency, ease of maintenance and elegant design credentials. As well as the implication of Computational Fluid Dynamics (CFD) for reducing emissions, electronic mixture control for energy consumption and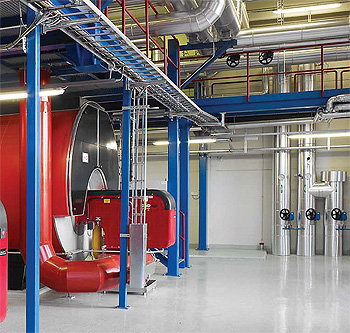 maintenance savings, and the testing of new fuels in line with customer demand, Oilon also investigates numerous renewable energy sources such as bio-oils, biogases, heat pumps, solar energy and hybrid heating systems for the future of the industry.
Keeping its finger on the pulse of market development, Oilon employs the latest in IT and design technology to facilitate its growth and product enhancement. Having developed close alliances with top Finnish universities such as the Technical University of Tampere and engineering offices since its inception, the organisation has developed a key competence in 3D modelling and CFD. Moreover, its ability to provide testing and prototyping through datalogging, DaisyLab and rapid prototyping processes makes it the one-to-watch across the field.
Every year Oilon attends an array of industry events to present its findings, latest technologies and capabilities to existing and potential customers alike. This year the company's presence will be felt at the World EXPO 2010 in Shanghai China. Running for 184 days from the 1st May to the 31st October it is estimated over 70 million visitors will pass through the doors including over 5.5 million from foreign climes. EXPO aims to attract over 200 countries and international organisations as exhibitors and it will be the largest in the history of EXPOs as the venue covers some 320 hectares in the heart of the city. Aiming to create an arena for global dialogue and discovering ways to achieve a more prosperous and sustainable urban existence, the exhibition is revolving around the theme of 'better city, better life'. Such an event provides an ideal opportunity for Oilon to communicate with peers and clients from around the globe, leading from its history of forming friendships as well as business relationships.
Concern about the environment sets continuous challenges with regards to development and key research in the energy industry. While consistently providing its customers with impeccable service and high performance products throughout its worldwide network, Oilon will continue to heavily increase its product development activities and experimental potential over the coming year. Eero further stated: "Our customers have assisted us in growing in our interesting and ever-changing sector to such an extent that Oilon has grown from a mid-sized to a large company! We are very pleased about this development and believe that it will inspire us to serve our clients even better. We have also put a lot of thought into our position in the energy and environmental business and have found the means to secure our future and offer our customers as many benefits as possible. Their success will help us succeed."
Oilon Oy
Services: Heating applications for energy production and oil- and gas industry