Cool running
Oiltech is widely recognised throughout the industry as 'the professional choice' for customers requiring cost efficient, innovative and high-quality solutions, services and products for temperature optimisation, fluid energy control and hydraulic and lubricating systems.
The business, which is a part of the worldwide Olaer Group, has access to expertise and knowhow from many countries and industry sectors. Working closely with its clients, Oiltech's main goal is
to supply high quality products, solutions and accessories that adhere to the strict quality objective of 'zero mistakes'.
In order to serve customers in a range of industry sectors worldwide, the Olaer Group has various divisions. In Norway Oiltech operates a relatively small operation that serves the European oil and gas industry with a range of products and accompanying services, as Erik Ulevik, managing director of the business explains: "We have been operating in Norway for 34 years providing a range of equipment to the oil and gas industry that includes accumulators, oil coolers and various pumps, together with after-sales services. At present we employ 14 people here and together with oil and gas, which is our main market, we also provide services to the marine industry."
Although as Erik mentions, Oiltech is a relatively small business he is keen to highlight that the company still has many benefits from being part of a larger, global group: "It is a very big advantage for us because it means that we are global in terms of our experience and knowledge, but that we can act locally and adapt to local markets and changes. It is these local technical departments that really are key strengths of our business – knowing the local market and what it demands, so that we can tailor make almost every product for local customers in an important strength. We can produce them on a single line at a single factory and of course this also offers a distinct cost advantage to our clients."
In order to remain a leader in its field Oiltech places considerable emphasis on continuous programmes of investment and product development, regularly introducing new designs as well as improvements on existing products to the market. Erik explains: "Our R&D and development programme is continual, and assuch we invest a great deal into improving our  products and solutions as we really value the potential that can be found in change."
In fact, the business has recently launched a number of new products for a range of cooler applications. One of these, the LOC 2, is a new air-cooling system for industrial applications with an AC motor, which offers considerably higher cooling capacity than previous models. "We launched the new series last year," says Erik. "The LOC 2 is useful in a range of industry applications, including the marine and offshore markets and offers significant efficiency and cost savings for customers. Furthermore it is quieter than other models, not any more expensive and gives up to 20 per cent more efficient cooling."
Supplied fully assembled and ready for installation, the LOC 2 features an integrated circulation pump that makes it possible to cool and treat the oil in a separate circuit, known as offline cooling. Further benefits of the system include manufacture using only the highest quality materials and components in order to prolong lifetime, an integrated circulation pump that produces and even flow with low-pressure pulsations, and easy to maintain and retrofit features.
Alongside LOC 2 Oiltech provides a vast range of products and solutions, which includes AC and DC motor powered air oil coolers, water oil coolers, cooling and filter systems, oil filters and a range of accumulators. The latter, which come in a range of different models, are important for use in conjunction with hydraulic systems. They not only provide improved performance but also reduce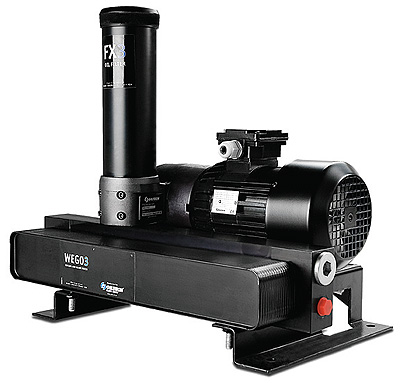 cost as the need for large hydraulic pumps and electric motors is reduced.
With a product to suit almost every conceivable need Erik is rightly proud of what Oiltech can offer its clients: "We work very closely with our clients in order to get the best results," he says. "For example, when we sell accumulators we offer tailor-made systems that are perfectly in line with what the customer needs for their exact application. We don't compete with our customers, we do not make the biggest hydraulic power units available, but we do work hard to make exactly what the customer needs in the best possible way."
Looking ahead, Erik admits that although the Olaer Group has felt the effects of the recession in some of its business areas, in Norway and the oil and gas market there is still potential for future business. "The oil and gas market has been very good so far in Norway, despite the obvious financial challenges, and we haven't felt any repercussions yet. In fact we have recently increased our workforce by hiring a master engineer who will bring added experience and knowledge to our business.
"Furthermore, we have been concentrating on continuing to develop our product range," he continues. "We are working on some very new and exciting projects in the accumulator side of the business, and we have signed some large contracts quite recently that I predict will make 2009 a very good year for us."
In this positive light, Erik looks to the future with much enthusiasm, and believes that Oiltech is well placed to continue to be successful: "I think that we really have to just continue doing what we do best. Looking at the hydraulics market so far this year, we are slightly up on our position last year and also doing better than some of our competitors. In my opinion, the oil and gas market will be strong here in the coming years and I am very much looking forward to the future," he concludes.
Oiltech AS
Products: Cooling systems and hydraulic equipment