Continuous improvement
A relatively young, Sweden based company, OKQ8 formed from a joint venture between Swedish company OK, which is a co-operative association with a total of 1.3 million members that has been present in the market since 1926, and the Kuwait state owned company Q8, which itself had been operating in the country since 1985.
Officially realised on January 1st 1999, OKQ8, with its local heritage, today exists as a fuel supplier for cars and heavy vehicles, boasting approximately 850 filling stations located across Sweden.
"From the Northern most reaches of the country, all the way down to the South, the last 13 years have seen OKQ8 establish a large network of sites, each of which has helped contribute to the success of the business," states safety, health and environmental manager at the business, Andrea Haag. "Equally as important are the health, safety and environmental values that have existed both internally and externally since day one, values that through their communications and actions have helped change the market's environmental approach for the better. These actions include the introduction of low lead and low sulphur fuels, heating oils, the use of ethanol and of compressed natural gas originating from biogas."
In January 2012, the company reached a new milestone with the opening of Europe's first sustainable filling station. From the use of solar panels, rain water collection devices and high speed electrical charge points for electric vehicles, the station has been designed to consume some 50 per cent less energy than the average filling station: "As well as providing customers with the commercially available solutions of today, OKQ8 is also working to offer those that will be in demand in the years to come," Andrea continues.
"Every aspect of this station, from the use of sustainable or reused materials to ensuring energy use is as low as possible, has been evaluated from a sustainability perspective and that has resulted in a very efficient building that provides and tests the fuels of the future," Andrea says. "This development has also led to the company changing several of its internal processes and adapting the way it approaches the building of new filling stations from an economic, environmental and social stand point.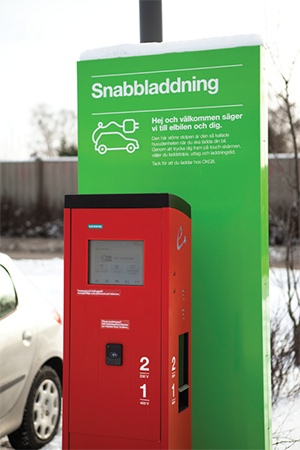 "In many ways OKQ8 hopes that its sustainable filling station concept will become a model for the rest of the industry, acting as a flagship store that will inspire others. The ultimate aim from an internal point of view is to take many of the qualities and characteristics form this sustainable model and apply them to the company's existing infrastructure."
Where new and sustainable forms of energy use are also causing a great deal of buzz in Sweden at present is in the field of electric vehicles, in this case the electrifying of transport fleets, something the industry hopes will become a reality by 2030: "In anticipation of this market development OKQ8 has recently entered into partnership with Siemens, which is now starting to provide the company with the technology required to establish a network of charging poles," Andrea explains. "Working closely together the two companies will now work towards rolling out a number of these poles across Sweden's main highways, with the first appearing in the South of the country within the next three years."
Despite the drive towards the introduction of greater use of renewable and sustainable fuel sources, something that is increasingly being supported by various government incentives, Andrea is keen to highlight that the market for OKQ8 does remain one of immense challenges: "Everybody is striving today to establish their own unique selling points that they can leverage to increase market share, something that is vitally important in a country like Sweden where the total volume of fuels sold has been decreasingly steadily in recent times. This in part is because of the increase in sales of fuel-efficient diesel cars that today account for around 65 per cent of new car sales. Nevertheless, it is important also to remember that the fight for customer business covers a wide number of areas that includes food and beverage sales, having the necessary facilities on site and being able to offer alternative products."
As well as striving to maintain and increase its own market position, the years ahead will be a time during which OKQ8 will be pressed to defend its position as the leading sustainability company in the sector: "The environmental impact of the business comes predominantly through the fuels it sells to customers and thus it needs to continue to look at ways to improve the quality of said fuels. At the same time it needs to continue examining its own energy efficiency and the way it distributes fuel on a daily basis. It is only through continuous self-improvements that OKQ8 can retain its current status in the market as a company that is committed to better serving both its customers and the environment in which they live," Andrea concludes.
OKQ8
Services: Fuel filling stations