Precise approach
Established in 1861, Oldham Engineering has provided industry with a wide range of complex and precision-engineered products for over 150 years.
As its name suggests, the company has a presence in Oldham, as well as a second facility in Sheffield, which together provide over 150,000 square feet of premium facilities.
Working with clients in all industrial sectors, including offshore, nuclear and defence, Oldham Engineering prides itself on its ability to deliver full turnkey services for medium and heavy engineered items. This includes fabrication, machining, assembly, testing, painting, and delivery to site.
"This is where we add value for the customer," describes Stephen Fitzpatrick, operations director at Oldham Engineering. "We can lift loads of up to 30 tonnes on a single lift, and 35 tonnes on a dual lift, as well as machine items of up to ten metres in length so we offer a full package to the client."
This enables Oldham Engineering to deliver a wide range of products, from small precision machined prototypes to batch manufacturing, and large turnkey projects for new supply and refurbished industrial equipment. In the offshore and subsea sector this includes things such as a-frame cranes, valves, pistons, pipework, sea anchors, cable tensioners, gas measurement equipment, subsea mining frames, bend stiffeners, reaction collars and tether clamps.
Whilst both the Sheffield and Oldham facilities are similar in size, Oldham is departmentalised into different operations. The fabrication department is split even further into stainless steel and carbon steel to ensure there is no cross contamination of materials. This structure means that as well as complete project management, Oldham Engineering can also offer complete supply chain management from raw material supply and proprietary items to final testing.
"Over the last few years we have emerged from the recession a lot stronger and are now focused on a strategy of growth," reveals Stephen. "We've invested heavily over the last 18 months in new plant, buildings, infrastructure, IT, and employees. We're now looking to target oil and gas, and nuclear even further to increase our turnover substantially in the next few years."
This includes investment into new state-of-the-art CAD/CAM software to help further support Oldham Engineering's off-line machine tool programming initiative. "This technology helps us to import the model direct from the customer designs and programme tool paths that can then be sent to the machines much quicker. This will help us to reduce lead times and optimise the machine tool cycle times," explains Stephen.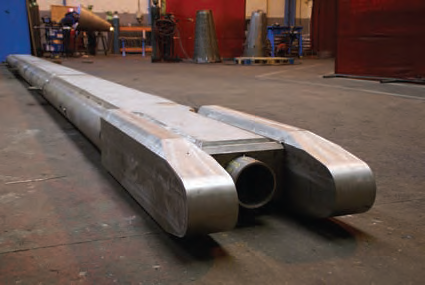 "We have invested strongly in weld procedures and welder qualifications in previous years," continues Arron Flint, sales director designate. "As such we are now approved to ISO BSEN 15614, ASME IX, and the American Welding Society (AWS D1.1.1) standard, covering a range of material grades, including mild steel, stainless steel and super duplex. We have also invested in our own in-house painting facility, which we are in the process of qualifying to NORSOK – a main requirement in the offshore sector."
In addition, Oldham Engineering is proud to have attained the Bronze award from Investors in People, and is continuing to work towards achieving Silver by the end of the year. The company is also actively working towards accreditation to ISO 18001 for its health and safety, and ISO 14001 for its environmental management work.
As a company Oldham Engineering is a familiar presence at the conferences and exhibitions associated with its lines of work. At one such event, the Opportunities within Global Subsea and Oil & Gas Projects conference, the company was praised for its role in manufacturing what is understood to be the world's largest ball and taper mooring connector at 26,000 tonnes. Elaborating on this project Stephen says: "We were approached by our customer 18 months ago with a view to producing a machine component that would become part of a seabed recovery system.
"Our competitors couldn't achieve the size required, but we had the ideal equipment to manufacture the product having recently invested £1 million into a new Soraluce 4 Axis CNC Floor Borer machine. We produced several components for the client, which dramatically exceeded their expectations by lifting twice its engineered load in testing. In another project we manufactured a super duplex ship-borne swivel assembly for loading and offloading liquid nitrogen gas and oil for a customer 12 months ago. The machining of the component pushed the boundaries of what we can do because of the exotic materials involved, the fine surface finishes required (0.4μm), the tight tolerances required (0.025mm) and the testing criteria laid out by the customer, but we manufactured the component within a nine-month lead time and the item is now in operation," he continues.
For the next two to three years Oldham Engineering is continuing to focus on growth, targeting the power sectors such as oil and gas, and nuclear. It is the company's intention to double in size and this means further investment is required in both employees and capabilities.
"We have a very good apprentice programme taking on three to four a year for the last four years, as well as looking at undergraduates. However, we also offer university courses and internal support for our existing employees to widen those skill sets as well. It is also our intention to branch into other areas such as design. This is something we will look to concentrate on more from next year as we have the capabilities and our customers are keen for us to offer such services, so it's about formally developing that," concludes Stephen.
Oldham Engineering Ltd
Services: Engineering